Lukas Podolski
appeared happy and relaxed after his Premier League debut, despite the 0-0 draw with
Sunderland
. "All those big names,
Arsenal
, the crowd singing my name at the warmup: it was so enjoyable to wear the shirt today," he said beaming outside the Emirates changing rooms.
His sense of pride to be playing for the Gunners seemed to be the overriding emotion on the day, but there must have been a sense of disappointment, too. Strikers know that every game without a goal can be turned into a question mark behind their names. Especially if they're new to a league.
One goal-less game at Stoke City later, more question marks have turned up. Cynics might say they now easily outweigh the number of points that Arsenal have amassed so far.
But there are certainties, too. One of them is that a Robin van Persie-shaped hole will continue to loom large in Arsenal's forward line. "It doesn't matter who you bring in for Robin - you can't ask anyone to be as good as him," admitted Mikel Arteta.
Arsene Wenger's lineup on Sunday reflected that dilemma. Where there was one Van Persie, there are now two strikers: Olivier Giroud with Podolski behind him, pushed out to the left when Arsenal was defending. On paper, both could combine to offer the all-round game that Van Persie provided by himself. The goals, the runs, the passes.
SETTLING IN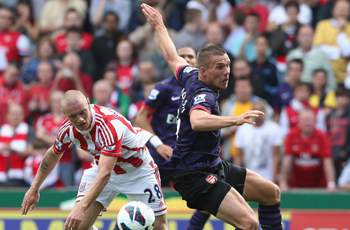 PLAYER RATING VS SUNDERLAND

Struggled to make too much of an impact early on and was forced to drop deep in order to receive the ball. A quiet debut all-in-all and one that would suggest the task of replacing Van Persie will take time, at the very least.
PLAYER RATING VS STOKE

Had a glimmer of an opportunity following a Wilkinson slip in the opening minutes, but saw his attempt well blocked. Ran intelligently on the ball, picking up a cheap free-kick that got Huth booked. Looked dangerous, but perhaps would have benefited from playing centrally rather than on the left.
Sources close to the Germany international feel that playing in close proximity to the Frenchman is a more promising set up than Podolski leading the line as a No.9 or playing as an out-and-out winger. In other words, the Stoke game was, in theory, the best combination.
It gave Podolski the ability to drop deep and touch the ball often, and at the same time a license to come inside. Arsenal's formation, in turn, was a bit lop-sided when it was in possession. Gervinho would attack from the far right, but the German spent a lot of time 'in the hole' near the left side of 'D'.
A powerful run that was only stopped by Robert Huth and a couple of blocked shots or efforts that drifted wide offered glimpses of a kind of directness that has perhaps been missing from Arsenal's game plan in recent years. In that narrow respect, he's already contributing. But of course it's goals and/or telling assists that ultimately matter, and here he's fallen short so far, along with the rest of the side.
Wenger, interestingly, suggested that Podolski wasn't quite ready physically. But the bigger problem seems to be a general lack of understanding in the final third. It's to be expected, to some degree. Arsenal play like strangers because that's what they are after just a couple of games with each other. Surely they'll all improve over time.
But then you look at how well and instantly Shinji Kagawa and Eden Hazard have both settled and wonder if that's not too superficial an analysis. Could it perhaps be that Giroud and Podolski find it so hard because of the personnel around them?
Van Persie's brilliance last season looked more and more impressive in the light of the Sunderland game, when first Podolski and then Giroud seemed at a loss to figure out the movements of Gervinho and Theo Walcott, two wingers who are as talented as they are unpredictable - even to themselves, it seems.
Santi Cazorla, in contrast, played with composure and authority throughout. But the Spaniard's marauding runs also squeezed the space in which Podolski, isolated at the front, was dropping in to try and fill. Abou Diaby also attacked the very same zone. Things became congested as a result, and a similar problem was noticeable against Stoke, too. Podolski was trying hard but at times he simply looked unsure where he should go next.
Wenger will do well to coach some simplicity into Gervinho's and Walcott's games; Giroud and Podolski, making sense of their enigmatic moves, might indeed take longer. Van Persie, it shouldn't be forgotten, was not an overnight success at the Emirates, either.
A better spatial organization in the center, on the other hand, should be more easily attainable. Wenger was once known as one of soccer's pioneers for drilling specific attack patterns into his players while many European (and certainly most British coaches) were still happy to tell their charges to simply 'express themselves' on the pitch.
Thus, the key for Podolski's success lies firmly in London Colney. Now that the improvising genius of Van Persie has departed, Wenger needs to replace the question marks with sentences in big, bold letters. Everyone has to be told exactly what to do and where.
Podolski has already shown in his performances for Joachim Low's Germany that he responds well to very specific practice sessions. It will be fascinating - and surely satisfying, in the end, too - to see his considerable talents properly utilized at a club for the first time in his caree
r.