I wish I had more hands...so I could give that first matchday four thumbs down.
I wouldn't be alone in that funky proclamation either as Sir Alex Ferguson, Arsene Wenger, Andre Villas-Boas, Brendan Rodgers, and even Roberto Mancini could not have been pleased with what they all saw from their respective clubs in week one.
Virtually every big club in the Premier League put in one of those performances that left a lot of people wondering if they were really ready to start the campaign. Obviously, it's just one match and there are 37 remaining (or 36 if you're Chelsea or Reading), but with the competition for top spots in the EPL the way it is, quick starts are almost essential these days.
We'll take a brief look at how each of our favored clubs fared to on the year's first day and then go from there as game two is already here. No time for lamenting in football, readers. Gotta move onto the next one right away. Anyway, that's what Coach Taylor taught me during my days as a Dillon Panther. Moving on.
Follow SHANE EVANS on

Going chronologically off of last year's table seems like the easiest way to start. Manchester City. The champion of England. Handed a perfect opening fixture - at home against a newly-promoted side, the Citizens could do nothing but barely walk away with a 3-2 win.
Previously this summer, I lauded City's patience in the transfer market, if you'll call it that, and how its decision to at least outwardly stick with the players it already had was a good move. Cohesion and all that. Well against Southampton, the side looked as if it was stuck in first gear for most of the match. It took going down 2-1 to the Saints to really get the team going. Shouldn't be necessary.
On top of all that, Jack Rodwell, Mancini's only big signing so far this summer was immediately thrust into the side and was pretty inadequate, gifting Soton possession on a number of occasions, including one such instance that lead directly to a goal. Not exactly how he pictured his debut, I'm sure.
A win is a win and they will certainly improve from here. Just not a great way to do it.
As for crosstown rival Manchester United, it couldn't even get to first gear. The engine was on but it was sitting in neutral the entire match against Everton. Things just never really looked like they were going to work out for the Red Devils. Marouane Fellaini's monstrous performance put the exclamation point on a fantastic win for the Goodison Park side and left SAF wondering how such an attacking lineup couldn't even muster one measly tally in the 1-0 match.
New boy Shinji Kagawa looked very tidy in the center of the midfield for the Scot and was arguably the team's best player. Outside of that, few impressed. Nani, for example, probably had his worst-ever game for United. He was simply piss poor in every phase of the game. Don't be surprised if Ashley Young gets his minutes this week against Fulham and maybe indefinitely.
As for RVP...gonna take some time. He came on and had some nice touches and his movement was good but yeah, that was really about it as the scoreline obviously reflected. The connection just wasn't there at this early stage. He's quality though, so his time will come. Don't see him repeating the output from a season ago, but he'll get goals.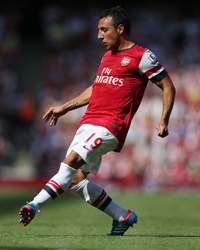 Moving right along to the Arsenal. Wasn't that performance something? Boring us all to death in their 0-0 home draw with Sunderland, the Gunners looked even less inspired than Manchester United. The bright light though, again, was a new signing. This time, it was Spanish midfielder Santi Cazorla.
Playing a very similar game to Kagawa, the crafty, pint-sized scamp one-touched his way through the Black Cats defense all afternoon but still wasn't able to get Arsenal on the board. He even created the best chance of the match for another debutant, setting up Olivier Giroud with a magical through ball at the top of the box that the French forward wasted worse than that girl at the party who opens a beer and puts it down, never to pick it up again. If you're going to take it, FINISH IT!
Cazorla isn't going anywhere though and will continue to provide chances for the likes of Giroud and Lucas Podolski, who looked pretty uncomfortable in a red shirt. Arsenal as a whole though needs to move on. No more RVP, no more Alex Song. This is Santi's team now. It is known.
Up in Newcastle, Arsenal's number one most-hated squad in white, Spurs, were having a helluva time with the Magpies and for good reason. Newcastle is an excellent team and Jermain Defoe started up top... by himself. I get that there were players around him, but under no circumstances do I want him as the target man. His play has improved lately (preseason kinda counts?) but I think AVB knows that isn't his ideal setup.
No matter, Emmanuel Adebayor and his exorbitant wages recently landed at White Hart Lane so they'll be able to mix things up a bit more. He'll look a lot better with fellow fresh face Gylfi Sigurdsson, who, by the way, was pretty average in game numero uno.
And that brings us to the worst of the bunch. The most ghastly showing by one of the 'big clubs' or if you want to get even more mid-2000s, 'big four' club was by far that of Brendan Rodgers' (say the possessive version of Rodgers in your head, it's quite fun) Liverpool.
Ew. Just ew. Going up against a very talented (but not
that
talented) West Bromwich Albion side, the Reds looked like they didn't really want to be there. Quite the understatement there. Though they had more of the ball (60% to be exact) Liverpool did little with it. West Brom had more shots, more on target, more corners, fewer offsides, fewer fouls, and of course, the big 'un, more goals. Three more to be exact.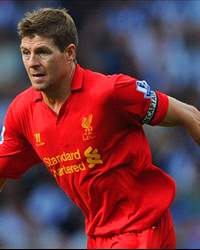 We were all hopeful that Mr. Rodgers would come in and clean up the neighborhood. Things would be different under the former protege of Jose Mourinho. Guys like Stewart Downing and Jordan Henderson would show their true colors. New signings Joe Allen and Fabio Borini would breathe life into the club.
Not so fast.
One game, sure, but where are the goals going to come from? It's going to take time for Borini to adapt to the English game, not to mention the English language. Andy Carroll is seemingly on his way out. Stevie G may not be the player he once was. Who knows? Just all smells of another frustrating year on Merseyside. But hey, 37 matches left to play, maybe we'll all be surprised. Lots of Liverpool fans out there hope so.
West Brom on the other hand were terrific. The middle of the park was run by new signing Claudio Yacob and stalwart Youssuf Mulumbu. It was great to see. Then when loanee Romelu Lukaku came on, he just took over. The Belgian striker made Jamie Carragher look more useless than Kim Kardashian. It was exhilarating (and a bit sad) to see. He's going to have some year.
So with Liverpool's play hopefully only improving, as well the rest of upper echelon of EPL teams, we can do nothing else but look to the future. That starts right now with this week's previews with both games again coming towards the end of the matchday. Guess who has the marquee fixture?
The Bacon (as in Bringing It Home)Liverpool vs. Manchester City
(Anfield, August 26, 11:00 a.m. ET, FOX Soccer)
After screwing the pooch against West Brom, Liverpool faces the defending champ Manchester City at home. Will the 45,000 Reds fans inside the fabled ground keep its club afloat in this one? I am not so sure.
If the club shows the same ineptitude in front of goal that it did against the Baggies it will have no chance. Not only that, but Vincent Kompany, Joleon Lescott and co. are sort of an upgrade from what West Brom had to offer. Liverpool is going to really need to draw on the home crowd to force its way into the match. Not sure if it has what it takes to match City anywhere else on the pitch.
How sad is that? Five years ago Liverpool was in the Champions League Final. Now it is a shadow of its former self and is probably closer to winning The X Factor than it is Europe's top club competition. Step one: good showing against the EPL holders.
TFE Prediction:
Don't see it coming though. 3-1 City to send Liverpool to its second straight loss to start the season.
Stoke vs. Arsenal
(The Britannia Stadium, August 26, 8:30 a.m. ET, FOX Soccer)
Another team in need of a win (or for starters, a goal) is Arsenal. Going from the relatively error-prone defense of Sunderland to the rather staunch backline of Stoke, the Gunners must get things going on the road this time.
We could see Podolski dropped in favor of the meatier Giroud to help cope with the Potters aerial presence, though that's a move not typical of Arsene's style. He loves to break teams down instead of breaking the door down so it will be interesting to see how they line up.
Stoke, which is practically an England C team, is all about hard work and guts. It won't try and be too flashy against a quality side like Arsenal but should certainly cause trouble from set pieces. Look out for the 'air up there' match up between Per Mertesacker and Peter Crouch. Could be a tall order for the German beanstalk.
TFE Prediction:
I like Arsenal to get off the goal snide here, but not the one in the wins column. Could be a somewhat entertaining 1-1 affair.
And Finally...The Black Pudding of the WeekClint Dempsey, waiting impatiently:
The American stud has no future at Fulham, that much is clear. With the team dropping him again from the squad ahead of its fixture with Man Utd, it's become very unlikely that he'll remain with the London side much longer. Throw in the official complaint from the Cottagers directed towards Liverpool's handling of the transfer saga and you have one big mess. Why would they sell to the Reds now? Wouldn't be prudent. Stickiest part is, the loser in all of this may end up being Dempsey himself a la Carlos Tevez last season. Won't be as extreme, surely, but the manager decides who plays, not the players. With a week or so left in the transfer window, here's hoping Clint gets his wish... whatever that may be.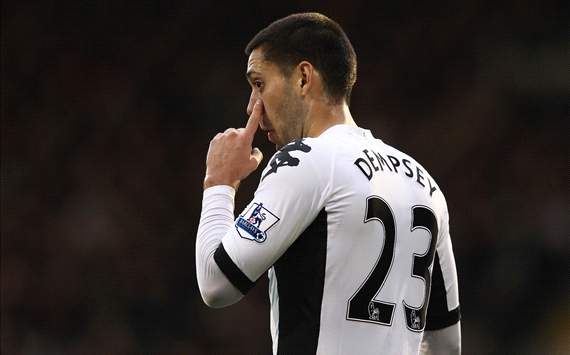 Shane Evans is a Senior Editor of Goal.com USA. His feature, "The Full English" appears every Friday morning. Contact Shane at shane.evans@goal.com with questions, comments and concerns, follow him on Twitter at https://twitter.com/shanEvans
For more news on England, visit Goal.com's England section!
Click here to watch match live on FOX Soccer 2Go