Well this is it, everyone.
You are literally hours away from the first matches of the 2012-13 English Premier League season. No more speculation, no more rumors, no more questions about form/injuries/Mario Balotelli's fashion sense. It's all over. The season is here and we can finally move forward.
Our current champion is Manchester City. On Saturday (and Sunday and Monday), 19 other teams will kick off, thinking that maybe it's their year to raise the trophy. Well, maybe more like six teams, but you get the point. Everyone is optimistic. Like one long episode of
The Brady Bunch
.
Then, as it tends to, teams realize that maybe mid-table is good enough. Then the bottom half. Then simply staying up. You get that picture. We'll leave all that dreary talk for Christmas time. Keep us grounded.
For now though, the excitement and thrill of a new campaign is thoroughly engulfing every EPL fan from San Francisco to Shanghai. From Boston to Bangladesh. We've all got the fever...and you guessed it, the only cure is watching Howard Webb's little shiny dome blow the whistle to officially start the season.
Follow SHANE EVANS on

As we discussed last week, the summer has been pretty wild. Some good signings, some real questionable ones and we hadn't even got to the biggest. Yes, Robin van Persie is now officially a Manchester United player. Pretty crazy, right? In today's column, we'll talk the silver-haired Dutchman's move up the M1/M6 and divvy out some bold predictions for the upcoming year of footy.
It'll be fun...unlike an episode of
The Brady Bunch
.
To start though, Van Persie... wow. Not very often does a move come along that will be loved by so many and hated by even more. Arsenal's entire fanbase is currently up in arms about its club captain deciding to sign with its biggest rival (sorry Spurs, trophies trump geography) Manchester United. He could have gone to Juventus. He could have gone to PSG. He could have maybe even gone to Real Madrid. Who knows. Nope. Instead, RVP will suit up in a very crowed United attack, an attack that will surely drop 18 goals on Arsenal now, instead of the mere eight it managed in the one fixture last season.
First though, the Arsenal perspective on the move, as it obviously has the more pressing concerns.
I've been reading the term, "good business" attached to Van Persie's deal practically everywhere I see his rosy-cheeked face. Good. Business. That is one of those terms that is so overused that people have flat out forgot what it means. There is absolutely nothing about this transfer that is "good business" for Arsenal.
From a straight "business" standpoint, the club sold its most productive player to one of the four or five clubs that it's trying to compete with. However, this point has been taken lightly by Arsene Wenger as he has been known to do similar in the very recent past. No matter how you spin it, this doesn't make sense.
The reported fee is in the £20 million range. Considering his production last year, it's a steal for United. For Arsenal, it's a tidy fee that could have been received elsewhere. If I am Wenger, which I understand I am not, under no circumstances would I see him within the division. That is not good business.
Oh but he gets hurt a lot and he's 29 and he's on the last year of his deal. It doesn't matter. These stipulations do not mean that selling him to United means good business. It means that £20 million is a lot of money we'll take it. Every other part of the transfer reeks of desperation and weakness. Gooner fans, you should feel proud.
So to summarize, this transfer is not "good business." That's what I tell myself when I buy double feature Arnold Schwarzenegger movies on DVD because they are $7.99. Two movies, everyone! Can't beat that. RVP to Manchester United? Not so much.
Now that he is a Red Devil, how will he fit in? Well, United has an embarrassment of riches (good for business) at the forward position and will be spearheaded by the EPL's top two scorers in 11-12, Wayne Rooney and the aforementioned Van Persie. From there, Sir Alex has Danny Welbeck, Chicharito and Dimitar Berbatov at his disposal. He'll make it work... how could he not?
With that out of the way, let's jump into some season's predictions courtesy of everyone (it's just me really) at TFE. I'll close this section with my complete league table AND two match previews to kick things off. Bippity boppity show me the zoppity.
Newcomer of the Year: Eden Hazard, Chelsea
Despite face-planting in the Blues' Community Shield defeat against Manchester City in his first "competitive" action for the club, Hazard is a stud. He better be for £35 million. Coming in early in the summer, the former Lille man is going to light up the Premier League with his pace, touch and most of all, his Cantona-esque confidence on the ball, something Chelsea could certainly use up front. I'm expecting big things from him and believe he will deliver.
Breakout Player of the Year: Connor Wickham, Sunderland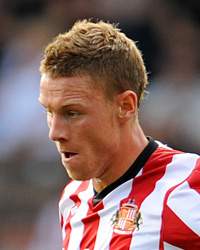 Despite bringing in Louis Saha to do some of the work up top for the Black Cats, Martin O'Neill has a lot of faith in the continued development of Wickham, the hulking former Ipswich player. If he gets the opportunities in this, his second season in the bigs, look for him to make them count and maybe by the end of the year push his way into talk about a full England callup. You know considering its need for a young striker and all...
Kit of the Year: 2012/13 Liverpool Home
This is a very, very rough year for kits. Few really stand out and make you go, "holy moly." At least that's the response I have to a sexy kit. In its first crack at top flight footy kits, American supplier Warrior hits a home run with Liverpool's home strip. The away and change, not so much. I do love the simplicity and tidiness of this particular effort. Man City's home kit is a very close second. Chelsea's third is at the bottom of the list. Seriously, just look at that thing.
Coach of the Year: Andre Villas-Boas, Tottenham
Spurs will have another good season this year under a new, more progressive manager. AVB will earn the praise he gets for guiding the club to another top four finish, one that is above rival Arsenal in the table. We may even see a deep cup run that results in, gasp, silverware. I know, I know, trying not to get ahead of myself here but I really do think Spurs have another solid year, even without Luka Modric.
Golden Glove Winner: Joe Hart, Manchester City
It could be a third Golden Glove in a row for City keeper Joe Hart this year. He has arguably the best defense in front of him and is the most promising goalkeeper in the league at one of its biggest clubs. Seems elemental that when you put those components together you'd have a Golden Glove winner. Should be that simple again this season.
Golden Boot Winner: Sergio Aguero, Manchester City
Finishing third last season behind RVP and Rooney, Aguero is primed for another great season after his inaugural effort in England. He has great players around him and is undeniably the
guy
for City. Plus, he scored one of the biggest goals in the history of the league and will be spurred on by it in 12-13.
Player of the Season: Wayne Rooney, Manchester United
This is the year that Rooney puts together a stellar campaign from start to finish. His play will be impressive in all phases, scoring his fair share of goals, assisting on a boatload and contributing the defensive side of things as well. Few have as complete a game as Rooney and this year he'll make that explicitly obvious.
League Table Prediction
1. Manchester United
2. Manchester City
3. Chelsea
4. Tottenham
5. Arsenal
6. Liverpool
7. Newcastle
8. Everton
9. Sunderland
10. Stoke
11. Fulham
12. West Brom
13. Aston Villa
14. West Ham
15. Queens Park Rangers
16. Swansea
17. Norwich
18. Southampton
19. Reading
20. Wigan
There you have it. My league prediction in all its glory. Will likely be a tough year for the three teams that came up this season, with two of them heading straight back down. Also this is the last year that Wigan plays in the top flight. Now let me hear how wrong I am. Hit me up on the Twitter (@shanevans) or write some lovely email. Either way, I want to know what you think.
Now onto the match predictions
Manchester City vs. Southampton
(Etihad Stadium, August 19th, 11:00 a.m. ET, Fox Soccer)
The title defense begins here for the Citizens and it should be a fairly impressive kickoff. Southampton comes in as the heavy underdog as it just was promoted as runner up of the nPower Championship. Coming to the blue side of Manchester to begin its year in the EPL can't be pleasing. At least it is getting the fixture out of the way.
City will come out guns blazing and I wouldn't be at all surprised if it has a multiple goal lead at halftime. The entire club is raring to go and will make life very hard on the Saints in the early-going. Depending on how organized Nigel Adkins men are at the back, we could see the damage limited but somehow I doubt it. Hard to see anything but a good start for the champs in this one.
TFE Prediction
: 3-0 to the home side as my Golden Boot pick Aguero gets a pair.
Everton vs. Manchester United
(Goodison Park, August 20th, 3:00 p.m. ET, ESPN2, ESPN3.com)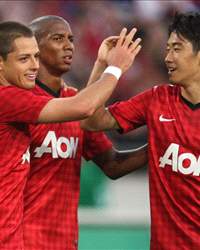 Everyone really just wants to see what Robin Van Persie will look like in Red Devil red and we may get the chance to do so on Monday as his new club lines up against old rival Everton. It will certainly take some getting used to.
The home side didn't do much to add to its club, only signing former Rangers' midfielder Steven Naismith and former and now present midfielder Steven Pienaar. Against United, the Toffees will be limited in possession and should look to hit their opposition on the break, as you do. Look for Sir Alex's side, and Sir Alex himself, to try and make a statement out of this game.
TFE Prediction:
Rooney, RVP and co. make it happen in a 3-1 match.
And Finally...The Black Pudding of the WeekArsene Wenger, Arsenal:
Oh Arsene, sweet Arsene. You take three steps forward (Podolski, Giroud, Cazorla) and then one massive leap backwards with the departure of RVP to Man Utd. The guy just can't win. You just have to feel a little bad for him in times like this. He tries to make things work, gets out of his box a bit and then this happens. What's even worse (for him) is that this realistically could be his last year in charge if the Gunners don't win something. I'll forever miss the puffy jacket, but that's just me.
Shane Evans is a Senior Editor of Goal.com USA. His feature, "The Full English" appears every Friday morning. Contact Shane at shane.evans@goal.com with questions, comments and concerns, follow him on Twitter at https://twitter.com/shanEvans

For more news on England, visit Goal.com's England section!