If Nickelback is still allowed to produce music and Tyler Perry is still getting paid millions to make 'comedies,' then I am most certainly allowed to come back for a fourth season of writing "The Full English."
That's right, everyone: TFE has returned from a little summer break to get you set for the 2012/13 English Premier League season. Can you believe we're nearly at 2015? I still think Y2K was something like five years ago. But I digress.
The reason you're all reading this could be any one of three possibilities: 1) You're a TFE fan through and through and are ready for a new season of Premier League footy, guided by none other than yours truly, or 2) You hate my guts and want to fill the comments section with vitriol and the various reasons you should have my job, or 3) You clicked by accident and are giving this thing a few paragraphs before you give up and get back to your Xbox for some FIFA time.
Regardless of your reason for reading, I am extremely pleased to have you here and hopefully it'll stay that way all season.
Follow SHANE EVANS on

Today's column will look back at the summer months that have been and gone as we slowly (and painfully) edge closer to the start of the upcoming campaign. I won't be doing a team-by-team analysis like past years, because do you really care about how Reading strengthened? (They did, mind you.) Didn't think so. A few different categories to summarize will suffice. You know, to whet your appetite. Next week will we'll cover the season preview stuff.
As the title suggests, I have been pretty pleased with the whole lot of nothing done by defending EPL champion Manchester City so far this offseason and because of that, Roberto Mancini's men will lead the way (like they did last year). A familiar and favored designation will close things out.
In addition, I am aware that the Community Shield match between Manchester City and Chelsea is this Sunday...but seriously, do you care? If yes, write me and complain that I haven't covered a completely meaningless preseason match that's so crap it's being played at Villa Park. If no, continue reading happily as you were before this note. Cheers!
Best Offseason: Manchester City
Arguments could be made for the overhaul at Liverpool and the additions at Arsenal and Chelsea but I really like what Manchester City did this summer: nothing. No massive fees paid, at least not yet. No massive contracts, at least not yet. So far this summer, the priority has been to continue to come together and build with what the team already has.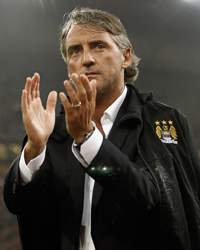 With the high number of personalities and playing styles at the club already, there was a need to take this summer and just continue down the path that saw it end last year at the top of the table. With the resources a club like City has, few would be able to just sit back and let a team mesh. Even fewer fans of the club are likely happy about it. Fact of the matter is, not bringing in superstar after superstar, like it has in the past, will really benefit it in the long run.
Obviously, all this can change and I don't expect City to sit completely silent during this transfer window.
Worst Offseason: Liverpool
After missing out on stud midfielder Gylfi Sigurdsson, who decided to sign with Tottenham instead of the Reds, Liverpool had to 'settle' on Fabio Borini from Roma. Maybe they paid a bit too much for him and it is unknown whether he'll be able to play the same type of game in England.
Still hungover from the disastrous spending under Kenny Dalglish, it appears the purse strings have been pulled a bit tighter on new manager Brandon Rodgers, and for good reason. Joe Allen, a player whom Liverpool doesn't really need, appears on his way in (and may be signed by the time you read this). It has a lineup full of centrally-oriented playmakers who can be very inconsistent. Not sure how/where Allen fits in.
Also, Andy Carroll is still on the books and there is no way that the club will recoup the majority of the £35 million they paid for him. Lots of work to do on Merseyside.
Best Signing: Shinji Kagawa, Manchester United
The Red Devils' biggest issue last season, or one of, was their lack of creativity and youth in the midfield. The wide areas were ok with Valencia, Young and Nani, but inside the spark just wasn't there. Bringing in Kagawa was a masterstroke by Sir Alex Ferguson as the Japanese international is exactly the type of player to liven up the team's engine room.
Couple that with the return of Tom Cleverley to form and fitness and it'll give SAF a nice boost of energy where his side needs it the most.
Worst Signing: Jay Rodriguez, Southampton.
Coming up to the Premier League this season, Southampton needed to add an EPL-ready striker to its front line to help knock in the goals when the team needs them this season. Whom did they sign? Burnley's leading scorer...for a reported £7 million. Go with what you know, I suppose.
Having seen him play last season probably convinced Saints' boss Nigel Adkins that the price wasn't too high, but at the same time, there are a number of experienced players out there available on the cheap who would have at least come in acquainted with the league, Hugo Rodellega, Andy Johnson and Pavel Pogrebnyak, to name a few. Verdict still out on whether Rodriguez has the chops.
Storyline of the Summer: Where will Robin Van Persie end up?
So the mercurial Dutchman and captain of Arsenal said he won't be re-signing with the London side after his contract expires at the end of this season. His reasons are his own, sure, but the Gunners are in the midst of a productive offseason, having brought in Lukas Podolski, Olivier Giroud and Santi Cazorla, all players who would help RVP score goals.
Both Manchester clubs have come sniffing around the Emirates to see what the price would be to bring Van Persie north, but Arsenal isn't budging on its £20 million valuation. Oh, and he wants to play for a club with history, so I guess that counts out City. If it's just United in the mix, there is no way it pays that much for an oft-injured forward who is on the verge of 30. Especially when you consider the players it has at the position now.
Best Coaching Move: Andre Villas-Boas, Tottenham
After a stinking awful nine months in charge of Chelsea, the talented Portuguese was let go and left scratching his head about where it went wrong in England. He'll get a second chance with Tottenham after the London club parted company with Harry Redknapp.
I like this appointment because at Spurs, unlike at Chelsea, he won't have the enormous pressure of managing under Roman Abramovich. He also won't have so many entrenched veteran personalities to deal with and will have more freedom to deploy his tactics with fewer repercussions. Tottenham will be a fun team to watch again this season.
Player Who Really Should Transfer To The EPL: Landon Donovan, Los Angeles Galaxy
Landon Donovan is the man. He is a great, great player who has excelled for years in MLS and has done all he can in that league. He gpt a few sniffs of life in the EPL with Everton and impressed everyone who saw him play. Yet he remains in LA. It's now or never, Landycakes. Time to make the jump.
And Finally...The Black Pudding of the WeekThe U.S. Women's Soccer Team:
After suffering a terrible defeat at the hands of Japan in the 2011 Women's World Cup final, the USA got a little revenge this week in the gold medal game of the 2012 Olympics in London. Winning one of the most thrilling matches of soccer I've seen in a while by a 2-1 score, Hope Solo and co. continued to steal the hearts of American soccer fans everywhere.
Shane Evans is a Senior Editor of Goal.com USA. His feature, "The Full English" appears every Friday morning. Contact Shane at shane.evans@goal.com with questions, comments and concerns, follow him on Twitter at https://twitter.com/shanEvans

For more news on England, visit Goal.com's England section!