Never in one day has the turning of the 'circle of life' of football management been so clear as it was on Wednesday.
A matter of hours after 42-year-old Roberto Di Matteo was finally rewarded for his dramatic re-invigoration of Chelsea, news broke of 65-year-old Harry Redknapp's departure from Tottenham. As one career burst into life, another all but died.
Di Matteo's signing of a permanent contract at Stamford Bridge was just reward for the incredible turnaround that he had mastered. For him to be jettisoned would have been to openly mock the concept of coaching merit.
No matter how long he stays at Chelsea, the Italian has guaranteed himself a career for many years to come. All over the world, but in England particularly, a memorably decent achievement early on convinces owners to forgive more recent missteps more readily than they should – a Champions League trophy, with the Blues' transitional squad, will work wonders.
For Redknapp, though, this was supposed to be the summer in which he transitioned into his last job but, an overplayed gamble later, he may instead have transitioned out of it.
His overlooking for the England job in favor of Roy Hodgson was the right move for the FA but it threw a huge curve ball at his own plans, having steered himself so much, egged on by sympathetic sections of the media, towards securing his dream role.
Having distractedly driven Spurs' form into a tree and fallen out with Daniel Levy, he now finds himself in a quandary, with no obvious route back into management. It is, in part at least, directly and symbolically the fault of Di Matteo.
THE YOUNG BOSSES AT THE TOP
| | | | | |
| --- | --- | --- | --- | --- |
| DI MATTEO | GUARDIOLA | CONTE | RODGERS | ALLEGRI |
| | | | | |
Though Redknapp's differences with Levy would have remained, the Champions League final on May 19 probably decided which of the Londoner and the Italian would have been in their job come next season and which would have been looking for a new one.
Had Chelsea observed the odds and been bravely defeated, it would have been harder for Spurs to justify Redknapp's exit, given that their top-four finish would have delivered elite European football once again. The 65-year-old would have had one last chance to pull off something special.
Instead, Di Matteo's Blues, seemingly powered by the bond of youthful energy between the 42-year-old, recent former player and 'good cop' assistant manager for most of the season, and his players, stole their spot and emphasized the trend for today's most successful club bosses to be the youngest.
It seems incredible to think that, at 42, Di Matteo was nearly 10 years older than his predecessor, Andre Villas-Boas, who had already won a treble at Porto before arriving at Stamford Bridge. The game is littered with similarly embryonic coaches being trusted with the big jobs early, and justifying it.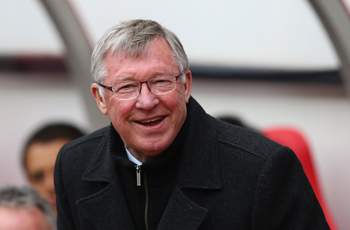 Chairmen nowadays are looking to find their own Sir Alex Ferguson, who can build a long-term legacy. In such an age, Redknapp looks out of place

The Premier League alone has seen Brendan Rodgers (39) excel and be snapped up by Liverpool, while Paul Lambert (42) has also earned a swift move up to Aston Villa and Wigan's Roberto Martinez (38) interests many, including, potentially, Tottenham.
On the continent, it is even more of a young man's game at the very top. Massimiliano Allegri (now 44) won Serie A with AC Milan in 2010-11, before Antonio Conte (42) did the same with Juventus last term. Andrea Stramaccioni (36) has been promoted to the top job at Inter after a NextGen Series triumph. They are by no means the only examples.
Pep Guardiola, of course, set the standard at Barcelona, departing this summer having won everything possible at Camp Nou yet, at 41, he is younger than Di Matteo.
Rodgers' appointment at Liverpool was particularly telling. Previously Spurs' first choice to replace Redknapp, the Swansea City manager was recruited by FSG on a forward-thinking plan. It is the same principle that was loudly espoused by Chelsea at the time of Villas-Boas' arrival – the desire to find its own Sir Alex Ferguson, who can build a long-term legacy.
Whether or not the they can resist the urge to wield the sack if things start particularly badly, chairmen nowadays are looking for coaches who will last for many years. In such an age, Redknapp looks out of place.
If he were to take a new job now and stay in it for as long as he did at White Hart Lane, the former Portsmouth man would be 70 by its end. It's hard to see which club might share his philosophy.
Limited by age and geography, there is no obvious destination. Committed to staying put in his Sandbanks home, commuting further than London seems unrealistic, and there are no big vacancies waiting – while, having geared up towards what he sees as the biggest job around, having to suddenly look for a job with a much lower status than Spurs would surely rankle for Redknapp.
So it becomes a question of waiting. But in this young man's age, who will wait for Harry Redknapp?

Follow GOAL.COM USA on