Well how do you like that finish to the English Premier League season?
Putting a number of American sports to shame with its last-gasp heroics (except maybe MLB last year, that was some thrilling stuff), this EPL campaign ended with a massive bang, one that was visible on every cable-equipped TV in the great US of A.
I have a feeling that in the years to come, quite a few more sets of eyeballs will be tuning in. How could they not, really?
Manchester City, in desperate need of two goals as its match with Queens Park Rangers was coming to a close, scored two in the final moments to win its first English first division trophy since Nixon was president and The Beatles started Apple Records. It really was something pretty special to behold, particularly from the neutral's perspective.
Some may argue that City 'bought' the title. I don't buy it really. Sure, most of their players were already established stars before coming to the Etihad, but if it was your club, say, West Ham or someone, and it was sold to multi-billionaires who just threw endless amounts of cash at the manager, would you care? Hell no. A title win is a title win and City should be proud. I'm most pleased for its fans. Can't be fun living in United's shadow all these years.
With the season now officially over, the league's other clubs will immediately get back to work, hoping to improve upon their positions this year. City has a few weeks to party and enjoy its time as champion. Then it's back to work... and back to the bank to buy more players.
Follow SHANE EVANS on

Before we all get too fully engrossed in our holiday plans, I want to take a good hard look back at the year with the handing out of some awards. Not your standard variety either. There will be a few of the usuals in there, but also a number of the offbeat variety.
Following that, I feel the England squad needs scrutinizing, as that is what people do to the England team. Scrutinize. In the most painful way possible. I'll try and take it easy on our boy Roy, just because he seems like a nice fella.
To round things out, you'll have your last official match preview of the year as our boys from foggy London town will head across enemy lines into the belly of the beast to take on ze Germans. Yes, the Champions League Final is here and Chelsea will try its very best to topple Bayern Munich on the latter's home turf of Allianz Arena. Tall task. We'll discuss.
For now though, let's talk the best (and worst) of the 2011/12 English Premier League season. To begin, we'll talk about the man whose name is on everyone's lips heading into the summer: Robin van Persie.
The 2011/12 TFE English Premier League Awards
Player of the SeasonRobin van Persie, Arsenal:
The Dutch forward was something else this season, scoring basically at will against anyone and everyone. While some were penalties, most were stunning displays of accuracy and technique that few players in the league, or the world for that matter, can replicate.
Runners-up: Sergio Aguero, Manchester City; David Silva, Manchester City
Worst Player of the SeasonJordan Henderson, Liverpool:
It's sad to say that a player who had so much promise a year ago could have such a stinker of a season at his new club. That was how it went though for Henderson who just couldn't do anything right under Kenny Dalglish this season. Was sold by Sunderland for £20 million, and is now worth more like £20. Tough road to redemption for the kid.
Runners-up: Stewart Downing, Liverpool; Anyone in Wolverhampton's defense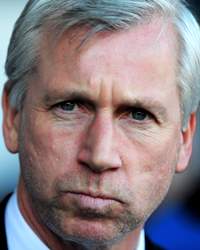 Manager of the SeasonAlan Pardew, Newcastle United:
Coming off a 46-point showing in 2010/11, few expected Newcastle to add nearly 20 points to its total this season. It did, and with style. Wins over Manchester United, Liverpool and Chelsea highlighted an outstanding campaign that was great not only on the pitch, but off it as well. Pardew's shrewd business dealings saw the club bring in Demba Ba, Papiss Cisse and Yohan Cabaye, among others, all for less than the total gained from the sale of Andy Carroll. Excellent stuff.
Runners-up: Brendan Rodgers, Swansea City; Paul Lambert, Norwich
Young Player of the SeasonKyle Walker, Tottenham Hotspur:
The English fullback burst onto the scene this season and was a mainstay in Spurs lineup for the duration. Pacey and powerful, Walker was basically guaranteed a place in the Three Lions' squad before an injury forced him out of contention. Big future ahead of him.
Runners-up: James McClean, Sunderland; Wojciech Szczesny, Arsenal
Numpty of the SeasonJohn Terry, Chelsea:
For those unfamiliar with the term, a numpty is someone who just inspires stupidity. Who baffles the sane. Alienates even the most ardent of supporters. Does that about sum up our boy JT? Yep, it sure does. Just couldn't stay out of the headlines for all the wrong reasons. Don't see that changing anytime soon.
Runners-up: Joey Barton, QPR; Luis Suarez, Liverpool
Under-appreciated Player of the Year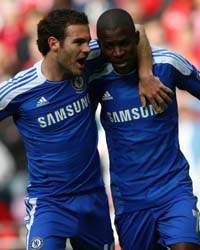 Ramires, Chelsea:
In a team of a big names and big personalities, Ramires seems to go largely unnoticed. That is, until he comes up with a 12 goals and five assists across all competitions this season. A lot of those goals happened to be important ones as well (FA Cup Final; UCL semifinal). He also does a lot of the dirty work in the midfield and can be relied upon to shut down some of the opposition's best players. Unsung is an understatement.
Runners-up: Martin Skrtel, Liverpool; Grant Holt, Norwich
Guy We Love To Hate of the YearMario Balotelli, Manchester City:
There was a point when Balotelli was a constant in my mancrush list. His shtick was cool, edgy and I was envious of his mass amounts of swagger. Then he just kept going with it and really pissed a lot of people off. Like a lost child who's just pushing people to hate him. "Why always me?" is right. In the end, I think Mario will win us all back, eventually.
Runners-up: Emmanuel Adebayor, Tottenham; Djibril Cisse, QPR
There's your EPL awards of the year. Realized I was eating up the inches with these and still want to quickly breakdown the England roster before I preview the CL Final. Let's do it.
Goalkeepers:
Joe Hart, Manchester City; Robert Green, West Ham United; John Ruddy; Norwich
No real surprises here. Hart is the unanimous No.1 keeper heading into the tournament and the other two will act only as reserves. Nice to see Ruddy get the call up as after Hart, the talent level of English keepers drops a bit and the Norwich man is on the rise.
Defenders:
Leighton Baines, Everton; Gary Cahill, Chelsea; Ashley Cole, Chelsea; Glen Johnson, Liverpool; Phil Jones, Manchester United; Joleon Lescott, Manchester City; John Terry, Chelsea
Again, few real surprises here and I don't really have any problems with selections made by Roy. The main talking point is that Rio Ferdinand wasn't included as John Terry was preferred. Obviously, you hate that Terry still waltzes in, but he is the better defender and is more reliable (on the pitch anyway).
Midfielders:
Gareth Barry, Manchester City; Stewart Downing, Liverpool; Steven Gerrard, Liverpool; Frank Lampard, Chelsea; James Milner, Manchester City; Alex Oxlade-Chamberlain, Arsenal; Scott Parker, Tottenham; Theo Walcott, Arsenal; Ashley Young, Manchester United
Stewart Downing and James Milner really did a whole lot of nothing this season, but who are the better options? You could make the case for Daniel Sturridge, but his form dropped off and he is a terribly selfish player. Love that the Ox got a look. Bit like Theo in 2006. Hopefully he doesn't pan out the same way.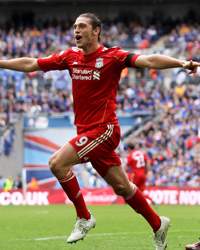 Forwards:
Andy Carroll, Liverpool; Jermain Defoe, Tottenham; Wayne Rooney, Manchester United; Danny Welbeck, Manchester United
I cannot for the life of me understand how Jermain Defoe continues to be considered for the England team. Amazingly, he scored 11 goals for Spurs this year. That is 11 more than I thought he did. At this point, he expects a place. Why not give it to Grant Holt, a hungry player who would die to play for the Three Lions? I don't get it, but I will love to see how Andy Carroll does against France/Sweden.
The Bacon (as in Bringing It Home)Bayern Munich vs. Chelsea
(Allianz Arena, May 19th, 2:45 p.m. ET, FOX)
The granddaddy of them all in club football, the Champions League final is set for national television coverage in the USA as FOX is airing it on the big network. Unfortunately for viewers and fans everywhere, the match, as we all know by now, will be without seven of its key players. Three key Bayern players and four from Chelsea are suspended due to yellow (and red) card accumulation. Terrible way to hinder such a fantastic event.
Chelsea is seemingly much worse off as the players it is missing are the wheelhouse guys. The ones who allow the rest of the squad to play an attacking style. Terry, Branislav Ivanovic, Raul Meireles and Ramires are all defensive-minded players who do the dirty work. Without them in the lineup, Bayern's offensive gems like Mario Gomez and Arjen Robben could have their way.
Not only that, but the tremendous home field advantage that Bayern has going for it, being that the game is in its home stadium, could be too much for Chelsea to cope with. If the Germans take an early lead, it could get ugly. If Chelsea manages to go ahead, it will be a siege. Big night for both squads, but everything is going in Bayern's favor.
But hey, Chelsea did advance past the mighty Barcelona...with ten men.
TFE Prediction:
The Blues will put up a fight but in the end ze Germans come out on top in a very entertaining 2-1 match.
And Finally...The Black Pudding of the WeekRoberto Mancini, Manchester City:
Few managers have experienced the pressure that Mancini has over the last few seasons. With unlimited resources at his disposal, ego after ego was brought into the club and he was expected to control them all and field a winning product. Well he did that and managed to lead his men to the highest point total in three seasons, while beating the club's arch-rival Manchester United. Molto buono.
Shane Evans is an editor for Goal.com USA. His feature, "The Full English" appears every Friday morning. Contact Shane at shane.evans@goal.com with questions, comments and concerns, follow him on Twitter at https://twitter.com/shanEvans

For more news on England, visit Goal.com's England section!