Remembering the quiet and highly medicated words of Michael Jackson...this is it.
Yes, the 2011/12 English Premier League season has but one matchday remaining in its 38 match schedule, following which we will be without footy of its sort for nearly three months.
Needless to say, this time of year always brings a little tear to my eye.
What makes it even more special is that there is still so much to play for in the league's last game. Five uber-important positions in the table are still up for grabs, including that one at the top that will determine who truly has claim to the Iron Throne, I mean the title.
As I'm sure most of you know, the entire slate of 10 matches is being played at the same time to ensure results aren't skewed by teams in certain positions and so on. Survival Sunday, Super Sunday, Sir Alex Sunday...whatever you call it, it's going to be magisterial.
Follow SHANE EVANS on

To mark the occasion, thought I'd expand on my traditional two match previews, to say something like, say, five? You know, to really live up to the occasion. In addition, I'm going to select my team of the year in this week's column, with next week's focusing on individual and team awards. Following that, it'll be mostly Three Lions stuff through the end of the Euros and then maybe I'll get a wee break. Who knows. Busy summer, am I right?
If Becks gets picked for the Olympics, I may just dedicate a column (or three) to him in the latter part of the offseason.
But that is then and this is now. We have a bit of work to do before Sunday so I think we should push right on and jump into TFE's 2011/12 English Premier League Team of the Year. What says you? You says yes! As usual, second and third teamers are indicated in parenthesis, but in no particular order, so to leave something up for debate.
Have issues with who I picked? Follow me on the Twitters (@
shanevans
) and fight me on it. Want to take it a step further? Email me (
shane.evans@goal.com
) and we'll have a little private battle. Or you could just commend me for my astutely accurate selections...
TFE's 2011/12 English Premier League Team of the Season
GK: Joe Hart, Manchester City:
Hard to overlook Hart in this spot. I said at the beginning of the season he would have an even better year this year, and he did. Consistent throughout. First place team, few goals allowed, most clean sheets, dashing good looks. He's the complete package.
(Tim Krul, Newcastle United; Brad Friedel, Tottenham)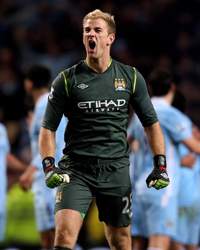 LB: Gael Clichy, Manchester City:
Many thought that his move from Arsenal to Manchester City was all about greed and that he would likely not get a game in among a crowed Etihad bunch. Alas, that was not the case and particularly in the second half, Clichy has established himself as one of the top defenders around. He gets forward well, too, but knows his responsibilities and plays them quite well.
(Ashley Cole, Chelsea; Leighton Baines, Everton)
CB: Vincent Kompany, Manchester City:
Do you get the feeling that there will be a lot of City players on this list? Probably accurate. Kompany though has been far and away the best center back in the Premier League this year and thoroughly deserves his spot in this team. His vision and awareness are second-to-none. Great year by the City captain.
(Rio Ferdinand, Manchester United; Fabricio Coloccini, Newcastle)
CB: Martin Skrtel, Liverpool:
You hate to speculate about how good a team would be without a certain player, because the variables are immeasurable, but in this case, it's certainly interesting in passing. Skrtel was the glue that barely held together a piss-poor Liverpool team all this season. Without him, the Reds wouldn't finish in the top half. That much is certain. If only he could get some help.
(Branislav Ivanovic, Chelsea; Laurent Koscielny, Arsenal)
RB: Kyle Walker, Tottenham:
We could be seeing this young fella in next week's column as well. The energetic fullback staked his claim among some of the league's best players this season with an exciting and powerful campaign. Rampant up the right wing, Walker turned heads everywhere he went. Great year with exciting prospects ahead.
(Jose Enrique, Liverpool; Phil Jones, Manchester United)
LM: Gareth Bale, Tottenham:
His season may have started a bit slowly under the weight of the expectations that came with last season's campaign but Bale eventually got it going and was quite a force. I'd go with David Silva here, but he really seemed to dip in performance as the year went along. Bale was much more steady.
(David Silva, Manchester City; Juan Mata, Chelsea)
CM: Yaya Toure, Manchester City:
Another vital cog in the Citizens' machine, Toure did it all this year. Scored goals, tackled people, made defenders wet themselves. He was fantastic. His performance in the Derby was something to behold. Fabulous talent and vital to City's presumed title run.
(Yohan Cabaye, Newcastle; Michael Carrick, Manchester United)
CM: Rafael van der Vaart, Tottenham:
I was tempted to slot in his teammate Luka Modric here, but VDV just seemed to a have a more influential campaign, despite playing less matches. He scored big goals and set up a bunch, too. Will be a shame to see him leave if Spurs don't make the Champions League.
(Luka Modric, Tottenham; Paul Scholes, Manchester United)
RM: Antonio Valencia, Manchester United:
At times this season, Valencia was unplayable. You could try and defend him, but it wouldn't matter. He'd beat you regardless. His pace and power from wide positions were virtually unmatched. He can also defend really well, which is a plus in my book.
(Theo Walcott, Arsenal; Jonas Gutierrez, Newcastle)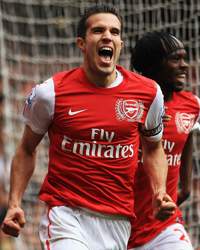 ST: Robin van Persie, Arsenal:
Probably the best player in England right now, Van Persie was everything to Arsenal this season. It was a campaign with lots of ups and downs, but in the end, the Dutchman was the one constant. His 30 goals could have easily been 35-40 had he had a bit more help around him. Will be a shame to see him play elsewhere next season.
(Clint Dempsey, Fulham; Demba Ba, Newcastle)


ST: Sergio Aguero, Manchester City:
A toss up between Aguero and Wayne Rooney, I went with the Argentine simply because of the boost he gave City coming into the year. Brilliant in front of goal and so strong that most defenders can barely handle him. His 22 goals in his first season in the Prem cannot be overlooked.
(Wayne Rooney, Manchester United; Yakubu, Blackburn Rovers)

Bench: Tim Krul, Newcastle; Ashley Cole, Chelsea; Branislav Ivanovic; David Silva, Manchester City; Juan Mata, Chelsea; Yohan Cabaye, Newcastle; Wayne Rooney, Manchester United

So there it is. Your team of the season. I think it's a pretty solid bunch with a few surprises. Overall, you shouldn't have too many complaints, but I'm sure there will be some and would love to hear them. For now, let's dive into our quick-fire edition of the Bacon that will preview four, yes four matches.
The Bacon (as in Bringing It Home)Manchester City vs. Queens Park Rangers
(Etihad Stadium, May 13th, 10:00 a.m. ET, ESPN2, ESPN3.com)
Could you even draw this one up any better? Manchester City needs to win to secure its first first division title since the 60s and will be facing off against scorned former manager (and legendary Manchester United forward) Mark Hughes and his gangly gang of Rangers from London. Yeehaw!
Not only that but QPR absolutely needs to get something out of this match or it could get relegated, depending on how Bolton does at Stoke. Expect the very skilled, yet sometimes disorganized bunch from the south to come out firing and give City a real run for its money.
The problems will come when City gets the first goal because if it can build on that and score two, well, that's all she wrote. Unfortunately for United, I reckon that'll be the case.
TFE Prediction:
City claims the title with a tidy 2-0 victory over QPR
Sunderland vs. Manchester United
(The Stadium of Light, May 13th, 10:00 a.m. ET, FX)
The Red Devils had the title in their grasp not three weeks ago and now it has fallen down a slippery slope of gloom, knowing it doesn't control its own destiny. If it beats Sunderland by 10-0 then it could win even if City beats QPR, but that isn't very likely, is it?
Not only that but Sunderland is a much better team than QPR and actually has a pretty solid backline, allowing only 45 goals this year, which is on par with Chelsea and less than Newcastle and Arsenal.
United will likely control the tempo (as it does) for most of this match. It plays its best footy when it has its back against the wall. This is one of those times. Gotta win, nothing else to it.

TFE Prediction: United takes it 3-1 to give itself a slim chance in the title race.
Tottenham vs. Fulham
(White Hart Lane, May 13th, 10:00 a.m. ET, Fox Soccer)
I'm in no way a Spurs fan, but I do like watching this team play and would love for it to have another shot at the Champions League. I say this mainly because if it loses this match and potentially misses out on the big tourney, it will lose a number of key players in the summer and won't be as attractive next year.
A win against Fulham, a team likely without its best player Clint Dempsey for the match, would guarantee at least fourth place for Spurs. Obviously, if Chelsea beats Bayern Munich in the Champions League Final, fourth place is as useful as wet socks. Harry's boys can potentially overtake Arsenal in third depending on how it does against West Brom. So many storylines!
I like Spurs here simply because it has much more on the line. Not only that but Fulham isn't the same team without Dempsey in the lineup and will struggle to keep up with the pace and technical ability that its London rival possesses.
TFE Prediction:
Big 2-1 win for Tottenham sees it potentially claim a CL spot for next season.
Stoke City vs. Bolton Wanderers
(Britannia Stadium, May 13th, 10:00 a.m. ET, Fox Soccer Plus)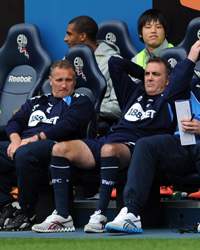 This is the other big relegation contest that could see Bolton go down if it isn't able get a win against an always-stingy Stoke side. That is what it has come down to. Bolton needs three points or its Championship living next season.
It's opposition, the Potters, haven't had the best season this year but will still provide stiff resistance given that a win for the home side could see it jump as high as 11th from its current spot in 14th. The former looks much more respectable, doesn't it?
Bolton will obviously push for the win, knowing that QPR will likely lose to Man City but Stoke beats teams like Bolton. Through in the visitors lack of attacking options and it makes for a very miserable evening in Lancashire.
TFE Prediction:
Bolton drops a 2-1 result at Stoke, condemning itself to life in England's second tier.
And Finally...The Black Pudding of the WeekEuro 2012:
It's going to be sad to say goodbye to this EPL season but at the same time, I'm pretty super pumped for the Euros. I'm not really sure why. I know England is going to have a laughable tournament, likely adding two years of butt-end jokes and misery to all my countrymen, but hey, I've decided to adopt Germany as my second country and may well root for Joachim Low and co. They have Mats Hummels. And Mario Gomez. And they actually plays like a team! Three things England certainly does not have...
Shane Evans is an editor for Goal.com USA. His feature, "The Full English" appears every Friday morning. Contact Shane at shane.evans@goal.com with questions, comments and concerns, follow him on Twitter at https://twitter.com/shanEvans

For more news on England, visit Goal.com's England section!