Just as the team began it, Manchester City is bringing its season to a close in style, with the form that evaded the club throughout the winter period returning just in time to resurrect a title challenge which had looked dead in the water four weeks ago.
While emphatic away wins over Tottenham and Manchester United in the opening months of the season prompted premature suggestions that Roberto Mancini's side could steamroll its way towards top spot, the team's failings in the Champions and Europa League, as well as disappointment in both domestic cup tournaments, showed City to be far from infallible.
However, despite finding itself eight points adrift of the Red Devils at the start of April, City has fought its way back into first place with just two games remaining following Monday's vital 1-0 win over Sir Alex's side, and will now feel a maiden Premier League title is there to be lost.
Below, in alphabetical order, are
Goal.com
's three nominees for Manchester City's player of the season, based on their club performances in all competitions. We then cast our vote at the bottom before leaving it up to you, the readers, to have your say.
| | |
| --- | --- |
| | |
Competition
Games

Goals
Assists
Booked

Sent off

League
32
22
7
1
0
Cup
4
2
0
0
0
Europe
10
5
1
1
0
Other
0
0
0
0
0
Total
46
29
8
2
0
The Argentine made a sublime start to life at the Etihad Stadium following his 38 million pound summer move from Atletico Madrid, with his double-scoring debut against Swansea City followed by six goals in his next five games for the club, including a hat trick against Wigan.
Much like Manchester City, the 23-year-old's output in the Champions League this season was disappointing, although his one goal in the competition came in a vital 2-1 victory over Villarreal to hand his side its first ever win in Europe's elite tournament.
Four goals in City's four-game Europa League campaign is an impressive return, but it is in the Premier League where Aguero has truly shined, bagging 22 goals and seven assists as City edges towards the title, and one would expect the striker to go from strength to strength in the coming season.
| | |
| --- | --- |
| | |
Competition
Games

Conceded
Clean Sheets
Booked

Sent off

League
36
27
16
0
0
Cup
2
3
0
0
0
Europe
10
10
3
0
0
Other
1
3
0
0
0
Total
49
43
19
0
0
The 25-year-old has continued to establish himself as the Premier League's top goalkeeper this season, contributing to Manchester City's title push with a number of fine saves and commanding performances.
Hart has conceded just 27 times this season in the English top flight, with stellar performances against the likes of Liverpool, West Brom and Wigan ensuring his side did not drop vital points, particularly in the opening months of 2012 when City's form took a downturn.
Despite his side's poor European showings this year, the England international also boasts an impressive record in continental competition, while Hart's ability to marshal his defense and provide another point of leadership on the field shows why his value stretches far beyond his 16 clean sheets in the league this year.
| | |
| --- | --- |
| | VINCENT KOMPANY | DEFENDER |
Competition
Games

Goals
Assists
Booked

Sent off

League
29
3
1
5
1
Cup
1
0
0
0
1
Europe
9
0
0
2
0
Other
1
0
0
0
0
Total
40
3
1
7
2
The Belgium international has been a stalwart at the heart of Manchester City's defense throughout this season, providing a pillar of strength to allow his side to build from the back, while also proving a calming influence in high-octane clashes in his role as captain.
Come May 13, his header in the 1-0 derby victory over United could be looked back upon as the goal which ensured the Premier League title would belong to the blue half of Manchester, yet impressive displays in the 6-1 win at Old Trafford, as well as in victories over Arsenal, Wolves and Tottenham are the true testament to his contribution in the current campaign.
While his one outing in domestic knockout competition this season ended with a harsh dismissal in the opening 15 minutes of City's FA Cup defeat at the hands of the Red Devils, the 26-year-old's performances on the European stage have suggested he can become the fulcrum of a renewed Champions League campaign despite his side's shortcomings this year.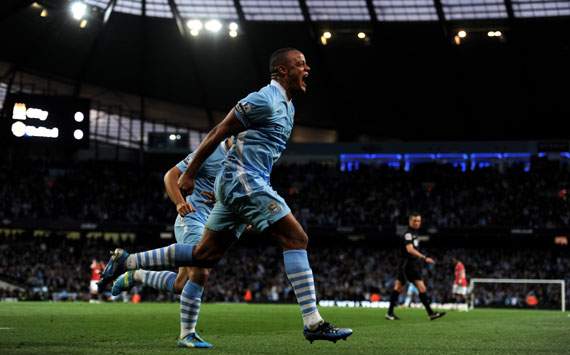 While the likes of Hart, Aguero, Yaya Toure and David Silva have all made telling contributions to City's quest for a maiden Premier League title, Kompany's assured performances from defense have formed the foundation of Roberto Mancini's side's challenge.
The one constant in a back line which has often changed personnel this season, the former Hamburg man has helped to steer City back on course towards top spot, with his consistency throughout the campaign securing his place as Manchester City's Player of the Season.
Follow GOAL.COM USA on