Vince Vaughn is probably my all-time least favorite actor, but his character in Dodgeball had an excellent line that I feel applies quite well to the English national football team:
"I found that if you have a goal, you might not reach it," said Vaughn's character Peter La Fleur. "But if you don't have one, then you are never disappointed."
With the pressure constantly on the England team to perform and "reclaim" its place as the top footballing nation on the planet, what better way to put things in perspective than to hire a manager who no wanted/expected/cared to consider?
In doing so, the FA has lowered expectations for the team heading into the second biggest international tournament in the game to such a monumentally low threshold that the Three Lions may as well ditch their traditional white uniforms for a set of red ones with a dragon in the crest.
...and what a masterstroke it was.
Now this is not me saying that Roy Hodgson is destined to fail in one of the more high-profile jobs in the game. Quite the contrary, actually. I'm saying that with a guy like Hodgson in charge, the team can take a step back and understand that the searing eye of its public won't be on its back as much as it normally has been. Hodgson's relatively unassuming demeanor will shield the fragile personalities of Terry and Gerrard and Rooney from the burden of being the thing they take so much pride in - English.
Follow SHANE EVANS on

With Hodgson at the helm, England will go into Euro 2012 knowing that getting out of its group (however easy that task may appear on paper) will be viewed as a major positive. Anything beyond that and the country will be overjoyed. Things have just been so backwards lately that the only the most delusional supporter could expect something crazy like a semifinal berth or, gasp, a place in the final.
Throw in the fact that Wayne Rooney will miss the first two matches against France and Sweden due to suspension, the team could finish third in the group and it wouldn't be that bad. Maybe that's just the defeatist attitude in me, but the FA has really set the Three Lions up for mediocrity, at least in the short term.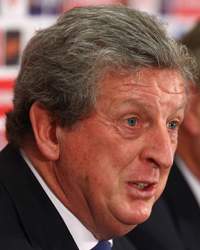 Now, if you thought Roy Hodgson was going to be England manager going into the Euros, say a month ago, I would have called you a liar. I certainly cannot make that claim and either can any self-respecting pundit who knows Joe Hart from Bret Hart. He wasn't the trendy pick. Or the second choice. Or the fifth one for that matter. Everyone had Harry Redknapp with one foot in the door, and really no one else.
Upon accepting the job, the 64-year-old Hodgson was met with ridicule and scorn from the English media who thought he was the wrong choice, something that may prove to be true. For now though, Hodgson is the choice and he'll do what he can
with the team
. It just so happens that whatever that is will likely be more than most people expect.
Speaking of expectations, raise your hand if you thought the EPL title race was all but over say, three weeks ago? Yes, same here. But like Manchester City's slide before it, Manchester United has began to buckle under the pressure of being the league's top dog, most recently at the much-ballyhooed Manchester Derby at the Etihad Stadium.
I don't mean to abandon Roy in his obvious time of need, but I have other fish to fry. Someone else will probably defend him at some point. It's inevitable, right?
Back to the derby.
It isn't often that Sir Alex Ferguson gets out-coached. One of those rare matches occurred on Monday, on an occasion that he'll have wished it hadn't. Deploying a head-scratching compliment of players to start the match, Ferguson entrusted his big game disciple Ji-Sung Park, a man who hadn't started a league match for United in nearly three months, to hound City's expansive midfield. Yaya Toure outmuscled and outplayed the pesky Korean midfielder right off the pitch in favor of more attacking options, namely Danny Welbeck.
I understand that Ferguson was playing not to lose the game, but every once in a while, a team will be more talented than the Red Devils and sitting back absorbing pressure won't work. Ironically enough, it kind of did work against City as United was only done in by some lax marking on a corner that let Vincent Kompany score the match's lone goal. Without that, it's conceivable that the game would have ended scoreless.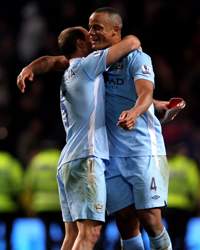 But with both teams showing a complete lack of industry, a 1-0 result was had and City goes into the season's remaining two fixtures controlling its own destiny. Win both, and it will be the new Premier League champions. Anything else and the title is still up for grabs.
Thankfully, both of City's opponents have something to play for and won't roll over on the Champions elect. Newcastle is still fully in the Champions League battle with Tottenham and Arsenal, while QPR is fighting for its top flight life. United's final pair are a bit more straightforward. Does it get much better than this? Really, does it? What an ending to the season we have on our hands…
The Bacon (as in Bringing It Home)Newcastle United vs. Manchester City
(Sports Direct Arena, May 6th, 8:30 a.m. ET, FOX Soccer)
It's hard to fathom a game that could mean more to a team than this match does for Newcastle, but low and behold, its opponent is on the cusp of a title and three points would do a great deal in getting it there. Phew.
As things stand, Arsenal, Tottenham and Newcastle are separated by a single point in the three, four and five spots in the table. With Chelsea potentially booting one of that trio out of the Champions League with a win in this month's final against Bayern Munich, that third place slot is all the more vital.
Coming into the match, both sides are in excellent form with Newcastle topping Chelsea 2-0 on the road and City winning the derby. While City had a great performance holding Manchester United scoreless, Newcastle was all over the Blues offensively and benefited from a pair of wonderful Papiss Cisse goals. Expect some more of the same in this one.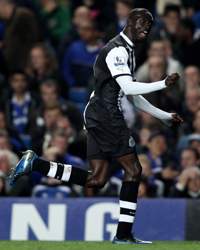 The difference between the two squads is how Newcastle really has nothing to lose. It'll want a result more than City and rightly so. It can't wait around to see what happens with Spurs and Arsenal, it needs to win its last two and prove to everyone that it deserves to be in the Champions League. It's somewhat similar for City as two wins and it will be champions, but I don't see the same desperation there that Newcastle has. Plus, the home side will want to play attractive, forward-thinking football.
If Cisse can get his touches, we could see a smash and grab-type showing from the Magpies. I just really like how Newcastle is playing at the minute. I'd normally give the midfield advantage to the Citizens but I think Alan Pardew's men will come out with more jump and control things.
TFE Prediction: This could be one of the most exciting matches of the season with plenty of attacking play, but in the end we will likely see the sides cancel each other out in a 2-2 match.
Blackburn Rovers vs. Wigan Athletic
(Ewood Park, May 7th, 3:00 p.m. ET, ESPN3.com)
Talk about a game with a lot on the line. Blackburn are in a painful relegation battle with the Rovers stuck in 19th on 31 points and the Latics in 16th on 37. The outcome of this one will yield major implications about who will be sent back to the Championship after this season. I'm banking on a Blackburn win simply because it'll ensure things will go down to the last week of the season.
The visitors are the in form side at the moment having beaten (yes beaten) Newcastle, Arsenal and Manchester United in their last four matches. A tough 2-1 loss to Fulham was the other fixture in a near perfect last few weeks. For Blackburn, this is likely its last chance to keep its head above water.
You have to like the way Wigan is playing right now though as it knows, and has done for a number of seasons, that if it goes down, it will really struggle to get back up. Just look at Middlesbrough. Similar situation.
The play of Victor Moses and Shaun Maloney has been the catalyst over the last month or so, and that will be the difference here. Blackburn has no one to compete with impressive forward play.
TFE Prediction:
Wigan all but secures its Premier League life with a 2-1 win over the hapless Rovers of Blackburn.
And Finally...The Black Pudding of the WeekRobin van Persie, Arsenal:
He's pretty much been Arsenal's everything man this season and he was recently named the Football Writers' Player of the Year. Well deserved. The talk lately has been that Manchester City is going to make a move for the Dutch forward in the summer to add to its plethora of attacking options. I would not be at all surprised. The Gunners are practically a feeder team for City anyways. Let's just see how much resolve Arsenal's brass has (and Van Persie, for that matter). Depending on how results pan out, van Persie could play for the reigning champion next season or a team that didn't qualify for the Champions League. Or he could join a title runner up and thereby pass on Champions League play with the club he loves. It's going to be a fun summer.
Shane Evans is an editor for Goal.com USA. His feature, "The Full English" appears every Friday morning. Contact Shane at shane.evans@goal.com with questions, comments and concerns, follow him on Twitter at https://twitter.com/shanEvans

For more news on England, visit Goal.com's England section!