This really is the best time of year. The sun is starting to shine on a regular basis, the seasonal beers are on tap and the grills are being fired up.
It's also arguably the best time of the year if you are a sports fan (well duh, of course you are). The NHL and NBA playoffs are in high gear, the NFL draft is here and the MLB baseball season is picking up speed.
Most importantly however, it marks the end of the European football season, with the focus of this weekly ditty, the English Premier League, primed for one its best finishes in some time.
If you've been hiding under a rock lately, or have simply been living out your post-apocalypse fantasies away from all technology, you may not know that Monday has been circled on everyone's calendar since some time last year. Yes, the Manchester Derby between the Citizens of City and the Red Devils of United.
Hold on tight.
That's Monday though. Before we get to talking the Derby, on which most of today's column will focus, I think a few words need to be said about what happened on Wednesday at the Camp Nou in Barcelona.
Follow SHANE EVANS on

Now, I wrote last week about how Chelsea deserved credit for its calculated and somewhat contemptuous performance in the first leg of the tie. I thought the Blues deserved nothing but admiration and plaudits for how they were able to shut down Barcelona, holding the visitors scoreless despite being out-possessed and outplayed.
Well if that match didn't convince you, the encounter in Spain surely did. Chelsea, playing a man down (more on that in a minute) for nearly an hour, managed to do enough to keep Barcelona from scoring more than twice... and even put the icing on the cake with a cool, yes cool, finish from Fernando Torres late on.
"Anti-fooball" you say? "Parking the bus" you scream? I don't think Chelsea really cares. It was substantially more negative in leg two, thanks to its inferior numbers, but with wave after wave of Barca attacks coming at its back line, the English side held strong. To me, it was a brave effort that should inspire. Barcelona has been known to break down even the most stubborn of defense but this time it couldn't even do it with an extra man. Bravo Chelsea, bravo.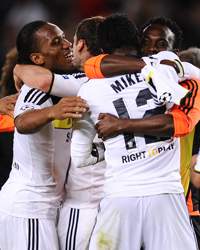 One cannot applaud the work of John Terry, who heading into this weekend's league action is again at the center of attention. The troubled defender saw a straight red for nearly breaking all 5'7" of Alexis Sanchez in half with a high knee in the 37th minute of the 2-2 match. Of course, Terry denied that it was done on purpose but strangely, it might have helped his team in a weird way. No point going forward with ten men. For once, Terry was the scapegoat.
The real victim in all of this is Newcastle. The Magpies, who have had a brilliant season, could miss out on the Champions League if Chelsea beat Bayern Munich in the final. What a shame that'd be. The Blues have been pretty miserable all season up until recently and I'd be proud if they can complete the turnaround and be crowned European champs, if for no other reason then to appease Roman... but you have to feel for Newcastle a little bit.
Ironically (or not), the two teams square off next weekend. Perhaps Newcastle can play its way into third, statement style? We shall see.
We also cannot overlook that on Sunday, Chelsea and its illustrious leader will take on QPR at the Bridge. Think back to the reverse fixture if you can't remember why I'm noting this.
But hey, out with the bad and in with the good, am I right? Let us get excited for the Derby in the best way I know how: giving you five solid reasons why it's going to rock your socks off, whatever color they may be. If this doesn't get you in the mood for the biggest domestic football match of the year, I don't know what will.
The Full English Five: Reasons To Get Pumped For The Manchester Derby1. The Revenge Factor
: Way back when, Manchester City came into Old Trafford and basically said, "Guess what? We are in this title race whether you like it or not!" By taking it to the champions in a 6-1 blowout, City sped out of the gate and dominated most of the early part of the season. Don't you for one minute think that anyone in red has forgotten this.
2. Man City's Home Record
: The Citizens have made the Etihad Stadium a fortress this season. Clich
é
as it sounds, teams have come to Eastlands 17 times so far and only one (Sunderland) has managed as much as a draw. Needless to say, no one has won a match in Roberto's back yard. Knowing that a win, or even draw, would just about do it for United, it's going to be very interesting to see the kind of tactics SAF employs on Monday evening.
3. Sir Alex Ferguson
: The wily Scot is always worth discussing and ahead of this match it's no different. His world famous mind games kicked off today during his press conference when he called City his club's biggest rival. Not really taking a jab... more like fanning the flames. If SAF says this is the match you need to worry about, then this is the match you worry about.
4. Your Matchday Official, Mr. Howard Webb
: Long suspected a United sympathizer, he better hope no contentious decisions present themselves in this one. If they do, and he favors the Red Devils, we'll never hear the end of it, not just from City fans, but from the entirety of non-United people. If he goes the other way with it, he could finally drop that tag. So yeah, the officiating in this one will be key.
5. The Cup Final Feel
: Few matches are better than those late-season affairs that have so much riding on them. You know, that cup final feel. Throw in that it's a derby match between two hated rivals with so much on the line, well, it doesn't get a whole lot better. It reminds me of what it'd be like if Floyd Mayweather and Manny Pacquiao finally fought. It has that kind of clout. Luckily, this fixture happens twice a year and this one is the biggie.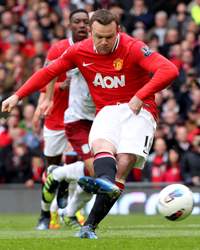 Now that I've rambled on for a 1,000 words, I guess it's time to preview the matches at hand. It's Bacon time.
The Bacon (as in Bringing It Home)Manchester City vs. Manchester United
(Etihad Stadium, April 30th, 3:00 p.m. ET, ESPN, ESPN3.com)
So now that you're officially on the hype wagon for Monday's match, let us discuss how it'll actually unfold.
For me, all the pressure is on Manchester United. City has put itself in a good position, having the better goal differential and being at home. If it is able to come out with a win, the Citizens will hop over United into first place and basically control their down destiny.
Expect the home side to come out firing, trying to get itself a lead early on. Pushing the envelope down the wide parts of the field through David Silva and Samir Nasri will be the way it does it. United have been susceptible in these areas as its fullbacks haven't been the greatest this year and its midfield widemen, hold Antonio Valencia, don't defend that well.
United will counter with the smooth ball movement of Michael Carrick and Paul Scholes (who knows a thing or two about winning Manchester derbies) in the middle of the pitch. Yaya Toure will be charged with breaking up the visitors' flow. Being that United like to work the ball up the pitch through the middle then spray it wide, getting to them early will be key. Good thing Yaya is athletic as he is. If it gets by him, Gareth Barry will be waiting.
Look for Wayne Rooney to have a big game as he is certainly the kind of player who rises to the occasion when it matters most. If he can get it going and keep City's center backs on their toes, it could be a long night for the home crowd. Thankfully for them, I don't think that'll be the case.
TFE Prediction:
I've got a feeling this match could end in a draw, but I'm going to go with the trendy pick and give it to City. Tevez does the Shakespearean damage.
Tottenham vs. Blackburn Rovers
(White Hart Lane, April 29th, 11:00 a.m. ET, FOX Soccer)
Talk about two teams that need a victory. Spurs, once the darlings of the top four and a near lock for a Champions League spot, have fallen into fifth, and have one win in their last nine matches. Connect the dots and blame John Terry for this also.
It's vital that the club keeps pressure on the Champions League place because a number of the club's biggest names will probably leave in the summer if it fails to qualify. Again, it won't even matter if Chelsea wins the thing.
Blackburn, fresh off an impressive 2-0 victory over Norwich, hasn't seen the win column since a mid-March victory over Sunderland. Three points from safety, Rovers have little time to mess around and will come out and push a wounded London side. Still gotta go with Spurs though.
TFE Prediction:
Tottenham makes the last few weeks interesting, at least at the top of the table, with a 3-1 win.
And Finally...The Black Pudding of the Week

Pep Guardiola, Barcelona:
It must be hard to be Pep. Dude wins about every piece of silverware possible during run with the Catalans and comes up a bit short this season, burns out and is ready for a change. Don't blame him. He has been exceptional with the Spanish club... but now England is calling. I'd love for 41-year-old to lead England at the Euros this summer, but it's much more likely that Chelsea come calling later in the summer to bring him to Stamford Bridge. Who knows, maybe Jose will be back in England by then, too. Oh, the storylines...
Shane Evans is an editor for Goal.com USA. His feature, "The Full English" appears every Friday morning. Contact Shane at shane.evans@goal.com with questions, comments and concerns, follow him on Twitter at https://twitter.com/shanEvans

For more news on England, visit Goal.com's England section!

Follow GOAL.COM USA on