Beating the Catalans is no easy task so give Chelsea some credit, will ya?
When I do my laundry, I do it in a way that gets it done and that's it. I don't separate colors, whites, sweaters, jeans, anything. It all goes in the washing machine with the same setting and with the same detergent.
In the end, I have clean clothes, the result that I wanted from the beginning. It maybe could have been done more effectively (some proper folding would be nice now and again), but all I really want is clean clothes so I don't smell like a wet dog. The final product is what matters. Clean clothes. Who cares how I got there? Certainly not me.
If you'll kindly indulge my iffy analogy, the same can be said about Chelsea's midweek performance against Barcelona in the Champions League semifinal. It wasn't exactly what you would call pretty, but the result is the important thing and the Blues were able to take a crucial 1-0 advantage into the second leg at the Nou Camp.
Follow SHANE EVANS on

Coming into the match, we all basically knew how Chelsea would play. We knew that it would try and absorb Barcelona. It would relinquish possession, even at home, and try its hardest to repel wave after wave of attacking moves from the Spanish side. Keeping the score as low as possible going into the second leg would greatly aid the Londoners in their quest to reach the final in Germany next month.
Well, mission accomplished.
Roberto Di Matteo and the Blues got what they wanted and then some. They didn't even allow a Barcelona goal (though it was close more than a few times), something that could have all but killed off the tie, even in defeat. Instead, going into next week's second leg, Chelsea will take a 1-0 advantage.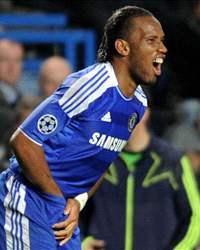 Having said that, the match itself wasn't exactly the best advertisement for the Champions League, or football for that matter, given the way in which it was played. Of course, the 'anti-football' trolls have come out in their droves accusing Chelsea of parking the bus and sullying what could have been an entertaining contest.
Frankly, I couldn't disagree with these people more. When you're faced with a superior adversary like Barcelona (or my piles upon piles of dirty clothes), you do whatever it takes to come away from the situation with a favorable outcome.
Up against the world's best player, Lionel Messi, Chelsea suffocated the argentine superstar with constant pressure from all angles, thus inciting the rage of football purists everywhere who expect to see the little guy run rampant on any fool not wearing Barcelona colors. Sorry to disappoint, folks, but Chelsea did what it had to, whether you liked it or not.
Scoring its lone goal at one of the best possible times (first half stoppage time), the Blues went into the locker room knowing what it had to do in the final 45 minutes. Lots of pressure on the ball, lots of time wasting, and a dogged defensive performance. Throw in a number of great saves from the now in-form Petr Cech and a few quite shocking misses from Barca and you have the recipe for a well earned 1-0.
The only other thing that Di Matteo could have asked for would have been another goal. But hey, let's not get too greedy.
I'm not going to come out and condone this type of play because I do enjoy a good football match every now and then, but again, Chelsea did what it had to do. Didier Drogba, the match's only goalscorer, will likely be remembered more for his gamesmanship than his tally in the first half. You think he cares what people think of him right now? Not one bit. He'd dive a thousand more times if it meant another Chelsea win in the second leg. Maybe even two thousand!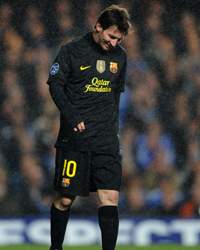 In other words, I understand the gripes, but like Chelsea, I just don't care. Who won the match? I know it's a very rare thing that Barcelona loses, particularly in the Champions League. This cannot be fun for the club's fans, and to them I have but one word to say: tough. It is a brilliant and wonderful side to watch and when it is canceled out as it was on Wednesday most people won't be happy but the other team won. Whether they are better or not is another discussion entirely.
Now before all the Barcelona fans out there come calling for my head, I will say that I don't think the English side can do this twice, especially not on the road. That's a whole other can of worms. It's very likely that we still have an El Clampionico League Final in our future. See what I did there? I made that up.
Prior Chelsea's trip to Espana, it'll have to face everyone's favorite trophy drought-suffering, puffy jacket-inspired club... yes, the Gunners of Arsenal at the Emirates Stadium. I smell a preview a-comin'…
The Bacon (as in Bringing It Home)Arsenal vs. Chelsea
(The Emirates Stadium, April 21st, 7:45 a.m. ET, ESPN2, ESPN3.com)
Coming into the match, these teams have entirely different mindsets. Arsenal, fresh off a shocking 2-1 loss against Wigan at home, is in soul searching mode. Third place is more or less wrapped up with four matches to play but it will have the 'no trophies again' cloud hanging over its head. Easy to see how the club could slip down the stretch.
Making the short trek across London is the aforementioned Blues who, as we know, are coming off their massive win against Barcelona. Loss to Wigan or a win against Barcelona. The last game is the last game but those kinds of results do, I repeat do, have an impact on morale.
Arsenal will go into the match without one of its midfield stalwarts as Mikel Arteta picked up an ugly ankle injury against Wigan which will likely end his season. It likely means we'll see more Aaron Ramsey. I like the Welshman but he's been underwhelming this season. Chelsea has a full compliment of talented and in-form central midfielders that should have little problem taking the match to him. With Yossi Benayoun unable to play due to his loan agreement, it could be trouble for the Gunners. It also means that Alex Song is going to need to put in a helluva shift. He normally does though.
Andre Santos will have to be careful as well as his defending is about as good as my paper mache-ing, which is to say, there is no skill there. It'd be ok if he didn't rush forward as much, and recklessly at that, but he does and that's problematic for Arsene Wenger and co. If Roberto Di Matteo is worth his weight in oil, he'll have Juan Mata follow Santos all over the pitch.
I really like Chelsea to keep up the momentum in this one and leave for Spain on a high note. Plus, it'll want to avenge that ugly 5-3 loss earlier in the year.
TFE Prediction:
Mr. Lampard does the dirty work in a 2-1 win for the Blues.
Manchester United vs. Everton
(Old Trafford, April 22nd, 7:30 a.m. ET, FOX Soccer)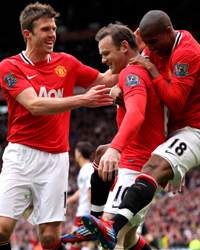 Talk about a big one in the EPL title race. If Manchester United is able to take all three points against an always plucky Everton side, it'd go into its match with City at least five points up. A win against its arch rivals and the title race would be over. Full stop. It's all moving that way now, isn't it?
If we've learned anything about this year though, it's that Everton has been one of the top teams of the second half, so a win here for United is no foregone conclusion. The club is still reeling from a difficult 2-1 loss to Liverpool in the FA Cup semifinal so it would be a huge boost for it to get something out of this very difficult contest. A win won't do much to improve its position in the table. A loss could see it slip slightly with a collection of six-seven teams right on its heels.
It'll probably be a tight match as Everton's defensive record is strong, particularly on the road. United, on the other hand, can't afford to have any questions going into the Derby and will play a deliberate match that should result in a victory.
TFE Prediction:
Won't be easy, but Rooney will win it for United in a 1-0 match.
And Finally...The Black Pudding of the WeekRaul, Schalke:
There are few players in the currently-playing category whom I admire as much as Mr. Gonzalez. Word out of Deutschland has the legendary Spaniard leaving his current club for greener pastures. Apparently he wants out of the continent all together, too. Good for him. His legacy will go with him wherever he goes. Shame he won't sign in England because I'd take him at any of the league's 20 clubs. If not that, what about the US of A, Raul? Look at this way: your other options are China, Dubai, uhh, another rich country or MLS, which has a few of your buddies in Thierry Henry and David Beckham. A solid infrastructure with a growing league. Plus it's Amerikuh! You'll be able to walk the streets in peace! We've got it all. Choose wisely, Raul.
Shane Evans is an editor for Goal.com USA. His feature, "The Full English" appears every Friday morning. Contact Shane at shane.evans@goal.com with questions, comments and concerns, follow him on Twitter at https://twitter.com/shanEvans

For more news on England, visit Goal.com's England section!