As the day turns to night and as Kim Kardashian inevitably plots her next money-grubbing scheme, I make proclamations that fall horribly short of their expectations.
Just last week, I all but wrapped up the English Premier League title in a little bow for Manchester United and presented you all with five reasons why the club is thriving at the minute. One win and one ugly, stifling loss later, the crown is as far from the Red Devils' collective head as Time's 'Person of the Year' title is from Ms. Kimmy K's.
The gap at the top has been reduced to five points as Man City easily dispatched West Brom 4-0 at the Etihad while United was getting outplayed by Wigan in its 1-0 defeat. Five points apart, with five games remaining means this should be an exciting few weeks.
My conspiracy theory is this: Sir Alex wants to be able to seal United's 20th league title when his boys play at City at the end of April. What would be a bigger slap in the face to the noisy neighbors than beating them in their house to win the league? Few things bring a smile to SAF's face. That would certainly do it.
Follow SHANE EVANS on

Up this week, City takes a very tricky trip to Carrow Road to take on Norwich, while the now sputtering-and-on-the-brink-of-collapse Red Devils will host Aston Villa a day later. If City tops Norwich, the lead could only be two points going into Sunday! Heavens no. I don't think anyone on United's team has been in a position such as that before. Should probably change its name to Manchester Untied.
To sum up: All roads lead to the Manchester Derby. Until then, let's just hope the sides keep things close so it actually means something. I'm thinking it's going to be tighter than it is now. Two to three points tighter.
As the title of this bad boy suggests, there is something slightly more exciting on the docket for this weekend and it comes in the form of an extremely old piece of silverware known as the FA Cup.
As most of you know, we are down to but four teams. Two matches to decide who will play in next month's final at Wembley. Ironically or coincidentally or begrudgingly or however you want to put it, the two semifinal matchups are between local rivals! Derbies! If that doesn't get you excited, I'm not quite sure what will. They aren't even boring rivalries like Aston Villa-Birmingham or one of the Lancashire contests. We're talking Merseyside and a good top four quality London derby.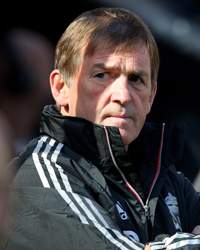 If you haven't guessed by now, I want to focus the bulk of the column on these two matches as the FA Cup really deserves our attention. It is after all the oldest football cup tournament on the planet and as any Brit will tell you, celebrating the past is a very important activity, particularly when the future looks pretty grim.
I love the FA Cup because it forces me to think about how amazing it would be if other sports had a similar tournament, with baseball being the obvious choice. The set up for it is already there as there are four main professional leagues that the tournament could draw from. Just chop 10 games off the regular season and get this thing going, it'd promote interest in the smaller clubs and help players get recognized. I digress.
Of the four teams remaining, you have to put your money on Chelsea as the favorite. With the Andre Villas-Boas era at Stamford Bridge a distant memory, Roman's club has turned things around under interim boss Robero Di Matteo and is currently on something of a run. Its main goal? Champions League qualification next season. That is if it doesn't win the thing this year, which seems slightly unlikely. Barcelona is kinda good.
Its opponent, Spurs, has been going through the opposite lately. Their blistering start to the season is long gone and the rigors of a 38-match league campaign have begun to take a toll. The latest victim of this is midfielder Scott Parker, who took a knock in his side's draw with Sunderland and is probably out of the semifinal. His absence was felt in the following match against Norwich (a 2-1 defeat) and will be even more evident against a Blues squad that is heavy on centrally-focused players.
Peering across the battle lines to the other semifinal we see Everton has lost its own midfield piece in Jack Rodwell. He hasn't featured as much as Parker this season, but has still been a steady player for the Toffees and if they want to beat Liverpool, will need all their players at their best. Luckily there are players to fill that gap and given the current form of the collective unit, they'll likely cause fits for the Reds.
Since the last Merseyside Derby a month ago (which is essentially a year in regular people time (one football month = one regular people year)), Everton has only lost once and that was against Arsenal. Even more impressive? It has only surrendered four goals in those seven matches.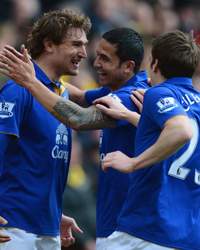 Everton's opponent hasn't been as fortunate. Liverpool, to put it nicely, are an absolute mess. After barely scraping by relegation candidates Blackburn in the week, the Reds fired their director of football and gave King Kenny the, "oh no, don't worry, mate, you're fine. We're totally not going to sack you too" speech. That's cool. I won't even start on the fact the club's third-choice keeper has to play in the semifinal. No, we'll just leave that the for the official preview.
Consider all that nonsense your FA Cup primer. Here comes the official TFE preview portion that you've come to know and love. And as always, please hit me up on the Twitters (
@shanevans
) and on email (
shane.evans@goal.com
) if you have any questions, compliments, gift offerings you want to throw my way. No mean stuff though.
The Bacon (as in Bringing It Home)

Liverpool vs. Everton
(Wembley Stadium, April 14th, 7:30 a.m. ET, FOX Soccer)

The friendly derby resumes in a match that would lead the victor one step closer to silverware. Liverpool, as we know, has already claimed the League Cup prize and would love nothing more than to cap its questionable campaign with a FA Cup triumph.
As I foreshadowed previously, the Reds go into the match down two goalkeepers. Pepe Reina is still serving his three match ban and his understudy Doni went and got himself sent off in the club's last match against Blackburn. That leaves former Middlesbrough shot stopper Brad Jones as the man between the sticks for this vital semifinal encounter.
The Australian has made a grand total of three appearances for the club with only one coming against EPL opposition. His days with Middlesbrough were slightly better but he's never been the quality of keeper you'd want wearing a Reds jersey. Just sayin'. Essentially what this means is, if David Moyes is worth his weight as a manager, he'll tell his squad to shoot as much as possible. Nothing like a rusty goalie. Did you see his save attempt against an awful Yakubu penalty kick? Yikes. He almost got sent off, too. That would have left...uh…Peter Gulacsi?
Everton will want a bit of revenge from that 3-0 defeat last month and as we discussed is playing very well since then. The defense has been the real catalyst behind the revival and should prove difficult for Liverpool to crack, even with Luis Suarez causing trouble, mainly because he's the only one who ever does. The Reds' frontmen just don't have very much going on, both from a chances and a creativity standpoint. Because of that ineptitude, I'm leaning towards the blue half of Merseyside.
TFE Prediction:
If you have anything more than zero faith in Liverpool lately, you're a Liverpool fan. The rest of us don't see much here as Everton wins 2-1.

Tottenham vs. Chelsea
(Wembley Stadium, April 15th, 1:00 p.m. ET, FOX Soccer)

Wembers will host the second semifinal on Sunday as the London clubs get together. If Gareth Bale is to believed, Spurs should win as they are a better side than Chelsea. We shall see, young man, we shall see.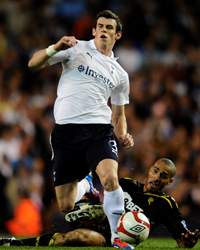 Chelsea will be without a pretty important defender in Branislav Ivanovic. The Serbian everything man has to be considered the Blues' most versatile and consistent backliner this year, so he will be missed against an aggressive Tottenham front six.
This will likely be a more exciting match than Saturday's, given that this pair are much more industrial going forward. Lots of chances and silky possession. Just a better quality of attacking football. But you knew that already. It will depend on who can capitalize on said chances. My guess is that it'll likely go to extra time before this one is decided.
TFE Prediction:
I like Spurs in this one. A Cup Final would be a helluva swan song for Harry. They're your winners in a 2-1 match.
And Finally...The Black Pudding of the Week

Pele and Diego Maradona, The Trenches:
In what sport do you have arguably the two greatest players to ever play going at each others' throats constantly as much as these two? They hate each other and it's amazing. Absolutely amazing. The most recent tiff started when Pele came out with the absurd statement that Lionel Messi (a man of 61 goals this season), isn't as good as Neymar (the guy with the fuzzy hair and quick feet from Brazil). Nothing against the young playmaker, but Messi is a very rare talent. Maradona knows this and quickly came to his defense saying that Pele was stupid for his comments. $500 to the guy who gets these two in a boxing ring together. Gloves not required.
Shane Evans is an editor for Goal.com USA. His feature, "The Full English" appears every Friday morning. Contact Shane at shane.evans@goal.com with questions, comments and concerns, follow him on Twitter at https://twitter.com/shanEvans

For more news on England, visit Goal.com's England section!