There are but seven games left to play in the 2011/12 EPL season and once again, Manchester United is at the top of the pile and looking like a reasonably safe bet to lift its 20th first division title.
Swap out the year and the number of Red Devils crowns in that last paragraph and you could throw it in a column from most years in the last two decades. In other words, a pretty impressive run by Sir Alex and the boys.
It's been a two-team affair at the top of the table for some time now and will stay that way down the stretch. Man City, United's main rival both for the title and always, has experienced something of a dip in form over the last few months while its counterpart has switched things into another gear.
None of this should be shocking information to you, the footy fan who is well-versed in all things EPL. City apparently doesn't quite have the chops hold down first place for the entire season and well, United, as I've said, is doing what it does.
Follow SHANE EVANS on

If you do consider Old Trafford your footballing mecca, then you've probably been smiling a lot lately. That will only continue. Matches against QPR, Wigan and Aston Villa are ahead. Three matches that could effectively put an end to the title race as we know it.
Right now, United has 76 points to City's 71. Those seven matches remain. If United can take seven points from those next three, it would set up a potential title-sealing victory against the Citizens at Etihad Stadium at the end of the month. That would suit Sir Alex just fine.
I've only been doing this gig three years or so and I feel like I've written a column like this a ton of times, and for good reason, you can never count out Manchester United. Earlier in the season, there were rumblings that it didn't have the team to win a title, SAF was getting a bit too old and that it was City's time to make that money work.
So we know what the current situation is and how it obviously favors the red side of Manchester. The question is, how this come to happen? How did United get itself in such a great position at such a vital time in the season? I smell a 'Full English Five' in the works…
The Full English Five: Why Manchester United Is Where It Is Right Now
1. The play of Michael Carrick:
He's the guy who gets zero credit. Quietly going about his business from deep in the midfield, you rarely see Carrick deep in the attacking third as he's completely fine with his teammates doing all the work in that area. His vision and football sense have been extremely important this year for United and he should garner some consideration for a place in England's Euro 2012 team.
2. Versatility, oh the versatility:
Despite having injuries up and down its lineup all season, United has been able to plug the gaps with players who can play all over the place. Wayne Rooney in midfield, Antonio Valencia in defense, Phil Jones in every position on the pitch. The list goes on. Having the ability work players into to different spots and not sacrifice performance is something you rarely see at this level.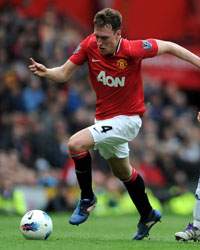 3. The injury to Anders Lindegaard:
The last thing David De Gea needed in his first season as Manchester United keeper was a controversy at his position. That's exactly what he got in the first half of the year and struggled to separate himself from Lindegaard. Then the Dane went down injured and De Gea, now firmly established as the No. 1, showed his worth in a big way. Since January when the injury occurred, the Spaniard has been fantastic.
4. Can't have enough veteran leadership:
I don't think it can be overstated how Ryan Giggs has as many EPL medals as the combination of most players on any given contending team. I'm going to go out on a limb and say City is one of them. Throw in a guy like Paul Scholes who has been huge and Rio Ferdinand, who was supposed to suffer from the loss of Nemanja Vidic, not flourish, and you have a solid core of experienced players. Even Patrice Evra (30) and Ji-Sung Park (31) have seen quite a bit in their day as Red Devils.
5. Sir Alex Ferguson:
The guy has done it all and knows it all. Few in the league or around the world can match what he has done. A constant inspiration to his players and the team as a whole.
So with seven matches to go, United has a lot in its favor, as it normally seems to. All you proud Red Devils out there, just remember that five points is certainly not insurmountable. City is an extremely talented team and any kind of slip-up coupled with a home team victory in the derby and we could be going down to the wire.
Right now though, things look pretty darn good.
And for the record, I am absolutely sick of writing about Manchester United/City at this point in the season. Here's hoping that one or the other gets things all tied up soon so we can focus on other areas of the league. Like, for example, the amusing plight of Liverpool. I could write about that forever. Yes, I know I've said that before.
"Conveniently" enough, both Manchester sides have matches on Sunday and they will be the focus of this week's bacon. United has QPR while City has a tricky trip to the Emirates Stadium in its immediate future.
[NOTE: I'm aware that there is a ton of midweek action going on starting Monday. I am however choosing to neglect all of it in favor of a review/preview column next Friday. We'll have a much better idea of where things are at that point so I think it works better that way. Don't be too sad, please]
The Bacon (as in Bringing It Home)

Manchester United vs. Queens Park Rangers
(Old Trafford, April 8th, 8:30 a.m. ET, FOX Soccer Plus)
Step one for Manchester United in its quest to end the title race as soon as possible begins with Queens Park Rangers at Old Trafford on Sunday. Rangers, whose last match was an emphatic victory over Arsenal at Loftus Road is in dire need of points as it is currently level with two of the bottom three on 28.
The 2-1 win against the Gunners was a big one for Rangers who have struggled mightily in their first year back in England's top flight. Manchester United on the road is an entirely different animal however and the club will have precious few opportunities to score.
As is usually the case when a lesser team is presented with a tough task against a favorite, the latter will likely see more of the ball and control things from the get. QPR will have to rely on the counter to get its chances and more importantly set pieces. Mark Hughes has a number of big bodies at his disposal and United (or De Gea rather) has been known to falter when the box is overloaded.
Too much at stake for the home side though. Can't drop points now.
TFE Prediction:
QPR causes a few problems for United but in the end the Red Devils take a 2-1 result.
Arsenal vs. Manchester City
(Emirates Stadium, April 8th, 11:00 a.m. ET, FOX Soccer)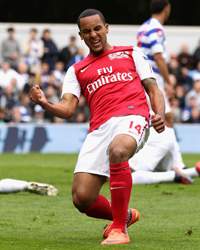 Lots at stake for both sides in this one. Arsenal is still in a dogfight with bitter rival Tottenham for the last automatic Champions League position and Manchester City, as stated above has a lot on the line regarding the title race.
I have enjoyed this fixture more and more lately, mainly because of the excessive links between the two clubs. With City set to start three former Arsenal players (Kolo Toure, Gael Clichy and Samir Nasri), the Gunners may have to change things up a bit to combat their knowledgeable foes.
The main man, as always, will be Robin Van Persie and his ability to run at defenses with his wiry runs will be paramount to Arsenal's success. If he's coming up against Toure, it'll be a helluva battle as both know each other well. Van Persie, will need a big match from Theo Walcott to provide support from out wide and even more centrally if he moves inside. Taking the pressure off RVP does nothing but help Arsenal's chances as the Dutchman can't really do it all...wait, yes he can. Would be a nice change to have some consistent help though.
Both sides are coming off disappointing results that will want to be corrected. City will rely on a returning Sergio Aguero to help fix things and will look to a recently-cooled off David Silva for service. Opposing the pair will be a shaky Thomas Vermaelen, a player who made two big time errors against QPR last week. Kun and Silva are two of the three most important players for City in the run in and will need a performance here.
TFE Prediction:
I think both sides hold fast and keep things entertaining for all. Unfortunately, it doesn't equate to three points for either as a 1-1 draw is played out.
And Finally...The Black Pudding of the Week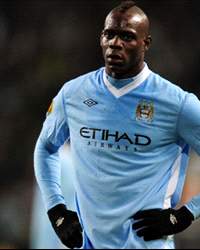 Mario Balotelli, Manchester City:
Being among the headlines must be some new high that I don't quite understand because Mario Balotelli cannot keep his name below the fold. That's the only thing I can think of to explain this guy's behavior. He's addicted to himself. Following a little on-the-field dust up with Aleksandar Kolarov over who would take a freekick, Balotelli decided to get himself into a little car accident this week, which I might add, isn't the first time either has happened. Balotelli essentially is one exceptionally talented man who happens to play a sport with 10 other exceptionally talented men who wear the same color shirt as him. That does in no way make him a part of a team or a good teammate. Even his old pal Roberto Mancini has had enough of him. From a media standpoint he's a golden goose, but if I'm running a team, a team in the middle of a crucial stretch of the season, I want him as far from the first team as possible...and the youth squad, too, for that matter. Darts people...darts.
Shane Evans is an editor for Goal.com USA. His feature, "The Full English" appears every Friday morning. Contact Shane at shane.evans@goal.com with questions, comments and concerns, follow him on Twitter at https://twitter.com/shanEvans

For more news on England, visit Goal.com's England section!