The former Chelsea man believes the likes of Arsenal and Manchester United could build their teams around the Rennes midfielder who has become a mainstay for France
Marcel Desailly
has urged
Arsenal
to push the boat out to sign
Yann M'Vila
– because he could become better than
Patrick Vieira
.
The French World Cup and European Championship winner believes the Premier League club should pay whatever it takes to sign the midfield anchorman from Rennes in the summer.
M'Vila has been closely trailed by a string of marquee clubs including Arsenal during the last 12 months and, although he has three years left on his Rennes contract, manager Frederic Antonetti has said the player will leave this summer.
Desailly believes his countryman M'Vila, 22, has the qualities required to thrive at Arsenal or any of the leading Premier League clubs.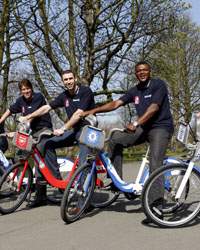 "I would just say that if I was the chairman of a Premier League club I would just close my eyes and put the figure on the check to get him," said Desailly in an interview with Goal.com in London. "Because he is really the future if you structure him. The talent is there. It is obvious.
"We hope he will come here. Arsenal is probably a stable club where he can have a bit of time or [Manchester] United where he has time to assimilate the changing of clubs and start slowly to perform.
"He needs to come to the Barclays Premier League. We want him in this competition because it is the best, first of all, and he can really develop his skills. It is for players who like to play with tempo.
"You can see by the way he gets the ball, control and passes straight away. Long ball, short ball. He has that sort of rhythm that the Barclays Premier League is demanding."
Nevertheless, Desailly had some words of warning for a holding midfielder who he rates as even more talented than one of the greatest players in Arsenal's history.
"He is doing too much on the field," explained the Chelsea and AC Milan legend. "He is defending and trying also to create and make the difference up the field. He has to reduce his commitment up the field.
"He is a defensive midfielder. Fortunately or unfortunately his skills mean he can be a playmaker. Sometimes he is out of position, because he is capable of doing something else.
| | |
| --- | --- |
| | "I would just say that if I was the chairman of a Premier League club I would just close my eyes and put the figure on the check to get him." |
"I would really like to, and I am planning to, get close to him and tell him, 'No. Like a defender, first of all what is your mission? It is to defend. If you defend very well anything extra you do is fine. First of all, stick on one thing – defending very well and passing very quickly to the offensive players.'
"Once he will have understood that you will see he is the best midfielder – better even than Patrick Vieira."
Desailly recognizes that it is quite a statement to rank M'Vila above even his former international colleague Vieira.
"Yes," he acknowledges. "Yes. You say potentially better than some names, some guys. Afterward, we will see. Many people have said 'He looks like Desailly he looks better than Desailly'.
"But did he perform and get to the level? Coped with the pressure and coped with the basics? Small details is where you see if a player is capable of passing his elders."
Marcel Desailly was speaking at the launch of Barclays Cycle Hire bikes specially-branded for each of the capital's Barclays Premier League clubs. Fans will be able to see the bikes in Barclays branches near the grounds until the end of the season. www.barclays.com
Follow Wayne Veysey on