As a writer, it can get slightly boring talking about the Manchester Uniteds and Citys of the world. Sure, they are the top teams in the England, along with the likes of Arsenal, Chelsea, Tottenham and Liverpool (when it decides to show up), but there are another 15 teams out there.
Even the middle ten teams in the league get some notice for strong periods of play that allows them to stay in the first division year after year. Good for them, right?
Then, last but certainly least, you have the bottom five. This crew is usually in the fight from day one and rarely shows signs of breaching the group above. Strangely, it normally is a quintet, you know, just to keep things interesting.
With eight or nine games remaining, depending on which team you support, now iss a good time to turn our attention to that tasty little scrap at the foot of the table and see how things might shake out the rest of the way.
Follow SHANE EVANS on

Those five teams you ask? Well, if you're too lazy to look at the standings yourself, you will see (in order from least terrible to most terrible) Blackburn Rovers, Bolton Wanderers, Queens Park Rangers, Wigan Athletic and Wolverhampton Wanderers. Three of these five struggling outfits will be sent to the wasteland that is the Football League Championship.
Well, more of a financial wasteland really. The competition level is better than you'd expect.
There is much time before that, however, and any combination of those five teams could stay up. As it is right now, only six points separate 16th place Blackburn (26) and last place Wolves (22). With those tight numbers, anything is possible.
Back in August – as I do every year – I previewed the upcoming Premier League season and tabbed QPR, Blackburn and Wigan as the three teams that'd go down. In fact, I only had one of the bottom five incorrect as I saw Bolton doing slightly better and West Brom slightly worse.
Fast-forward to present day and my feelings on who will go down change only a little bit. Swap out a much-improved Blackburn for arguably the worst team in the league up to this point, Wolverhampton. Even with things as close as they are now, this trio has a really tough road to the end of the season and isn't likely to pick up many more points along the way.
If they are though, or any of the five teams in question for that matter, they'll need this who's who of diamonds in the rough to step up and make their value known...and fast.
The 2011/12 EPL All-Relegation Team
GK: Ali Al-Habsi, Wigan Athletic:
Like Cris Carter of NFL fame did with touchdowns, Al-Habsi does with shots. All he does is stop them. He isn't the best goalie in the EPL, but he is productive and hangs in there despite having a pretty porous defense in front of him.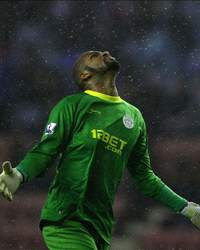 LB: Martin Olsson, Blackburn Rovers:
This lightning-fast wingback has a bright future in the game, likely away from Ewood Park. Despite only playing 18 times this year, his industry going forward and willingness to defend have been fun to watch.
CB: Anton Ferdinand, QPR:
It's really hard to pick out center backs for a team of top players in this group, given the massive amount of goals that are allowed, but Ferdinand has held his own for the most part of this season. A sturdy presence on a shaky team.
CB: David Wheater, Bolton:
With Gary Cahill's midseason departure, the former Middlesbrough man has formed a reasonably strong partnership with Zat Knight. The prototypical English center back, Wheater should continue to improve.
RB: Gretar Steinsson, Bolton:
He may have passed the big 3-0 in age but this rugged fullback has put in a number of solid shifts this season. He tackles anything that moves and is one of the better defensive wide defenders among these teams.
LM: Victor Moses, Wigan:
If Moses stays a Latic after this season, I'd be very surprised. The Nigerian has lit up teams this year with his fleet-footed moves and attacking mentality. If nothing else, his paly has been pleasant on the eyes and will continue to be for years to come.
CM: Nigel Reo-Coker, Bolton:
This scrappy midfielder has played all but one of the Wanderers games this season and has really been an important player for the club. Without him keeping things in line from the middle of the pitch, the club's position would be very different.
CM: Steven Nzonzi, Blackburn:
The lanky French midfielder has had another good season for Rovers this years, though he doesn't appear to be the same man without Christopher Samba backing him up. Still worthy of inclusion here.
RM: Matthew Jarvis, Wolves:
Jarvis, the one-cap wonder, has been one of the lone bright spots for Wolves this season, contributing four goals and five assists. If they go down, he probably stays in the EPL with a team that could use a determined and talented winger.
ST: Yakubu, Blackburn:
The Yak has lit it up this season, netting 14 goals and adding two assists in only 22 games. It appears the move to Ewood Park has suited him and he's back in the form that made him a household name nearly five years ago now.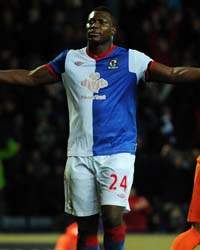 ST: Steven Fletcher, Wolves:
10 goals is a solid haul for a player on the league's last place team. Fletcher has been really good for the club and he works really hard, which is what a team in Wolves' position really needs from all 11 players.
Bench: Paddy Kenny, QPR; Roger Johnson, Wolves; Maynor Figueroa, Wigan; James McCarthy, Wigan; Alejandro Faurlin, QPR; Junior Hoilett, Blackburn; Heidar Helguson, QPR

If you put these guys together on a team, chances are they end up in good shape come the end of the season. I won't say anything better than midtable, but it wouldn't be relegation for them. This is good squad of guys who could all have new homes by this time next year.
Thankfully, there are other teams in action this weekend, teams that you actually want to watch. Here is your weekly preview of two of them, starting with the huge Newcastle-Liverpool tilt on Sunday.
The Bacon (as in Bringing It Home)

Newcastle United vs. Liverpool
(Sports Direct Arena, April 1st, 8:30 a.m. ET, FOX Soccer Plus)

Boy howdy, sixth place is kinda up for grabs! Well, fifth place really, but Liverpool is certainly not in that conversation. Newcastle sits sixth has an impressive 50 points. Liverpool, as poor as it has been, has 42 points, three more than Norwich and Swansea. Yikes.
The Magpies are well-deserving of their place in the table and should go into this match full of confidence. Liverpool isn't exactly playing well right now and really needs a result. Unfortunately, the home side isn't going to be an easy nut to crack.
Both teams are solid in defense, so the chances should be at a minimum, especially for the Reds – who can't buy a result lately. Check this stat: Liverpool has one win in its last seven matches. Not exactly typical of a team of its high standard.
I expect this to be a close match throughout with Liverpool finally getting it together in a contest it simply cannot lose, or even draw. With the number of players Newcastle has out injured, the Reds have no excuse.
TFE Prediction:
They leave it late, but in the end the Reds walk away with a big three points in a 2-1 match.
Tottenham Hotspur vs. Swansea City
(White Hart Lane, April 1st, 11:00 a.m. ET, FOX Soccer)
Swansea has been one of the most fun teams to watch so far this season and it faces another tough test this weekend as it travels to Tottenham.
The team the Swans will be facing has really struggled lately after getting off to such a hot start to the year. No wins in its last five, Harry Redknapp's men need to start beating teams like Swansea if it wants to keep its place in the Champions League places. Chelsea and Newcastle are nipping at their heels.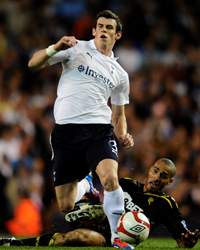 Swansea rarely get beat by a number of goals and should be completely in the match, despite Spurs' superior talent level. Tottenham will control the ball and get the chances, it's just about finishing them, something it hasn't been doing with enough regularity lately.
If it can do that, Swansea shouldn't be an issue.
TFE Prediction:
The visitors keep it interesting but like Liverpool, Tottenham can't afford another subpar showing and wins 3-2.
And Finally...The Black Pudding of the Week

Fernando Torres, Chelsea:
The enigmatic Spanish striker is a shadow of the man he once was but maybe he's getting his groove back? Who knows. Rumors suggest that his short time at Stamford Bridge may be coming to end in the summer. Chelsea surely would get a chunk of change for him, regardless. It just appears as though it's not going to work out between the two parties. Unless the Blues bring in Rafa Benitez as manager and the pair live happily ever? One can hope, it's not as crazy as you think...
Shane Evans is an editor for Goal.com USA. His feature, "The Full English" appears every Friday morning. Contact Shane at shane.evans@goal.com with questions, comments and concerns, follow him on Twitter at https://twitter.com/shanEvans

For more news on England, visit Goal.com's England section!