Carlos Tevez took the field for Manchester City on Wednesday in the club's match against Chelsea. Let me repeat that. Carlos Tevez took the field for Manchester City on Wednesday in the club's match against Chelsea.
This is something many of us thought we'd never see: Tevez wearing a sky blue City shirt again. But after all the media comments, proclamations of transfers that would never come to pass, swooning from any club with tons of money and picture of Tevez looking moody...he is back at Eastlands and back in the team.
Absolutely surreal.
To take this out of soccer terms for a second. This would be like if your best friend decided he didn't want to be your best friend anymore and wouldn't stick up for you while a load of bullies were beating you up. Then he didn't show his face for months and searched out a new best friend, only to realize he couldn't find anyone better and began to slowly weasel his way back into your life, for better or worse.
Follow SHANE EVANS on

Not exactly the best scenario in the world, but hey, if you're as selfish as this particular person, you'll take whatever is the best available option.
Now, before I get too deep in my rant about how awful a person/player/teammate Tevez is, I must say that I don't know the man personally. I don't know every little detail about his life or why he chose to act the way he did. I just know that he did it and, as an outsider, it was deplorable.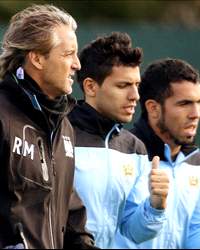 He could have had every reason to act as he did. Maybe he was just really tired that night in September against Bayern? Or his boots were too tight? Maybe he didn't get his two-hour massage from bikini-clad supermodels who fed him caviar on a 24k gold dish while reclining on his stacks of money? In other words, it could have been a really tough day for the striker, and I can't judge him if it was.
So he didn't play and took a long break from soccer to find himself or whatever and, eventually, after no team could stomach his extortionist wages in the January transfer window, was stuck with City. More pertinently, City was stuck with him.
The mending of bridges (begrudgingly) began.
Manchester City, in my humble opinion, played this whole thing extremely well. Roberto Mancini, a manager who is no stranger to larger-than-life personalities, held his own quite well against the ever-difficult Tevez. When push came to shove, the club had and still has all the power. If he didn't want to play or be with the team, it didn't have to pay him. There was no set obligation for it to act hastily. The striker position happens to be one of the deeper areas of the team and it did well without him.
Eventually both sides swallowed their pride and realized they were better off together. Midseason preseason training commenced and Tevez slowly worked his way through the reserve system to the bench and then the field in a huge match for City against a vastly-improved Chelsea team.
Brought into the match in the 66th minute of Nigel de Jong, Tevez proceeded as if he never missed a minute, despite not playing first team footy in about six months. When he entered (to mixed reactions from the Eastlands' crowd, I might add), his team was down 1-0. When the whistle blew, it had won 2-1...thanks in large part to the Apache himself.
Vibrant and creative as always, Tevez as the title of this ditty suggests, was a huge thorn in the Blues side and eventually beautifully set up Samir Nasri's winning goal. He even allowed Sergio Aguero to take the penalty when his team won one in the 78th minute for a Michael Essien handball. Interesting to note that he barely moved/celebrated after his compatriot converted it.
This was just the start, however. A resounding win to keep its name fully in the mix for the EPL title won't be enough for Manchester City. With Tevez back in its ranks, the minutes up front will be scarce. But goals win titles, and the Citizens can put them in from anywhere. How many of those minutes are allotted to Tevez depends on not only his form, but his attitude on and off the pitch. If he wants to be a part of this team, a team that could be EPL champion in May, he'll have to continue to prove it...week in, week out.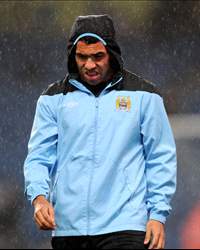 It remains to be seen if Tevez will produce that kind of play or if this is just a way to up his value heading into the summer transfer market. Whatever happens, though, Tevez seems like more trouble than he's worth. Who knows, maybe that's the point?
It's not all Carlito this week, thank the lord...we have a big London derby on the horizon as Chelsea will 'welcome' Tottenham to the Bridge. Additionally, I have to talk about how awful Liverpool is right now, so we'll preview the Reds' match with Wigan. Surely they can't lose that one? I guess you'll have to wait and see...
The Bacon (as in Bringing It Home)

Chelsea vs. Tottenham
(Stamford Bridge, March 24th, 8:45 a.m. ET, ESPN2, ESPN3.com)

The shine has officially worn off Tottenham's season. It once looked like a lock to qualify for the Champions League next year, and now just continues to flounder in the matches that mean the most.
It was given a chance to redeem itself against Stoke but had to rely on a late equalizer from RVDV to take a point from the match. It won't want to wait as long in Saturday's contest.
Chelsea happens to be the team directly below Spurs in the table and is five points adrift. A victory here would go a long way in making sure that fourth spot isn't locked up by the Lilywhites just yet. Plus, surrendering two late goals in a match it could have won against City won't please the boys in blue.
It will need to see more of the ball on its home turf (only 40 percent against City) and stifle Spurs' outside attack. The Blues' fullbacks have been known to make a mistake or two, so they'll need to minimize the damage by having extra cover available. Earn that paycheck, Raul and John Obi and Michael.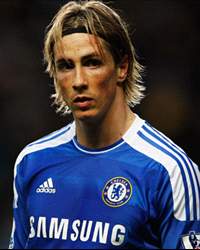 I like the Blues' chances though. Spurs just can't put a foot right lately and are officially hearing the footsteps of the teams behind them in the table. Chelsea has been making the most noise since AVB's departure and will continue to do so here.
TFE Prediction:
El Nino ends his league scoring duck with a pair in the Blues' 3-2 win.
Liverpool vs. Wigan Athletic
(Anfield, March 24th, 11:00 a.m. ET)
At this point, I just kind of feel bad for Liverpool. It has been absolutely awful lately and is playing Kenny Dalglish out of a job. That's essentially what this is coming down to.
Against QPR, the Reds allowed three goals in the last 15 minutes, all of which were preventable. This came after they looked in complete control for the other 75 minutes, scoring two lovely goals, dominating the shots column and controlling the ball.
If Twitter is to be believed, Liverpool has the same return from Dalglish right now that it had from former manager Roy Hodgson during his short reign in charge. Not exactly what the club had expected from its former forward legend. Shame, too, as things started so well.
Good thing Wigan is coming to town, right? Wrong. The Reds only have two wins against Roberto Martinez side in the last three seasons. Could be an interesting one.
TFE Prediction:
Liverpool really needs three points in this match. It'll happen this time in a 2-1 win, a win that is much closer than it should be.
And Finally...The Black Pudding of the Week

Tomas Rosicky, Arsenal:
A guy who gets no credit and who deserves a lot, Rosicky is finally playing like the player the Gunners hoped he would be when they signed him from Dortmund way back in 2006. He's moving the ball around, creating shots and just being the slick attacking midfielder that this type of team requires. You know, a Samir Nasri-type. He may not be the long term solution (cough cough Jack cough cough) but he is doing a fine job so far this season and it is great to see a player who is as respectable as Rosicky finally overcome lengthy injury issues and provide for the team that bought him. No turning his back on Arsenal any time soon, that's for sure. Yep, Rosicky's vacations to South America can wait until the offseason...
Shane Evans is an editor for Goal.com USA. His feature, "The Full English" appears every Friday morning. Contact Shane at shane.evans@goal.com with questions, comments and concerns, follow him on Twitter at https://twitter.com/shanEvans


For more news on England, visit Goal.com's England section!