You are born. You will pay taxes. You will put on few pounds. You'll experience Manchester United's consistency. Then you will eventually go toe up.
Sure there will be a few other things mixed in there, depending on who you are. For me, it's been a few too many European beers, excessive time holding a PlayStation controller, and more concerts than I can count. The initial selection however remains true for most people out there.
Given that I'm not a pediatrician, CPA or undertaker, my stake in the other activities would seem rather pointless. We can focus on the other piece, you know, the one that I happen to know something about (or nothing, depending on who you ask).
Right now though, it's all facts. Look at the top teams in the English Premier League. One by one. Manchester United, Manchester City, Tottenham, Arsenal, Chelsea, Newcastle, Liverpool. Go on, do it. Check out recent form, streaks, etc.
Follow SHANE EVANS on

Of these seven teams, who has been the steadiest? Who has turned it on at the right time? Who hasn't had an extended dry spell this season? Who has 19 titles? You get the picture.
While you most certainly cannot count out Manchester City at this point (I repeat, I am NOT counting out Manchester City), history does favor the Blues' crosstown rival. With Sir Alex Ferguson at the helm, the Red Devils continually prove their worth when it matters the most, much to the chagrin of the likes of Liverpool, Chelsea and Arsenal. Manchester City is the latest to realize this inconvenient reality as its reign at the top of the table may be over for good.
United currently has a four-point lead at the top of the table, and has played one more game than second-place City. And while City continues to play well despite a slight hiccup over the last few weeks, it has to be concerned that United has surged ahead as the season slides past the three-quarter mark.
Remember when City beat United 6-1? Was that like four years ago? The skepticism in Sir Alex's ability to revive his team from such a butt kicking was rife among everyone with the ability to put a sentence together on the matter. Look at things now. That result couldn't be further from the mind of the men in red, and blue for that matter.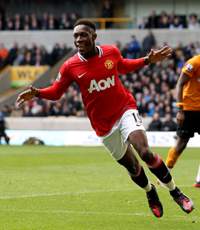 For the record, it was just over five months ago.
Same can be said about Arsenal's embarrassing 8-2 defeat at Old Trafford. Or the Gunners' 5-3 win at Stamford Bridge. Or Tottenham's 4-0 victory over Liverpool. The EPL season, and any season with over 10 contests, is always a marathon, not a sprint. Overused cliche, sure, but it's overused for a reason...it's as accurate as Nutella is amazing.
More convenient circumstances, for United, anyway: its remaining matches this season hold few real challenges. The battle royale against City in late April is the only remaining fixture that will concern the Old Trafford bunch, at least as far as the title race goes. The others are business as usual, and give the club's recent form, should be handled with the same effort as when George Costanza was hired by the Yankees - the absolute minimum amount required while still looking the part. That's the stuff of champions right there. Doing it with ease.
In beating Wolverhampton 5-0 last weekend, United sent a bit of a message. It basically said that the team is going to blast the bad teams and doesn't intend on slowing down as the season enters its final months. Yes, it was a lowly Wolves side, one much better suited for the Championship, but getting victories against those types of teams in the months that we are currently in is almost as important as beating the big teams. No slip ups allowed. Put teams out of their misery early (United was up 3-0 at the half), so some sleeping under your desk is acceptable afterwards.
United is just as methodical and calculated as Cant-stand-ya, but sans cock-ups. Always a focal point of discussion and you're rarely surprised when things turn out in its favor. I wanted to compare City to Bania, but it fell apart pretty quickly. Don't want to overdo the Seinfeld stuff as I'm sure many of you won't get it. ANYWAY.
To sum up this seemingly scatterbrained diatribe, you have to like Manchester United's position right now. That is if you are a United supporter, which for the record, I absolutely am not. I'm a neutral, people. Just sticking to the facts here. To repeat, they are as follows:
United always makes a late-season run. City hasn't been in this position before and has a pretty tough remaining schedule (Chelsea, Arsenal, Newcastle and United remains). The City-United match will be huge. Wayne Rooney should be the key figure down the stretch. Sir Alex is Sir Alex. You can put Nutella on anything.
There is no way you can hand United the title right now, not in the least...but things do look good. Considering the last five years or so, you'd be hard pressed to find someone who could think otherwise, though I know many of you will try in the comments. Have at it, lads! Or email me and we'll talk. Yadda yadda yadda.
City can get right back in the mix on Wednesday as it will welcome a rejuvenated (did you know juvenate isn't a word? Weird, huh?) Chelsea to Etihad Stadium in a pretty significant match. Losing the match, or even a draw, would seriously hurt its title chances, but hey, big games are big for a reason. This is where I segue into the The Bacon. 3...2...1…

The Bacon (as in Bringing It Home)

Manchester City vs. Chelsea
(Etihad Stadium, March 21st, 3:45 p.m. ET, ESPN2, ESPN3.com)
Feeling the full effects of NMS (New Manager Syndrome), Chelsea has its swagger back. Four straight wins across all competitions has many singing the praises of RDM (Roberto Di Matteo) since he took over for AVB (Andre Villas-Boas) earlier this month. Sometimes all a team needs is a different look at things, or in this case, a familiar one.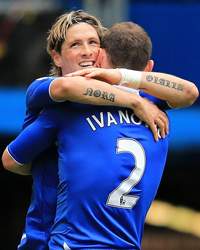 AVB's determination to change the Blues' system was a benign notion, one which he hoped would work out. Unfortunately, it didn't and RDM was brought in to adjust things back to what the team was comfortable with. It may not have played like it much this season, but Chelsea was a second-placed team in 2011 and won the league the year prior. It also has oodles of talent and deserves to be among the top teams in the league.
Going up against Manchester City away from home is no easy task, regardless of current form, so Chelsea will have to be on its game. No John Terry for the match, so we'll likely see more of the Gary Cahill-David Luiz 'partnership' if you can call it that. Could be a key thing to keep an eye on.
Both teams really need this match, so it'll equal quality viewing for those who are able to watch. City needs to keep pace with United, while Chelsea cannot afford to miss out on the Champions League and can't afford to lag behind Arsenal and Spurs.
The 'x factor' as people love to say these days has to be Fernando Torres. The Spanish striker, who just turned 28, scored two against my dear Leicester City on Sunday to end his long goal drought. It was clearly evident after his first strike that it changed something in him and he looked very dangerous from that point on. If he can trouble City's back line, I think Chelsea could come away victorious.
TFE Prediction:
A lot rides on Torres' performance, and I think he keeps it going in a 2-1 win for the Blues.
Everton vs. Arsenal
(Goodison Park, March 21st, 4:00 p.m. ET, FOX Soccer)

The Toffees took some time to get warmed up this season, but it finally happened over the last few months and now they are back in the top half of the league, where they belong. A win over a surging Arsenal side could put them only a pair of points behind Liverpool in 7th place. Not too shabby.
Arsenal though is arguably the hottest team in the league right now and has ripped off five straight wins. Even on the road, it'll be a tough team to beat. Any team with Robin van Persie is hard to beat right now. He could be playing with the reserve team and would still make good things happen.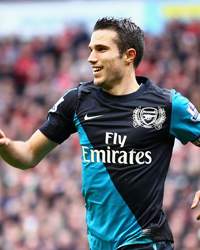 In any case, don't expect the Gunners to sit back and absorb Everton's attack. That's more of the home team's style. Arsenal will look to use its speed and cunning from the flanks to create opportunities for RVP and its center midfield trio. With Tomas Rosicky organizing things, it should control most of the possession. If it can finish its chances, of which there shouldn't be a great deal thanks to Everton's astute defense, the London club will go home a winner.
TFE Prediction:
RVP continues his march to 35 goals with a pair in a 2-1 result.
And Finally...The Black Pudding of the Week

Fabrice Muamba, Bolton Wanderers:
What can you say about this situation that hasn't been said a hundred times? Just horrible horrible stuff. I was watching the match on Sunday live and saw the brief seconds when he collapsed before the cameras cut away. Just not what you want to see under any circumstance. Fantastic to see him slowly recovering and I surely hope he is back at 100 percent sometime soon. What's even more impressive is the overwhelming support he's receiving from the footballing community. Everyone has expressed well wishes and subsequently brought the world together. Get well soon, Fabrice. My thoughts are with you and yours.
Shane Evans is an editor for Goal.com USA. His feature, "The Full English" appears every Friday morning. Contact Shane at shane.evans@goal.com with questions, comments and concerns, follow him on Twitter at https://twitter.com/shanEvans

For more news on England, visit Goal.com's England section!