If the English Premier League was a character on the Simpsons right now, it'd be
Gil Gunderson
. For those of you who aren't familiar with old Gil, he was a sputtering loser who was pretty terrible at everything he did and was laughed at regularly.
That is where things stand with England's top flight footy division right now. The whole world seems to be down on it as if it does no good for anyone. The luster has officially worn off.
But what kind of EPL columnist and complete England homer would I be if I didn't dive in front of the hate bullets headed the Old Blighty's way with my Kevlar armor made up of printed copies of "The Full English"? A pretty bad one, that's what kind.
I'll preface this little rant by saying that some of the criticism is certainly warranted. The league, this season at least, has become something of the dreaded 'two-horse race' but without the flashy skills and pretty women of La Liga. The worst part is, it's been like that for quite some time as Chelsea, Arsenal, Liverpool and even third place Tottenham have fallen out of the race for the title.
Follow SHANE EVANS on

Then we have the big teams' troubles in Europe, which have been consistently noted by journalists and pundits worldwide, myself included. With yesterday's matches, both Manchester United and Manchester City (1st and 2nd domestically) dropped out of continental competition, leaving only Chelsea left playing outside of England. The Blues had a torrid time with a sticky Napoli club but eventually outlasted the Italians in an epic second leg at Stamford Bridge.
Ironically, of the Manchester duo, Chelsea and England's other European entrant Arsenal, the Blues were (and are) the worst of the lot and don't really deserve to be where they are. Or we could just blame it all on AVB. Moving on.
Then there's the fact that some of the matches aren't that exciting these days, the other leagues (namely the Bundesliga and Serie A) are on the rise and the teams at the bottom do more flip-flopping than Mitt Romney...it just makes for a sticky situation. Plus, you can't even mention the decline of English football without mentioning the national team, a team that is an absolute mess right now.
Old Gil would be proud. A cockamamy collection of calamitous concerns.
At least, that's how many want you to think. The EPL has the uncanny ability to be loved unconditionally and hated for the same reasons all at once. People love the speed and physicality of the game, as well as the undying passion of its supporters in the country that birthed the sport.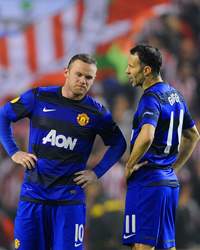 Conversely, critics say that the game has become lumbering and closer to rugby than football. They also hate the pride that British folk have about the game that they supposedly invented and would prefer to indulge in the more sophisticated and efficient spoils of the continent.
Critics be damned, I say.
It is widely accepted that this year hasn't been the best for the EPL and it's 20 clubs, as I touched on earlier. It's not all bad though. Not at all. To that end, I now give you a quick "Full English Five" (Patent pendings). Within it: five reasons you should be excited about the EPL this year and beyond. Here we go.
Full English Five
1. The goalscorers
- This year has the very real possibility of having 10 players score 15 or more goals, something the league hasn't been able to accomplish in some time. The individual efforts are their and we get to enjoy every minute of it. At the top of the list is Robin van Persie. He has a chance to break the all-time mark of 34 in a season. That's special.
2. The Norwichs and Swanseas
- If the Championship can keep pumping out good quality teams like these two, then the league and the competition in the divisions below it will certainly improve. Both have been outstanding thus far this season and have really added a nice little something to the mix that previously promoted teams could not. Remember Derby year up top? Yeah, not the best.

3. The kids are alright
- Every league has young players. Every league has young players who tend to be a bit better than their more slow-footed veteran opponents. The EPL just tends to have a lot of them on display at all times. From Alex Oxlade-Chamberlain at Arsenal to Phil Jones at Manchester United to Gareth Bale at Tottenham to Scott Sinclair at Swansea. All are young British talent who have very bright futures ahead of them. They all play with power and pace and have made the league better because they are a part of it.

4. The return of Rafa and Jose
- If you would try and tell me the EPL doesn't have its share of mercurial managers then I'd call you a liar. This is even without my two personal favorites, Rafa Benitez and Jose Mourinho. Coincidentally, both appear to be angling for a return to English football to join the lovable (and laughable) likes of Sir Alex Ferguson, Arsene Wenger, Martin O'Neill, and Ol Harry. They are a motley crew, to say the least. If nothing else, the league is good for some quality media-manager exchanges that get the people talking and papers selling on a daily basis.
5. The next season
- Yes yes, we know...things aren't great now. If you're a casual observer of the European game, you'd see that life in England's top flight is as dreary as the weather. Thankfully, all that can be changed with the entrance of a new year, a new season. The big guns will be back in Europe and the two horse race will again start as a 20-team field. Don't expect the two Manchester clubs to pull away so fast next year, either. I'm (secretly) an optimist, and I fully believe that next year the EPL will win back those it maybe lost with another excellent display of football, the likes of which you won't be able to find anywhere else.
If you have more reasons why there is hope...share them in the comments section. Or follow me on the Twitters (link listed above). Even send me an email. I'll write back...I always do. Worth discussing, anyway.
Luckily for all you lot, there is much more where that came from as I'll be doing another edition of TFE on Monday as the league has a splendid selection of midweek matches to keep you entertained. You're welcome, in advance.
There are only four matches on the docket this weekend, none of which are that attractive. I will spare a brief few words on Sunday's fixtures though before we get to this week's Black Pudding...a choice that has been brewing in my heart of hearts for some time now. Anyway, bacon time.
The Bacon (as in Bringing It Home)

Wolverhampton Wanderers vs. Manchester United
(Molineux Stadium, March 18th, 9:30 a.m. ET, FOX Soccer)
Stinks to be Wolves right now, doesn't it? Only one win since the new year and two straight goose eggs on the scoreboard, it appears as though this Birmingham side may join their neighbors (Birmingham City) in the Championship at the end of this season.
Next up is a visit from the now in-form and hungry Manchester United, a team that is fresh off a European ouster and ready for blood. Doesn't look good, does it?
Normally when I say "sure thing" in a preview, it's anything but. This time though, any result other than a Red Devils win would be more shocking than if Oasis reunited and played only Madonna covers.
TFE Prediction:
3-0 to the Mancs.
Newcastle vs. Norwich City
(St. Sports James Direct Arena Stadium, March 18th, 12:00 p.m. ET, FOX Soccer Plus)
Speaking of needing a result, Newcastle is struggling a bit right now. No wins in its last four, a string that included a 5-0 shellacking by Spurs and most recently a 2-1 loss to Arsenal.
Once a trendy pick to reach the Champions League next season, the Magpies have hit a patch of steady decline lately and will likely miss out on the Europa League. The magic has gone, and quickly.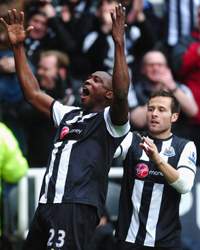 Earlier in the year I couldn't stop hailing the club's impressive defensive structure. Now it's as messy as Fabricio Coloccini's mop of hair. Thankfully, Norwich is kind of a homebody team, at least from a scoring standpoint, so Newcastle should be able to outlast it.
TFE Prediction:
Big bounce back win for Newcastle in a 2-1 match.
Leicester Update
Get your TVs on Sunday morning to Fox Soccer Plus. Before the Newcastle-Norwich tilt, my Foxes will travel to Stamford Bridge to take on an exhausted Chelsea side in the FA Cup quarterfinals. A win in this one would be absolutely massive as it means a trip to Wembley and would keep our hopes of silverware alive. Wouldn't that be something. If you not a Chelsea fan, which I expect is the case with most of you...root for my boys, will ya?!

And Finally...The Black Pudding of the Week

Frank Lampard, Chelsea:
It must have been as good as his birthday, Christmas and Pancake Day all rolled into one when this particular intolerable Englishman got the news that Andre Villas-Boas had got the can. Make no mistake about it, despite his thinly-veiled criticism and even thinner praise, Lampard and AVB never saw eye-to-eye. But unlike a business partnership or sibling rivalry, these two were not equals. Villas-Boas was the boss, Lampard the player. His petulant little comments about not getting enough minutes (even though he's the wrong side of 30 and in a crowded midfield) were just unnecessary and oozed desperation. He can still play, sure, but not in the same way that he used to. Reminds me of a failing pop star trying to score one last hit (take that how you will). Frankly, Frank, I'd rather have Gil.
Shane Evans is an editor for Goal.com USA. His feature, "The Full English" appears every Friday morning. Contact Shane at shane.evans@goal.com with questions, comments and concerns, follow him on Twitter at https://twitter.com/shanEvans

For more news on England, visit Goal.com's England section!