The young Portuguese boss was dead in the water when he decided to leave Porto.
Hindsight is a hell of a thing. Anyone can look back at a situation that maybe didn't go as well as planned and critique it for doing so. The 'I told you so' thing. It's everywhere these days as everyone seems to have an opinion.
In the case of Andre Villas-Boas and his short-lived tenure as manager of Chelsea Football Club, one could suggest that hindsight wouldn't really come into play as the partnership was never destined to work.
I wrote about this situation back in June when he was initial hired by the London club. The column took a very cautiously optimistic tone. Like everyone else (most notably Blues owner Roman Abramovich, I was enamored with Villas-Boas' combination of subtle charm, tactical acumen and recent track record with Porto. The similarities to a certain special compatriot of his also could not be overlooked.
We were all wooed into believing that it would work. Or at least
could
work.
The reality is though that Villas-Boas would have a tremendously difficult time living up to the club's expectations and that his stay in England's capital would be short-lived.
Follow SHANE EVANS on

Names like Isiah Thomas, Lane Kiffin and Josh McDaniels come to mind outside the soccer realm. Roy Hodgson, Mark Hughes and a number of Villas-Boas' predecessors within it. Names who were given opportunities to shine but were all destined to fail.
In AVB's situation, he was given a team of high-priced players with big personalities. This team finished second in the EPL the year prior, made it to the Champions League quarterfinals and had recently rid itself of a manager who was quite popular among the team and supporters alike.
He was the trendy choice to take over the job from Carlo Ancelotti. He was the talk of Europe for his magical unbeaten season with Porto and the connections he shared with current Real Madrid and former Chelsea boss Jose Mourinho. Roman Abramovich could not contain himself.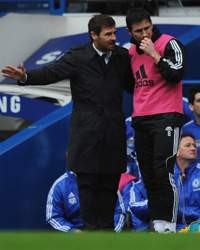 Barely nine months later, that impulsive decision came back to bite the Russian in the rear as he was forced to call time on another manager's tenure at Stamford Bridge.
You could say that this is all Abramovich's fault and that he should have showed more patience in AVB and at least let him ride out the year and freshen up the team in the summer. Continue to build it his way. Unfortunately, the results weren't showing the promise that the man with the check book had expected and a move had to be made.
On results alone, the decision to sack AVB was the right one. Chelsea has been a mess this season and hasn't been in contention for the Premier League title for some time. A team of its current stature expects to be in the race, at least until March/April time. Let's not forget that the title belonged to the Blues (and Carlo Ancelotti) not two years ago.
The season started moderately well enough for the team with a number of multi-goal wins. Things started going south when Arsenal came to the Bridge and won emphatically 5-3. The seeds of doubt were planted as few teams, if any, score that many in the Blues' backyard. Those seeds continued to grow each time Chelsea stumbled against a big EPL team. Only one win to date over the 'big five.'
It goes way beyond wins and losses though. For starters, AVB never really had the locker room. When he came in, many people questioned that the manager, at only 34, would have a strong enough personality to wrangle those of Chelsea's veteran players. Guys like Didier Drogba, Frank Lampard, Ashley Cole and John Terry all have been key components of this team's makeup for quite some time and command much respect among the rest of the squad.
With Lampard especially, AVB was never able to sell his philosophy of squad rotation and restrictive tactics. The outspoken midfielder experienced long spells on the bench and didn't hesitate about voicing his displeasure. Drogba was in and out of the lineup as well, and neither found this endearing.
It was almost as though Villas-Boas was banking on making it through the season so to send the club in a new direction, sans older players, in the summer. The connection was just never there. He had his workhorses like Juan Mata, Ramires and Raul Meireles, but the entire team was never won over...and it was unlikely to ever happen.
Throw in the unmatched pressure from the man upstairs, pressure that has often times resulted in coaches on the chopping block, and you have a recipe for disaster. When things started to go south, they kept going that way and there was nothing that AVB could do to turn things around. He just seemed to prolong the pain.
Now out of the club, it would surprise no one if he was back in management sooner rather than later, but hopefully this time, for his sake, he takes a job with slightly less going against him from day one.
Oh, by the way...the now Roberto Di Matteo-led Blues will take on my beloved Leicester City in the FA Cup Quarterfinal. Should be a good one. Before that, an EPL match against Stoke and the second leg of their Champions League bout with Napoli.
There is other non-Chelsea action to be had however, but you'll have to wait until next week starts to get it. Going forwards in reverse, we'll start with the Merseyside Derby.
The Bacon (as in Bringing It Home)

Liverpool vs. Everton
(Anfield, March 13th, 4:00 p.m. ET, ESPN3.com)
The friendliest of derbies takes place for the second time this season in a time slot of its own on Tuesday afternoon. How lovely.
Merseyside's two clubs are only separated by five points in the table, but that equates to six spots in the order, something the lower-seeded Everton will want to change in this one. Despite having a losing record (9-7-10), the Toffees have been one of the league's better teams over the last six weeks or so, picking up wins over Manchester City and the now rebuilding Blues of Chelsea. David Moyes will expect another big club scalp from his team here.
Liverpool's backline is kind of beat up right now and if Everton can force the issue with guys like Royston Drenthe and Denis Stracqualursi then a victory on the 'road' is not out of the picture. Jamie Carragher was forced into action due to the injury to Martin Skrtel and didn't look great in the Reds' 2-1 loss to Arsenal last weekend.
One major issue that cannot be overlooked for these two sides is this: they both play on Saturday as well. Everton in the late game against Tottenham, while Liverpool travels to Sunderland. So technically I'm cheating by previewing a game ahead. With Liverpool especially, it has been known this year for coming out slow and a bit drab. With two games in under 72 hours, it may not be physically up for it. Don't mind the cheating. Just go with it.
TFE Prediction: I think Everton will be the more prepared and willing team in this one. It'll snatch a big 2-1 win.
Arsenal vs. Newcastle United
(The Emirates Stadium, March 12th, 4:00 p.m. ET, ESPN2, ESPN3.com)

I have to give the Gunners credit. They have really turned their season around over the last few weeks. Wins against Tottenham, Liverpool and most recently Milan (though ultimately a 3-0 victory wasn't enough) have revitalized Arsene Wenger's squad and now it is nipping at Spurs' heels in fourth place. Tomas Rosicky is drawing resounding praise! What is going on in the world?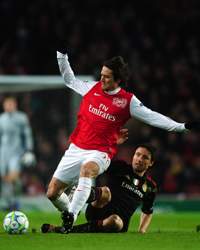 Conversely, Newcastle has fallen off a great deal since its early-season climb. Having said that, the club is in 6th place, only five points out of a Champions League spot. A few good wins, like beating the current 4th place team (hint: it's the team the Magpies are playing Monday) would go a long in returning the club's name to the conversation.
This one is all about mojo. Arsenal has it right now. It was sensational against Milan, mainly because it had to be, but sensational nonetheless. Newcastle has two wins in six and is winless in three. In other words, it may be fading as we reach the home stretch of the season.
Also, Arsenal has Robin Van Persie and I have found it very difficult to bet against a team with him in it this year. Far and away my player of the season so far.
TFE Prediction:
The Gunners keep firing warning shots at the top three with an impressive 3-1 victory.
And Finally...The Black Pudding of the Week

Manchester City and Manchester United, It's Whatever:
On the heels of Arsenal's inspiring win over AC Milan, two of England's other European competitors suffered thorough disappointing defeats at the hands of a pair of Iberian pests, Sporting Lisbon and Athletic Bilbao. Maybe it was because they are playing in the Europa League. Maybe it was because they are focusing on the EPL. Or because they'll be back in the Champions League next season. Point is, neither side really wants the hassle of the second-tier competition and they aren't hiding it. Arsenal would definitely take home the trophy in that tournament, right?
Shane Evans is an editor for Goal.com USA. His feature, "The Full English" appears every Friday morning. Contact Shane at shane.evans@goal.com with questions, comments and concerns, follow him on Twitter at https://twitter.com/shanEvans

For more news on England, visit Goal.com's England section!