101 days.
At the time of publishing, the English national team has 101 days before it will take on France in its first match of the Euro 2012 tournament. Between then and now, it has plenty of work to do.
Besides the obvious (you know, who will manage the team), there are still plenty of questions about how the team will line up against its biggest historical rival, a side which is looking increasingly dangerous as the days slide off the calendar.
Will Scott Parker – a 31-year-old with 12 caps to his name – lead his country out of the Donbass Arena tunnel? Who will line up up front? What about at full back? Will Frank Lampard (or Steven Gerrard for that matter) be a part of the team? How will Wayne Rooney's 'hair' look? All vital quandaries that need addressing.
Wednesday's match with Holland at Wembley was an affair that you would hope to find positives in, but instead find many more negatives, namely stemming from the lack of leadership. The team didn't play well in the first half and it took an early second half onslaught by the Dutch to wake up the slumbering Lions.
Follow SHANE EVANS on

While this was on, I had my computer screen split between the USA's match with Italy and France's with Germany. In the latter of the two, Les Bleus were essentially having their way with one of the favorites for the Euro 2012 crown for most of the match. Olivier Giroud's first period opener was a thing of beauty as it left the German defense in shreds. Ironically, that is how England was beaten for its three goals against – incisive passing, fluid movement and clinical finishing.
Arjen Robben, a player who hasn't exactly been himself over the last few seasons certainly looked in top form at Wembley. Cutting through a lethargic England defense on both of his two goals, the Bayern Munich forward is the type of player that will kill most teams, that much is certain.
However, if this England team wants to make it out of the group stage, the level of play needs to be raised. Yes, it was a friendly. Yes, we can use the 'no manager' excuse but both of Robben's goals were soft ones to give up.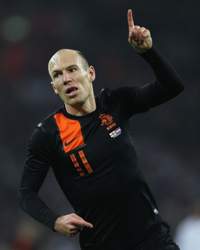 On the first, he was free to stride through the middle of the park as if he was only man on it while Daniel Sturridge (a player who should be trying to force his way onto the team) jogged behind him. Then he herded England's center backs away from goal thanks to a beautiful run by Klaas-Jan Huntelaar and proceeded to fire a relatively open shot by a helpless Joe Hart. Simply put, there was more wrong with this play than my tax return (sorry, IRS).
From Sturridge's passive defending to how easily Chris Smalling (a potential Euro 2012 starter) and Gary Cahill (another potential Euro 2012 starter) were swayed horribly out of position to the 'where was the rest of the team?' issue, it wasn't a good showing.
He may not be the Queen's favorite son right now, but I have to hand it to now deposed captain John Terry. The guy plays with heart. All the time.
That, right now, if you include Wayne Rooney's two-match suspension and Frank Lampard's current subjective suckiness...is something this team lacks. Goals like Robben's first seldom occur if a team is playing 100%. Friendly, yes, I get it. You still expect your national team to work, especially when they are all going into the tournament with a clean slate.
All hope is not lost though. The team has two more tuneup friendlies remaining against Norway and Belgium before the summer tournament begins and we'll surely see an improved version by that point. Maybe even a manager, too. The domestic season will have ended and the players can turn their attentions fully to those hated Frenchies.
Until then, the speculation of who will make the 23-man team will be everywhere. For a laugh, here's my picks for who should be in the squad, assuming everyone stays healthy and all.

GK (3):
Joe Hart (Manchester City), Robert Green (West Ham United), David Stockdale (Fulham)
DF (8):
John Terry (Chelsea), Ashley Cole (Chelsea), Glen Johnson (Liverpool), Phil Jones (Manchester United), Chris Smalling (Manchester United), Micah Richards (Manchester City), Joleon Lescott (Manchester City), Leighton Baines (Everton)
MF (8):
Scott Parker (Tottenham), Steven Gerrard (Liverpool), Stewart Downing (Liverpool), Jack Wilshere (Arsenal), Gareth Barry (Manchester City), James Milner (Manchester City), Adam Johnson (Manchester City), Ashley Young (Manchester United)
FW: (4):
Wayne Rooney (Manchester United), Danny Welbeck (Manchester United), Theo Walcott, (Arsenal), Andy Carroll (Liverpool)
Let that stew for a bit. Especially that last pick. It may take you until Saturday morning, which coincidentally is when the first match of this week's Bacon takes place. That match happens to be something of a doozy. I won't say must win, but…

The Bacon (as in Bringing It Home)

Liverpool vs. Arsenal
(Anfield, March 3rd, 7:45 a.m. ET, ESPN2, ESPN3.com)
Isn't life grand, Liverpudlians? You have a trophy for the first time in a half decade and uhh, yeah, Andy Carroll has started to score, kind of. Okay, things aren't that great, but at least you aren't Arsenal. The Gunners biggest accomplishment of the season, however impressive as it may have been, was beating rivals Tottenham last weekend in a 5-2 contest.
Now, with the glittering prize of fourth place the only thing left to play for, these two shining examples of might of the EPL meet at hallowed ground of Anfield. Should be a slobberknocker.
In last week's TFE, I ripped into Mr. Potential, Theo Walcott, accusing him of not finishing his chances this season, despite numerous opportunities. What does he do? Oh, just nets a pair against Spurs in front of the whole planet. Well done, Theo. Keep that up. England needs you to be a world-beater, not a bystander. I expect he'll continue the strong play against Liverpool.
We all know that Glen Johnson isn't the best defender. He's a (very) poor man's Maicon. He has been improving lately and always appears confident. He'll have to be on Sunday as Walcott will be buzzing after a good set of showings for club and then country. Keep an eye on that battle. Could have to deal with the Ox, too.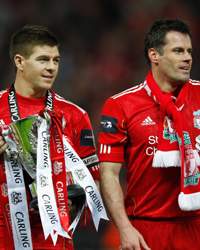 The reverse of that will be the Stewart Downing-Bacary Sagna competition, which will be much different. Downing isn't the burner, come-right-at-you type that Walcott is, but can be just as dangerous if given any kind of space. If Sagna can close him down and keep the supply at a minimum, the Reds already sputtering attack will suffer even further.
Arsenal has the center midfielders to compete with Liverpool in that area, so winning the battle along the flanks will be vital for both sides in this one. Fourth place! Come on, someone take it already.
TFE Prediction:
Beating Liverpool at Anfield is always tough. Don't think it happens for the Gunners, but I don't think the Reds have much either. Match ends 2-2.
Tottenham Hotspur vs. Manchester United
(White Hart Lane, March 4th, 11:10: a.m. ET, FOX Soccer)
Love a good 2-3 battle. Will we see Manchester United extend its lead over third place Tottenham or will the London side continue to keep its name in the hat for the title this year?
We should see Wayne Rooney back in action, as well as Antonio Valencia and Tom Cleverley, which is good for United. Three very influential players. The news isn't as good for Spurs as they may be without Gareth Bale in this one as he's suffering from a hamstring injury. His loss will be big.
United always seems to struggle with players who run right at them. Juan Mata, Demba Ba, David Silva...they have all given the Red Devils problems this year and tend to have that forward-thinking attitude. Bale, more so than all the rest loves to put his head down and run at you with the ball. Aaron Lennon will have that job on Sunday and will need to work United's ever-changing defense.
One thing Manchester United has always been good at is beating a team when it is down. After having Arsenal run all over it last weekend, Tottenham is down. Spurs will take another step backwards in this one.
TFE Prediction:
Sir Alex makes sure his boys keep up with City in a 3-2 victory.

And Finally...The Black Pudding of the Week

New kits, every team in the world:
Love these last couple months of the season. Teams begin to roll out their new strips for the following year (emphasis on the singular version of that word) and we all can get our wallets ready to spend...again. England's new one is nice, though I'm not sure about the collar. Holland too – very sharp. The winner, internationally speaking at least, has to be Germany's change top. The all green throwback is stunning. While watching them play against France, I was considering switching allegiances, for the summer at least. Did you see Mats Hummels? Swooooon.
Shane Evans is an editor for Goal.com USA. His feature, "The Full English" appears every Friday morning. Contact Shane at shane.evans@goal.com with questions, comments and concerns, follow him on Twitter at https://twitter.com/shanEvans

For more news on England, visit Goal.com's England section!