Chelsea and Arsenal are all but out of the Champions League already.
Gone are the days of English teams in the final of the Champions League. Gone are days when three out of the four semifinalists in the world's biggest club competition were from the EPL. Heck, England can't even get a team out of the knockout round these days.
Times are tough off the island lately. Times are very tough. When Liverpool, arguably the most successful team in the history of English football is getting excited about playing in the League Cup final (like really excited), you know something is up.
Unfortunately, that is how things are right now. First place Manchester City and crosstown rival Manchester United are currently hanging out in the Europa League. The two other European participants, Arsenal and Chelsea, were both spanked in the first leg of their round of 16 matches against AC Milan and Napoli, respectively.
But at least Liverpool is in the League Cup final.
Looking at it from that perspective, there's like a 99 percent chance that it'll be an all-English final, our two Welsh clubs withstanding. Surprise! One of those lovable clubs will play Liverpool, so England couldn't even get two teams into its own crappy cup final.
Follow SHANE EVANS on

I want to give the aforementioned continental quartet a few words each and in an effort to not sound to totally negative, I want to start with the most promising first. I suppose that'd be Manchester City. Barely.
The Europa League, to me, and anyone who isn't one of the team's participating in it, is essentially the NIT of soccer. For those unfamiliar with the NIT, that is the tournament in college basketball for those unlucky bunch that can't put themselves among the best 68 squads in the country. Nope, this tournament (the NIT), which accepts another 32, basically crowns a team as the 69th best in college basketball. Well done, guys. I know it's about getting a chance at a trophy and having a team being involved in something. The players are kids after all. But seriously...how can you get excited, nay, care about it as a neutral?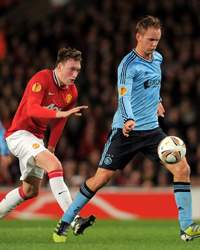 Sure, Manchester City did some serious work on a Champions League-quality side in Porto in the Europa League, beating the Iberians by a 6-1 aggregate, but still, it's the Europa League and you can be sure the Citizens would much rather be in the big boy competition. Ah well, blame Carlos.
As for United, it had a bit tougher time against Ajax, only winning its tie by one goal. Another tough opponent, worthy of the CL, but alas, only in the Europa League. Besides barely getting by the Dutch side, United just looked shaky. Shaky is how Sir Alex's boys looked all season out of the EPL. A very very tricky tie against Athletic Bilbao is on tap next. Marcelo Bielsa's team will test United even further.
Now on to the two dunces from London.
I won't say it was a foregone conclusion that Chelsea was going to be dismantled against Napoli this week, but hey, it happened and it was ugly. Ironically, in the case of this match and Arsenal's rolling over against Milan, two Italian side beat two English sides playing a typically English game - fast, powerful, unrelenting.
From the get, Chelsea just looked slow and out of touch with the tempo of the match. Despite being the favorite to win, and the team with the wealth of Champions League experience, it looked outmatched. There are plenty of matches when team A will come out flat and never get back into the match, while team B just runs the show. This was one of those matches. The Blues just never really got into it. Blame Andre Villas-Boas if you want, but his team has just stopped responding. I suspect we'll see a few changes at the Bridge this summer. [What do I get for saying match as many times as I did in that paragraph? A rematch between the two sides in a few weeks, you say? Oh good!]
Speaking of the need for change, we have Arsenal. By now, the Gunners' 4-0 defeat at AC Milan should have sunk in. It was, according to Arsene Wenger, his team's worst performance EVER in Europe. That's saying a lot. His team was just bad against the Rossoneri. The attack wasn't there, despite more of the ball and the defense just looked outmatched, scared even against a battle-hardened Milan attack. They might as well not even play a second leg. It would literally take a miracle for the London side to come back. If it does, I'll eat my hat.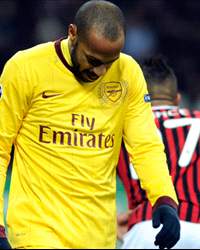 So with the once-celebrated squad now on its last legs, the only realistic positives it can take from this season is finishing fourth so to qualify for next year's tournament of European butt whippings...and the potential beating of Tottenham in this weekend's North London derby. That's where we'll turn our attention to right now. Go figure.
The Bacon (as in Bringing It Home)

Arsenal vs. Tottenham
(Emirates Stadium, February 26th, 8:30 a.m. ET, FOX Soccer)
Two or three years ago, you would have put all your money on the Gunners taking care of their territorial rivals pretty easily. Even then, with no trophies for a handful of years, Arsenal was the better side, always in good position in the league, always dangerous. Now, things have changed and despite being at home, Wenger's side should be considered the underdog.
You can thank Harry Redknapp and his motivational, bargain-buying cockney ways for all that. He's done a lovely job of turning Spurs into a real winner these last few seasons. One of his biggest victories has been his ability to keep his core players together while adding key pieces along the way. Gareth Bale, Luka Modric and Aaron Lennon have been complimented by the relatively inexpensive additions of Rafael van der Vaart, Scott Parker and Brad Friedel. It's been a slow process but the club is far and away the best team outside of Manchester right now.
In this one, Arsenal needs a big game out of one man: Theo Walcott. The diminutive one is as streaky as they come and really needs to string a few good matches together, especially if he wants to be in the England squad for Euro 2012. His main problem, particularly this season, has been his finishing. He gets himself in good spots but the last two or three touches on the ball, particular the important bit, just hasn't been there. If the club could get him going to compliment Robin van Persie, things would be much easier.
Against Tottenham, Walcott will find himself on the ball plenty, running at the likes of Benoit Assou-Ekotto and Kyle Walker. Both players have pace but aren't the greatest defenders in the world. Spurs will want to send help out wide, which could open things up elsewhere.
My money is on Emmanuel Adebayor hurting his former team again. I always think he will, it's just what he lives for. No field-long celebrations this time though. Arsenal's defense, particularly without the steadying presence of Per Mertesacker, is just not good enough.
TFE Prediction:
Spurs pull a shocker officially condemning Arsenal's season for good in a 2-1 match.
***League Cup Final Preview***

Liverpool vs. Cardiff City
(Wembley Stadium, February 26th, 11:00 a.m. ET, FOX Soccer)
Liked those little star things, didn't you? That was to give it the appearance of something special and/or interesting to the eye. Unfortunately, this match won't be either of those things.
The only storylines that I have the slightest iota of concern with in this match is first the fact that Craig Bellamy is Welsh and Cardiff City is in Wales. Expect about 934 comments on that from the match announcers if he starts. After that, I just like seeing how the Royals are dressed. About it.
Similar to the Europa League, the League Cup is that second tier tournament that just doesn't matter. It's nice that teams who don't normally get a chance at silverware can make it all the way, but at the same time, it's just really boring. Coincidentally, playing in the final this year are two of the most boring teams in all the land.
Liverpool should, I repeat SHOULD have its way with Cardiff. The Bluebirds are in a playoff position right now but don't really act like it. They are basically the Liverpool of the Championship. A team in a (mediocre) position it doesn't deserve to be in.
Prepare for a whole lot of nothing after what should be a reasonably exciting North London Derby.
TFE Prediction:
0-0 through 90 minutes. 0-0 through extra time. 0-0 through ten rounds of penalties. Pepe Reina scores one to win it for Liverpool.

And Finally...The Black Pudding of the Week

Rafael Benitez, Waiting In The Wings:
If, not when. More so than the Special One, Rafa's return to the EPL is almost a certainty. With Chelsea, you say? Could be. Back at Liverpool? Another option. Spurs? Who knows. All jobs look good to Rafa and Rafa looks good to all the jobs, at least in my eyes. If nothing else, the league is slightly more fun (read: Rafa's funny Spanglish accent and nonsensical comments) and slightly less boring (read: Kenny Dalglish, Alan Pardew, David Moyes, and 75% of the managers in the EPL). Soon. Soon...
Shane Evans is an editor for Goal.com USA. His feature, "The Full English" appears every Friday morning. Contact Shane at shane.evans@goal.com with questions, comments and concerns, follow him on Twitter at https://twitter.com/shanEvans

For more news on England, visit Goal.com's England section!