This week was supposed to be all about Manchester United-Liverpool. I was supposed to dive into one of the greatest rivalries in the sport ahead of a match that has a little extra fire this time around.
That is until England had to go and blow up the news week with the announcement that Fabio Capello had decided to resign due to a disagreement about the removal of John Terry as his team's captain due to his racial abuse issues.
Now breathe, Shane, breathe.
Essentially, with no captain and no manager England is at square one as I write this. It is also four months away from a little summer tournament known as Euro 2012, one that it will now almost certainly disappoint in.
So while the likes of Germany, Holland, Spain and even Italy go into the summer with fully unified fronts, England will march blindly forward sans any kind of tangible leadership. Why not, right? Keeps things interesting for a nation as starved for a major trophy as it is crazed about the sport being played.
Time to pick up the pieces.
Question is, in what direction is the team headed? Who will be the men to pave the way to the 2014 World Cup in Brazil? Or can we count that tournament out at this stage as well?
Is there an established player who is worthy of the armband?
Do any qualified managers even want the job?
It's been a pretty bleak last five years or so for the Three Lions and this most recent turn of events is a nice little microcosm of it all. To whittle it down further into just words one could say, "wheels have come off" or "lost the plot" or "maybe I'll get into cricket." All have crossed my mind this week.
Follow SHANE EVANS on

Unfortunately, the team can't take a timeout and resume play when no one is looking. The Euros are fast approaching and decisions need to be made.
Step one: find a new manager. Bizarrely, everyone and their mother has declared that this man should be English. I'm not sure why. Has to be able to communicate with his players, they say. Newsflash: plenty of reputable managers speak English fluently, Fabio Capello excluded of course. I think that's just a cop out really, especially when you consider that those managers who have been successful in England over the last, I dunno, two decades, haven't been English.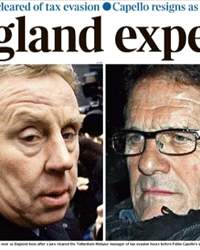 In fact, no English manager has won the first division since the early 90s when Leeds won it with Howard Wilkinson in charge. Winning the title isn't everything, but it still has to count for something. It's not even like the English game has been adopted by others as the way of the future and the game is flourishing in the land of its creation. But hey, let's hire with an insular penchant at heart because it is after all, the English way.
Unless you've been living under a rock for the last year or so, you know that Tottenham Hotspur boss Harry Redknapp is the favorite for the job. Capello's timely resignation has created a bit of friction for Harry as he can't really take the job now. Tottenham is in the middle of one its most successful seasons ever and cannot afford to lose it's most inspirational figures at this point in the year.
Why not just bring in a temporary guy? Guus Hiddink is your standard hired gun manager, and unlike any others that England has had in the last, nearly, ever, Hiddink actually has experienced success. Nothing against Capello's glistening record and win percentage, but World Cup 2010 was a disaster, one that stands out more than wins and losses in the odd years.
What will end up happening following this Feb. 29 friendly with the Netherlands, a match that will reportedly be handled by Stuart "his nickname is PYSCHO" Pearce, is that England and Spurs will continue this drawn-out song and dance that keeps everyone guessing (the players included) about what is going to happen. And then we'll have a new boss, and probably another captain in place at the last possible moment. The team will play really hard at the Euros in an effort to impress the new gaffer but won't have itself together tactically yet and it'll be the classic, 'see you in Rio' scenario. You know, that old chestnut.
Or maybe it'll all work out perfectly...something the England team and more specifically the FA, have hardly been accustomed to of late. Fingers crossed.
...anddddd to bring things full circle. Manchester United and Liverpool. Let us dive right in to a match that is actually being played this month.
Manchester United vs. Liverpool
(Anfield, February 11th, 7:45 a.m. PM, ESPN2, ESPN3.com)

You have to hand it to Manchester United. Second place in the league with no clear cut starting goalkeeper and an injury list as long as Sir Alex's nose hair. Pretty impressive stuff really.
Going into its showdown (let the record state, I hate the term showdown and all its uses but it feels right here) with Liverpool, the Red Devils have an impressive 11 players on the trainers table, some more serious than others. Something must be in the water up there. Despite all this, the team is playing well and getting results where necessary. Putting down its numero uno rivals only a week or so after falling to them in the FA Cup would be a good step for the club still looking for believers in its title challenge. City is only up two points, you know.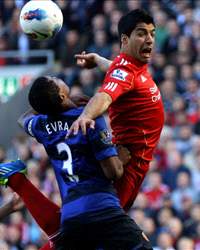 Liverpool on the other hand is a whopping 18 points off the pace and is playing for nothing more than that last Champions League spot that no one seems to want. United did it a favor last week by fighting back against Chelsea in that 3-3 game before the game game. This season really just has been a lost one for the Reds. Started with some promise but they have slipped painfully into mediocrity and have shown absolutely no signs of coming out of it.
Against Tottenham on Monday, they looked as if they could put something together, challenge one of the teams actually playing well. But no, they were held to a scoreless bore draw by a center back with no knees, an ancient goalkeeper and a dude with a massive afro. When Luis Suarez came on the vibe of the team changed, but they shouldn't have to depend on him so heavily. They're basically a poor man's Arsenal. One that's much more boring and lacking a comically oversized winter coat. Who wants to watch that?
Manchester United won't give them much to work with on Saturday and what Liverpool does get will need to be hastily dispatched, not painfully regretted as we've seen in recent weeks from Kenny's men. United is simply a better team and despite the talent levels being somewhat similar the system and production value is all on the home side. It'll shine through in this one.
TFE Prediction:
The venom (and handshakes) will be there but United has much more at stake and proves it with a 2-1 win.
Tottenham vs. Newcastle
(White Hart Lane, February 11th, 12:30 p.m. ET, FOX Soccer Channel)

Speaking of having things at stake, both of these sides could really use a W in this match. Tottenham is striving for self-acceptance and Newcastle wants to remain in the mix for the Champions League. It'll be a beaut.
It really should though as both teams play that attacking, attractive brand of footy that the EPL is sometimes but not always known for. If we see both Demba Ba and Papiss Cisse on the pitch for the Magpies then Spurs should be much more worried than they were against Liverpool. Andy Carroll can be good when the wind is right but these two bad boys know each other, shoot on site, and most importantly, don't miss that often. Look out.
Neither of these teams are really possession teams and normally like to work in quick organized bursts to get the job done. If Spurs want to win it in front of their home crowd, a bit more control would be a good thing. We may see Mr. Van der Vaart back in the mix and if he can keep the exchange with Luka Modric and Gareth Bale going, Tottenham could strangle out Newcastle's challenge. This one really could go either way though.
TFE Prediction:
Spurs win it late thanks to more Bale magic in a 3-2 match.
And Finally...The Black Pudding of the Week

Thierry Henry, Arsenal/New York Red Bulls:
The Frenchman will apparently shock us all and return to New York on time, like he said he would. If you said to me that Henry was ready for a two-month loan back at Arsenal, the club that made him famous, and that said loan would end the week before a North London derby with Spurs AND that he was going go back on time like a good boy...well, I would have laughed. It pains me to say it, but this is how a professional does it, David.

Shane Evans is an editor for Goal.com USA. His feature, "The Full English" appears every Friday morning. Contact Shane at shane.evans@goal.com with questions, comments and concerns, follow him on Twitter at https://twitter.com/shanEvans

For more news on England, visit Goal.com's England section!