David Silva gets too much credit.
He is almost unanimously the English Premier League player of the season thus far (though I'll argue RVP's case to the death) and he certainly deserves the attention. The Spaniard is a fabulous player who has done some amazing things in blue this year.
Despite all the praise he's been getting from anyone who knows anything about soccer in England, he may not even be the best player on his team, let alone the entire league.
What has become painfully evident over the last month or so is that Man City's performance is related less to the Silva's silky smooth play and more to that of Yaya Toure's powerful presence in the team's wheelhouse.
I mention the time frame of the last month because that is exactly how long Toure has been out of the lineup due to his involvement in the Ivory Coast's Africa Cup of Nations campaign, which is currently ongoing.
Follow SHANE EVANS on

Since an emphatic 3-0 win over Liverpool on Jan. 3, the last time Toure lined up with his club teammates, City has played six matches (three EPL, two Carling Cup and one FA Cup) and won only two of them. Not very typical of the exemplary play we've grown accustomed to from the Citizens this season.
It's not just the record that has been bad, though. City has been poor and looked vulnerable. Two straight cup losses to Manchester United and Liverpool came first. It barely snuck by Wigan 1-0 in its first league game without Toure. Following that, a late Mario Balotelli penalty was the only thing that separated it from Tottenham in a 3-2 match. Then a draw with Liverpool in the second leg of the Carling Cup semifinals and the worst performance of the lot, a 1-0 loss at Everton takes us up to date.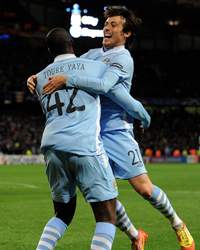 The link between all these performances has been the lack of just that . . . a link. The play has been choppy and disjointed, which goes against the flowing and progressive attacking style that Roberto Mancini's squad has grown into this season.
As you may have guessed by now, that missing link has been Toure. If Silva's brilliance is overtly apparent to those who watch the Citizens this season, Toure's play has been as subtle (and powerful) as a dog fart. And like the tangy whiff you get while your furry pal sleeps on the floor, it's gone like that.
Toure's influence at the base of City's midfield is everything Roberto Mancini wishes he could get out of Gareth Barry and James Milner and even Nigel De Jong. But none of the three have been able to replicate it in the time since Toure left for Africa.
He's powerful in the tackle, dominating in the air and precise in the pass. All the time. For 90 minutes in every match he plays. This play not only helps out the defensive unit behind him, but allows players like Silva (aka those who get all the credit) to have the freedom to do whatever they please up front. If you hadn't noticed, Mario Balotelli doesn't particularly like tracking back. Toure does enough against the opposing side that this neglect can be tolerated.
Toure also does more than his share in the offensive third as his confidence on the ball results in him pushing the proverbial envelope whenever he gets the chance. He doesn't run around defenses, he runs right at them . . . and that's pretty scary. Most of the time, he's pretty darn affective in this regard. I think it goes without saying that he does more in the attack than the aforementioned trio trying to replace him.
A few words have to be said for the absence of the tremendous Vincent Kompany due to suspension, but his work is done mostly on the backline because he's a defender (duh) and you have to say that Toure has more of a say in a game's outcome than the Belgian. I do have much love for him, too, though.
So you know the ramifications, which have been really difficult for City to deal with so far. Difficult like trigonometry difficult. It gets worse, though, because if the Ivory Coast keeps playing the way it is playing and makes it through all the way to the AFCON final, Toure won't be back at Eastlands until the middle of the month.
Test one comes against Fulham on Saturday. With Manchester United quickly gaining ground thanks to its customary New Year surge, we could have a fight on our hands after all. In other words: hurry home, Yaya.
Speaking of Manchester United, it has something of an old school EPL battle on its hands against Chelsea on Sunday. Remember when this fixture used to mean something. Like two years ago? Those were the days . . .

The Bacon (as in Bringing It Home)

Chelsea vs. Manchester United
(Stamford Bridge, February 5th, 11:00 a.m. ET, FOX)
Super Bowl Sunday now has another reason to be worthy of the 'super' adjective. No longer the expensive commercials and excessive amounts of dip, this particular Sunday has a great EPL match for us all to wake up to.
Well, I hope it's going to be great. Chelsea has looked anything but that over the last few weeks, and is now officially 100 percent out of the title race. At the beginning of February. I have to say, Roman Abramovich's patience this season has been something to behold. He has to be in therapy or something.
The Blues have just been dismal. Unimaginative and impotent in front of goal, AVB's side has been a threat to no one. After a last-ditch freakish goal by Jose Bosingwa against Swansea last weekend, Chelsea was able to walk away with a point it didn't deserve against a newly-promoted team. It was the second in a row of its kind, I should add.
Manchester United will come to town meaning business. A reassuring performance against Stoke will give the side some much needed confidence going into this clash on Sunday. The attack needs a bit of work as both goals in the 2-0 last time out were from the penalty spot, which is slightly concerning. Thankfully for Red Devils fans, the players are in place that can cause problems for any defense and will surely be a headache against a shaky Chelsea back four.
The issue lies between the pipes for Sir Alex's team. With Anders Lindegaard set to miss a month with an ankle injury, it'll be David De Gea who will start the match. Struggling through his first season in the EPL, the Spaniard just seems unsure of himself and not nearly physical enough. He gets pushed around too easily and will need to toughen up if he wants to be the man at Old Trafford in the years ahead.
Against Chelsea he shouldn't have too much to worry about as the Blues don't really play that aggressive brand of footy that he has trouble with. Not without Drogba anyway. I do have a feeling Fernando Torres will score in this one. He has to eventually. Why not against a countryman?

TFE Prediction:
El Nino gets one but Chelsea is just not a good team right now. United comes through 2-1 winners in the end.

Liverpool vs. Tottenham Hotspur
(Anfield, February 6th, 3:00 p.m. ET, ESPN2, ESPN3.com)
This one should be a dandy. Liverpool is playing better over the last few games and even got a goal out of Andy Carroll! Tottenham is one of the most attractive sides in the division and will come to Anfield expecting a result. Hopefully we'll see both teams going for it a little bit.
If Liverpool can get Carroll going that'd be a massive boost, much in the same way goals for Torres would help Chelsea. If you're a striker, and a big money one at that, and you aren't scoring, then what is the point of your existence? Surely not to look pretty (at least not in Carroll's case). I think a steady run of starting matches will help Carroll as he had been in and out of the lineup prior to the Luis Suarez ban so consistency can only help him.
With the Premier League officially a three-horse race, the other four teams or so in the vicinity are fighting for that last Champions League birth. Liverpool is right in the mix and would go a long way in helping with that cause if it can top Tottenham.
I'm not convinced it can happen, though. The Londoners have quality at every position and have been steadied a great deal by Brad Friedel's stone-like existence in net. Liverpool may be getting things right at the minute but Spurs have had it together all year and will take it to the Reds on Monday evening.

TFE Prediction:
I expect an exciting encounter that will go 3-1 in Tottenham's favor.

And Finally . . . the Black Pudding of the Week

Jose Mourinho, Real Madrid:
I needed some time for this news to settle in and that's why I'm addressing it now. The Special One wants back in the Old Blighty. Yes, he has had enough of Spain and Italy and the rest of the continent and wants to return to the place where his nickname was coined. His personality never really melded with those who employed and covered him since leaving Chelsea and he admitted he would like to return to England some time soon. Luckily, a pretty high-profile job is opening up this summer when Fabio Capello will leave his post as England manager. Despite the FA saying it wants a native to run the team after Capello, who better to lead the Three Lions to World Cup glory in 2014 than Mourinho? Especially following the team's certain failings at Euro 2012. Make it happen, chaps!
Shane Evans is an editor for Goal.com USA. His feature, "The Full English" appears every Friday morning. Contact Shane at shane.evans@goal.com with questions, comments and concerns, follow him on Twitter at https://twitter.com/shanEvans


For more news on England, visit Goal.com's England section