After 34 years of living in the colossal shadow of its neighbors, Manchester City began to see the light in 2011. Now, with January gone and with it two trophies taken from its grasp, Roberto Mancini has a fight on to keep some dark days away.
"It's a bad night for me. I didn't prepare well because I thought maybe this game was easier and you should know Goodison Park is never easy, never," said the Italian after his side slumped to a 1-0 defeat to Everton.
You would suspect he would like to deliver the same polemic on football management. The man with the greatest embarrassment of riches in English football was left humiliated with only himself to blame on Merseyside, and with Manchester United having caught up with its noisy neighbors, the Premier League pendulum is swinging back towards the red half of the city.
It seemed delightfully fitting that two veterans and a former youth product of Sir Alex Ferguson's Premier League regime in Phil Neville, Tim Howard and Darron Gibson, were at the forefront of tormenting Mancini's lackluster outfit with their never-say-die attitude.
With such performances and characteristics, it is little surprise that David Moyes is being heavily associated with the vacant managerial position at Old Trafford when Sir Alex calls it a day.
United's win over Stoke brings the title challengers back to square one, with City's dominant goal-difference the only buffer between them.
The Red Devils' league record in the past month has somewhat mirrored that of City's Cup run, with losses to Blackburn Rovers and Newcastle United for the men in red putting them at a disadvantage to the Italian's side, but they have somehow always kept hot on the heels of Mancini's men, who have failed to assert control.
With defeats in both domestic Cups, the former Inter boss has halved his silverware prospects for the season and just the Europa League will remain if City succumb to the pressure mounting on them game-by-game and allow United's experience in the hot seat to take the title from underneath its noses.
However, you would have to think that a man who has seen as much success as Mancini would not even bat an eyelid at winning Europe's second-rate tournament and neither would the club's billionaire owners.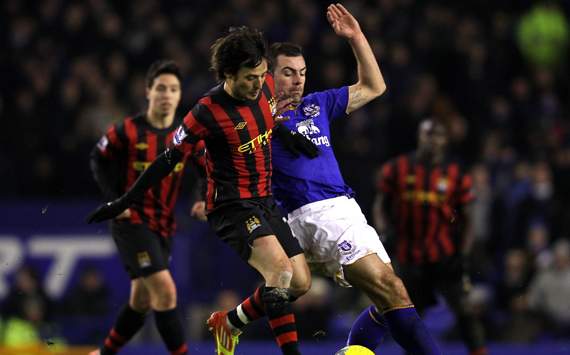 Colossal shift | City's Silva battles with Everton goalscorer Gibson
Off the pitch, this month has also seen a multitude of failed moves for outcast striker Carlos Tevez, with offers from both AC Milan and Paris Saint-Germain breaking down to further upset the balance of Manchester City.
The Argentine attacker will return to Carrington, much to the contrary of the benefit of club and player, with a painful five months ahead for the former United man as he and his now infamous representative Kia Joorabchian decide what will be the next step to force his Eastlands exit.
Mancini felt that all 16 of City's remaining fixtures were winnable games before the loss to Everton. However, the defeat leaves its confidence deflated, especially with Ferguson's side continuing to stalk them at the top of the table.
By the time the two clash once more for the final time in April, it will be imperative for City to be leading the pack going into the home straight of the campaign.
Of course, with 15 matches left to play, the curtains are hardly closing on the season just yet, and City still have time to repair the damage but they must learn its lessons to do so.
Underestimating teams is the first mistake they need never repeat, principally when they square up to United in a game that might just decide on the title.
Mancini's side can also look upon its Salford counterparts and its 19 campaigns of absorbing the pressure to take the ultimate prize at the end, and might just conjure up something special to break the cycle and start a new era in English football.
Follow GOAL.COM USA on