Write this date down, folks.
You won't read many columns like this from me. Just not my style. Right now though, some words have to be said and they're going to be, as the title suggests, in defense of one of the English Premier League's all-time top men.
No, it's not your typical tripe about Sir Alex Ferguson and his god-like presence on the Manchester United touchline. No, I have no words to spare for Kenny Dalglish and all he's done for England's top flight. Frank Lampard? Steven Gerrard? Wayne Rooney? No, no, and no.
This column is dedicated to the most under-appreciated man in the game: Arsenal manager Arsene Wenger.
Fact: Wenger gets no love. Absolutely none. Well, none in the last five years anyway. The beleaguered Frenchman has led his club to a whopping zero trophies in that time and the club's supporters have grown increasingly frustrated with the lack of production.


Follow SHANE EVANS on

Couple the draught with a pretty awful first half to this season and the apparent leap-frogging of the Gunners by hated rival Tottenham and well, the Emirates hasn't been the greatest of places to be around lately.
As tends to be the case in sports, the onus and the blame has been squarely on the head of the man running the show, the manager. In this case, Mr. Wenger. Part of the criticism is deserved as he has made a few poor decisions this season and in the past, but a lot of the time, Wenger has done the right thing. Let me tell you why.
I know my timing is superb given the Gunners' recent league form (losses at Fulham, at Swansea and versus Manchester United). Just stay with me. You've stayed with Arsene all this time, might as well, right?
Looking at the team that's on the field right now, the Gunners have a bonafide star in Robin van Persie, a number of up-and-coming players in guys like Wojciech Szczensy, Aaron Ramsey and Alex Oxlade-Chamerblain and then a whole bunch of average complimentary players. Like a whole bunch. No one really sticks out from the squad. You can argue that if you want, but it's true and when Wenger was forced to sell his other two most influential players this summer (Cesc Fabregas and Samir Nasri (duh)), he had to make do with what was left.
The results have been worrying at times. Lately, early in the year, etc., but for the most part the wheels have yet to completely fall off. The defense has come together pretty nicely with the addition of Per Mertesacker and the improved form of Laurent Koscielny. Throw in the return of Bacary Sagna and the prolonged health of Thomas Vermaelen then we could presume things in the back will likely keep getting better.
That in and of itself is a very encouraging thing for Arsenal fans.
There have been calls for Wenger to buy a fullback and that isn't too far off base. If there is a position that the club is thin, it's on the defensive flank. What it does have though is versatile players who are able to slot into different areas and stay competitive. Hold the shaky marking of Johan Djourou out wide, Arsene has Sagna, Vermaelen and a returning Gibbs all available to play on the left. Three decent defenders in my book.
It has long been Arsene Wenger's policy to develop talent rather then spend big on it and for good reason, there are few better at doing so than Le Prof. The problem is when he develops these guys and they get big heads, desire to move on and don't have the team's goals at heart. Not pointing any fingers there but Arsenal is and always will be a project under Wenger. It's not a patchwork. That is something I will always respect about his philosophy, at least compared to the big money squads elsewhere.
Part of the development of young stars revolves around keeping them healthy, and unfortunately for Wenger and the rest of those who care about this team, health has been a major concern lately. One of the team's budding superstars, Jack Wilshere, has been hung up all season, and you could easily make the argument that the Gunners' control of the midfield would be much greater with a healthy Wilshere than say Yossi Benayoun or Mikel Arteta or even Tomas Rosicky. All three, to me, are patchwork players who really don't belong in the regular starting eleven for a team of this pedigree.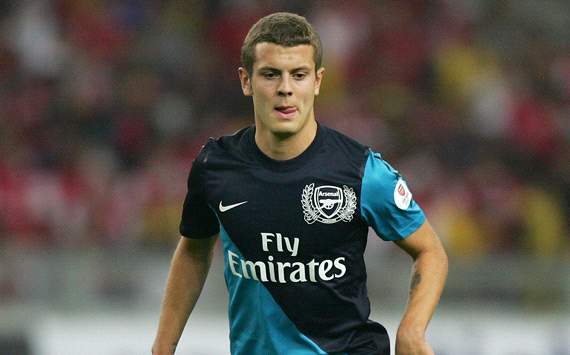 What it comes down to is that you really can't ask for much more than what you're getting from Arsenal right now. It has been a bumpy road this season, but it is a season that going in, people knew would be a transitional year. That is a key fact that very few seem to remember.
With 18 games left to play in the EPL season, Arsenal sits in a very manageable fifth place and is alive in both the Champions League and the FA Cup…something some of the teams above it in the table can't say. As I said, it hasn't been pretty, particularly lately but things are seemingly on the right track.
In bringing back Thierry Henry, Wenger (re)captured the hearts of the Emirates faithful. Now he just has to prove he can get the minds as well. I have a feeling the rest of this season will go a long way in doing that. Next year? Even more so.
Shane Evans is an editor for Goal.com USA. His feature, "The Full English" appears every Friday morning. Contact Shane at shane.evans@goal.com with questions, comments and concerns, follow him on Twitter at https://twitter.com/shanEvans

For more news on England, visit Goal.com's England section!