It's not easy being a Liverpool supporter right now. The once great Reds, a side that up until last season was joint holder of the most English first division titles, hasn't won one in over two decades.
This year, one that started with such promise has gone from cautiously optimistic to downright depressing and thoughts of challenging for the EPL title have shifted to hopes of qualifying for the Champions League.
Currently sitting in a disappointing 7th place, a point behind both Arsenal and Newcastle, the revival brought on by Kenny Dalglish last season is nothing more than a distant memory. The team, as it is right now, needs help. Winning the title is totally out of the question as first place Manchester City is an insurmountable 16 points ahead.
Follow SHANE EVANS on

The Champions League, however, is not yet out of reach as the equally poor Blues of Chelsea sit only an arms-length five points away. With a glut of make-or-break type matches on the horizon, it's now or never for Liverpool to get its act together and to start producing like it is capable of.
From a talent standpoint, the Reds have plenty of it. They also have plenty of cash behind them, unparalleled support and expectations that are rivaled by only its 'big English club' rivals. Essentially, they should always be in the mix for the top honors but that isn't always the case. This season has been a step backwards and before they can move forward corrections need to be made.
Dalglish said it best following his side's drab 0-0 draw with Stoke at Anfield this past weekend. It was the team's seventh stalemate at home this season. Only 14 goals have been scored the Reds in those matches.
"We looked pretty solid at the back, I think they had one shot in the first half and not much more after that but it's our responsibility to break them down, and we, on the day, just weren't good enough," said Dalglish. "There was nothing wrong with their effort or determination but on the day we weren't good enough to break them down."
So what exactly does the team do to get things right? It's not the most simplest of solutions, but there are a few steps that can be taken to get it moving in the right direction.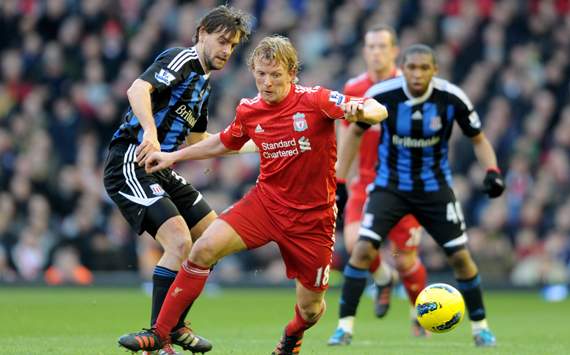 Firstly, the biggest issue in the side is the poor scoring return. Defense? Not an issue -- but scoring certainly. We can all say at this point Andy Carroll has been a huge bust since his move from Newcastle a year ago. The dude just can't get it done. Having said that, he's been playing second fiddle to Luis Suarez during most of that time, and since the Uruguayan has been suspended, Carroll has been lumped up front with the expectation that he'll provide the offense almost exclusively.
My question is this: why not play them both up front at once? Or at least two strikers? For most of this season, it's seemed as though the Reds have just worked the attack through the middle with the hopes that it would culminate in something from guy waiting in the box. Not always that easy, really...and obviously the numbers speak for themselves.
Playing a duo up top to relieve some of the pressure on a midfield that isn't exactly Barcelona quality could go a long way in producing goals. Plus, it's not like the players it has aren't able to defend. Most of the center mids have that ability. That's just one idea.
From there, you look at the return of Steven Gerrard and how that helps the team's chances. In his initial return against Newcastle, he completely changed the game and added that extra bit of quality (as they say) that the players on the pitch before him couldn't add. His presence in the few matches since has been slightly muted but he still is the best player in Dalglish's team. Keeping him healthy will surely help the flow of the offense, particularly when Suarez returns. That, though, is easier said than done given his recent track record.
Finally...give the team a bit of slack, Kenny! The system in place is decent and it's British and promotes good, decent soccer, but come on, it's boring and slow and slightly outdated. Players like Charlie Adam and Stewart Downing and certainly Stevie G can open things up a bit and make the match flow to their liking. Against an awful team like Bolton this weekend, it shouldn't be a problem. You would think.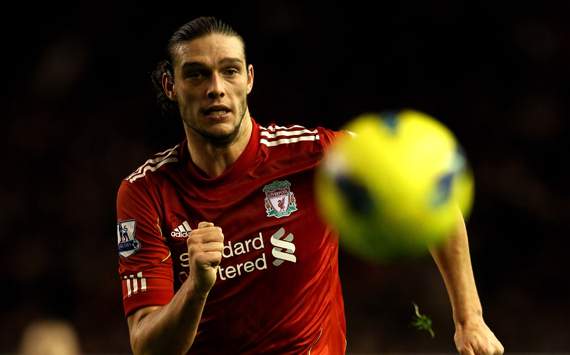 Anyway, there are some massive matches on tap this weekend...matches that don't include Liverpool, so we owe them some attention. About 300 words apiece attention, to be precise. After all, these are the teams that actually have a say in the title race, unlike the aforementioned bunch of underachievers. Here goes.
The Bacon (as in Bringing It Home)

Manchester City vs. Tottenham Hotspur
(Etihad Stadium, January 22nd, 8:30 a.m. ET, FOX Soccer)
Things have come quite a ways since Aug. 28. On that day, Manchester City walked into White Hart Lane and left 5-1 winners over Tottenham, condemning the London side to two consecutive losses to start the season, the other coming the week prior at Manchester United.
Since then, a span of 19 matches, Spurs have only lost once, to a plucky Stoke side back in December. Just once. It goes without saying that they are keeping pace in the title race and with a result in this match, could put some serious pressure on the two sides at the top. Coincidentally, City is the team at the top and will want to put a little bit of distance between itself and Harry's boys.
Given how the two teams have played so far this season, this should be billed as one of the most exciting matches we've seen in months. Both teams can run and play a very smooth, creative brand of soccer (something Liverpool could learn something from). With plenty of influential widemen on offer and some bulky strikers in the middle, there should be lots of good service into the middle.
Both teams like to pass it into the box as well, so making sure the backline plays disciplined and slightly higher up to counteract this would be a talking point for both managers. If they are sloppy and disorganized, like Chelsea or Arsenal's defenses have been at times this season, they'll get picked apart. Both have been good though so far this year, sitting in the top five in goals allowed, with City first and Spurs fourth.
It all depends how Spurs start the match. If they sit back and allow City to control the tempo of the match and maybe get the early goal, it'll be difficult for them to fight back. Coming out on the overused "front foot" and taking the match to the home side is how you get a result. That and frustrating the Citizens with tough tackling and a little bit of yapping in the ear. It's worked of late.
TFE Prediction:
I think it's going to be a one-goal game, unlike the first meeting between these two...but in the end City is just too strong and overpowers a Tottenham side in a 2-1 match.
Arsenal vs. Manchester United
(Emirates Stadium, January 22nd, 11:00 a.m. ET, FOX)

This is just going to be like old times, isn't it? Thierry Henry is back as is Paul Scholes. The nostalgia is almost too much to handle. Almost.
Fact is, neither Henry or Scholes should be the focal points of this match. The two sides have other more important players. Obviously Robin van Perise and Wayne Rooney deserve most of the attention. Lethal in front of goal, this pair will be the deciders of this match.
I mean what can you say about Van Persie that hasn't been said a hundred times already this season? He is hands down the best player in the league at the moment and deserves every shred of credit he's been receiving. Shame he doesn't get more help though. Arsenal could have been a real threat this year had it kept things together in the early going.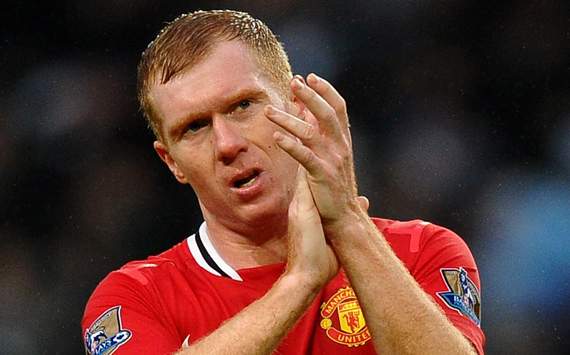 As for Rooney, the goals haven't flown in the way they have for Van Persie, but he's still the heartbeat of Manchester United's attack, and in some instances, its defense, so his presence on the pitch is always important if the Red Devils want to succeed.
Now let's address the elephant in the room. Or eight elephants in the room, I should say. We all remember how the reverse fixture turned out in August. Nasty nasty ugly stuff. Like Joan Rivers ugly. Similar to the other match previewed, I don't think things will be as bad as they were in round one, but the winning side still has the edge.
United bounced back against Bolton last weekend, winning 3-0. Arsenal continues to stumble, getting bumped by Swansea 3-2. Even with the inspirational Henry among its ranks, the challenge of keeping United quiet, particular when the Red Devils have zero room for error, will be a tall tall task.
TFE Prediction:
Won't be 8-2 (shudder!) but Sir Alex trumps Le Prof once again in a 3-2 match.
And Finally...The Black Pudding of the Week

Carlos Tevez, Manchester City:
Contrary to popular belief, there is still a footballer by the name of Carlos Tevez floating about the world doing who knows what. With Manchester City trying to dump him like a bad habit to anyone that will take him, Tevez should soon return to a field near you. Basically a modern day sporting mercenary, don't go buying his new jersey quite yet as he'll likely move on in his customary two years. Moves to France (PSG) or Italy (Milan or Inter) appear the most likely. Both make sense as he'll finally be able to cure his homesickness within the respective country's massive Argentinian populace. Home is where the heart is, after all...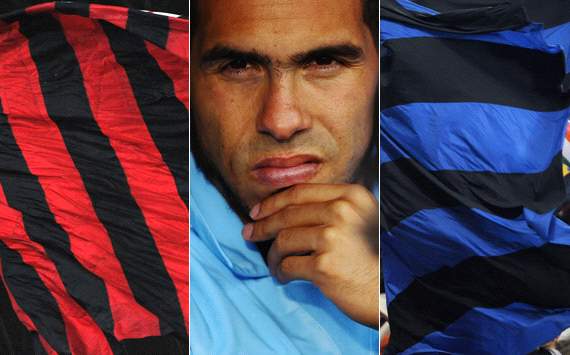 Shane Evans is an editor for Goal.com USA. His feature, "The Full English" appears every Friday morning. Contact Shane at shane.evans@goal.com with questions, comments and concerns, follow him on Twitter at https://twitter.com/shanEvans


For more news on England, visit Goal.com's England section