Don't you just love January? Everyone is still suffering from their massive holiday season hangovers and then as soon as New Year's day hits, the transfer window opens and all hell breaks loose.
It's not like teams are calm and collected going into the winter shopping season as most are in panic buy mode and need to tap up any available talent in the game, whether the price is fair or not. Doesn't matter. Need to patch holes with players that maybe don't fit. Who cares...everyone's doing it!
So I thought today's lovely edition of "The Full English" (yes, I know you've been without one for quite some time) would dive into the transfer market and pick out five EPL moves that simply need to happen before we get to Feb. 1. As you may have guessed by the title, Gary Cahill's protracted move to Chelsea is one of them. But it doesn't end there…
Follow SHANE EVANS on

Other teams have needs (or wants, rather) as we step into the meat of the second half. Of course, there is money to spend and you can't just not spend it. Who does that? What's the point of having it if you aren't going to blow what little you have on Darron Gibson?! Everyone needs a Darron Gibson in the team.
That'll be the main focus to start out, then of course, league play returns this weekend after last weekend's FA Cup interruption. Funny how things are just slightly different from the way they were the last time we had a full slate of matches. Lots of intriguing stories to follow. The Manchester battle at the top. Tottenham's adorable push for the title. The other three 'Big Four' teams accomplishing absolutely nothing. Sunderland's resurgence. Five teams at the bottom separated by three points. That kind of thing.
In other words, I'll have our usual allotment of three match previews for you all to obsess over. But Shane, you're wrong! You're always wrong! Blah blah blah. You all love me, it's fine.
Anyway, let's jump right into to these five transfer that just
need
to happen this January, because you know, if they don't, 2012 may happen a few months sooner. The Incas said so!
(Each will be given a rating of between one and five Harry Redknapps, one meaning the move is likely bollocks, and five meaning its practically a jellied eel (that's 'deal' for all you non-cockney rhymers) It's the most accurate form of measurement since the Big Mac Index.
TFE's Five EPL Transfers That Need To Go Down Right Meow
*
1. Bolton Wanderers' Gary Cahill to Chelsea:
This is probably the most likely of the bunch as the two clubs have agreed to a nominal 7 million pound fee (How much did Man City buy Joleon Lescott for again?) and all that remains is the contract. Well, I gotta say, Cahill is being quite smart about this right now. He's holding out for a big deal because he knows the Blues are desperate for defensive help, and he's that guy. He'll fit in perfectly with his England center back partner, John "Mr. Controversy" Terry and will immediately boost his and the team's play. Why not play hard to get?
The way I see this deal going down reminds me of when I was a wee lad on the playground. There was always that one rich kid who had a ton of cool Pogs...and he didn't like to share. Then the smart kid came over and drove a hard bargain for a trade. Eventually he'll get his way by being smooth and putting himself in a solid dealing position. Or he could just beat the rich kid up, but hey, that doesn't really apply here. I think this deal gets done, and soon. Maybe before you even read this.
5/5 Harry Redknapps
2. Inter Milan's Wesley Sneijder to Manchester United:
The Red Devils midfield has been going south for quite some time now. With the painful loss of Gibson to Everton now official, Sir Alex Ferguson has to be searching for answers. Sneijder has long been rumored the man to step in and save the day for an increasingly uninspired United midfield, but Inter (and the Dutchman) have been playing tough on the financials. This may not happen in January, or maybe not at all, but if Sir Alex really wants to compete, at the levels of City and its other main rival, Barcelona, a creative spark like Sneijder is an absolute must.
When you look at how deep Wayne Rooney has been playing this season, you know this is great need. Michael Carrick is ok in his role. Ryan Giggs is slightly less ok, in the 20 minutes a game he can play. Anderson is hot or cold, never consistent. Paul Scholes...Paul Scholes' signing just STINKS of desperation. So yeah, SAF will probably want to hold on until the summer, considering the Champs League is out of the question, but yikes. The odds of this move?
2/5 Harry Redknapps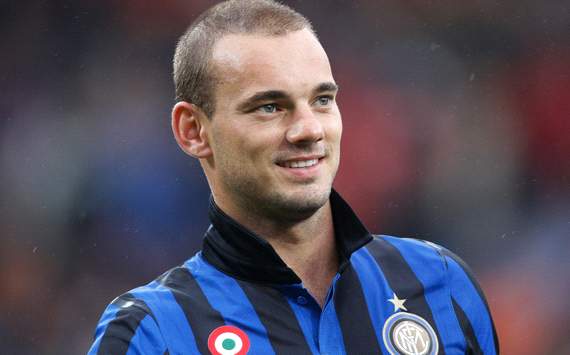 Wesley Sneijder | Cheesin'
3. Aston Villa's Darren Bent to Liverpool:
So we can all officially say now, a year on, that Andy Carroll's move from Newcastle has been a complete bust. Right? Yes, I think that's fair. What better way to get over signing an overpriced, overrated and misfiring Englishman than signing another one?! It's genius! If reports from that part of the world are to believed, Kenny Dalglish is keen on bringing in the everywhereman to his little troop of British misfits. If I'm Aston Villa and Liverpool is foolish enough to offer me anything more than 20 million pounds and a pack of crisps, I'm taking the deal. Fortunately for them, the number floating around is 30 MILLION POUNDS!
3/5 Harry Redknapps
4. Marseille's Loic Remy to Tottenham:
Harry Redknapp loves his strikers, doesn't he? This would make like 27 or so since he joined Spurs, give or take a few. Hey, Darren Bent was one! Anyway, Remy is an up-and-coming talent with the chops for the EPL. He's probably set with his forward group for now, but a move in the summer could be very likely, especially if Spurs stays in the top four.
1/5 Harry Redknapp5. Manchester City's Carlos Tevez to Anywhere:
As broken as a relationship in the history of the sport, I have more chance of lining up in the City XI than Tevez does right now. The Milan move appeared on but Alexandre Pato put the proverbial spanner in the works of that one when he said he wanted to stay with the Rossoneri. Now it appears as though Inter Milan is trying to put something together for the crazed Argentine. Good thing there are more than two weeks left in the window as Tevez's contract situation, representation and ego are a lot to be sorted through. If he doesn't go in January, I'd be shocked with a capital T.
5/5 Harry Redknapps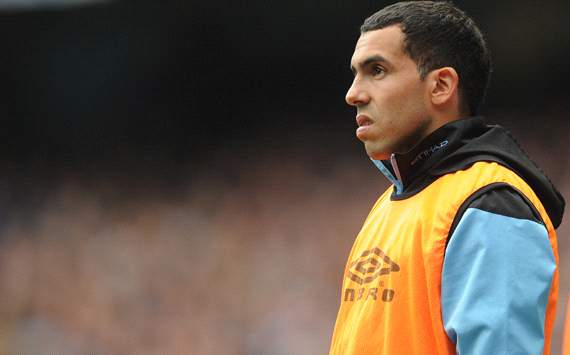 Carlos Tevez | Cheesin'


*Please take everything written in the above section with two huge grains of salt. 'Need' could not be a more relative word. Love, me.
Moving right along…
The Bacon (as in Bringing It Home)

Swansea City vs. Arsenal
(Liberty Stadium, January 15th, 11:00 a.m. ET, FOX Soccer)
If you missed Arsenal's FA Cup match with Leeds on Monday, you missed one of the most boring 68 minutes of a match ever. Seriously, it was hard to watch. But for 22 minutes, I couldn't take my eyes off the television. Thierry Henry, arguably the Premier League's greatest ever player (yes, I did just say that), returned to the Gunners and every touch was magical. His goal, the most magical. The beard, the magicalist. Everything about it was surreal.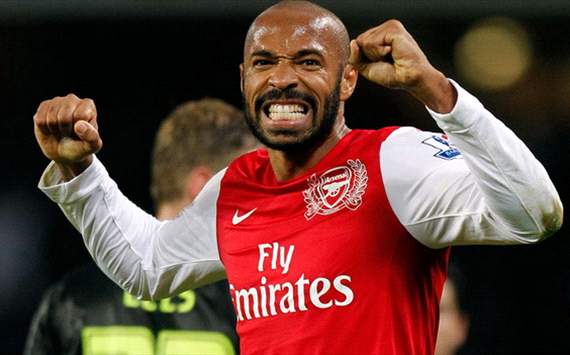 Thierry Henry | French cheesin'
Now he'll get to line up for an actual league match, against actual league opposition. Does he still have it? Can he play with Robin van Persie. Is he still completely swoon-worthy? I think we'll see resounding 'YES's' to all of those questions come Sunday. Nothing against Swansea, but this is the biggest lovefest between player and team, and writer and player/team, since Allen Iverson came back to the 76ers. Kinda sorta.
TFE Prediction:
The Gunners are riding the Henry wave to a big 3-1 win on the road here.
Newcastle United vs. Queens Park Rangers
(Sports Direct Arena, January 15th, 8:30 a.m. ET, FOX Soccer Plus)
Sparky is back! After Neil Warnock was relieved of his managerial duties at QPR, the soft-spoken one was brought back to coaching by Rangers. Can't say he's the most liked boss in the land, but yeah, he gets results most of the time and should/could/will maybe lead the London club to survival this season.
His first won't be an easy one as a trip to Newcastle is in the cards. One of the toughest places to play in the league (ask Manchester United), QPR will have to resist an attack-minded approach, at least to start. Breaking down the wings through some of its quicker players will work nicely against a Magpies side which may find itself getting slightly too comfortable.
TFE Prediction:
NMS (New Manager Syndrome) will push Rangers to a good start, but Newcastle is too good right now. 3-2 win for the home side.

Wigan Athletic vs. Manchester City
(DW Stadium, January 16th, 3:00 p.m. ET, ESPN3.com)

Can you see the cracks in Manchester City's armor? I can. The inconsistencies are showing and it isn't the world-beating side of earlier in the season. With Vincent Kompany, its best defensive player, suspended, there is a lot on the line over the next few matches.
With Spurs on the schedule after this one, some City players may look past this match to that one, a move that would I would consider...ill-advised. Wigan hasn't been great this season, obviously given its position in the table, but it shouldn't be overlooked either.
After its FA Cup disappointment last weekend, I think City rebounds nicely. Roberto Mancini won't accept anything less. He won't have a choice, really.
TFE Prediction:
City stands up to a strong Wigan display in a tight 2-1 win.
And Finally...The Black Pudding of the Week

Robbie Keane, Aston Villa via the Los Angeles Galaxy via Tottenham via his other 10 boyhood clubs:
I like Robbie Keane, I really do. He commits himself to an idea and just runs with it…then shortly after, regrets making said decision. Like joining the Galaxy. Sure, it sounded neat, the money was good, the obvious Becks factor. The lad loves his Prem football though and will give things a go with the offensively-inept Villans. Good for him. With Mr. Bent on the outbound train, scoring the goals will be his job for the next two months. After that? It's the Emile Heskey show...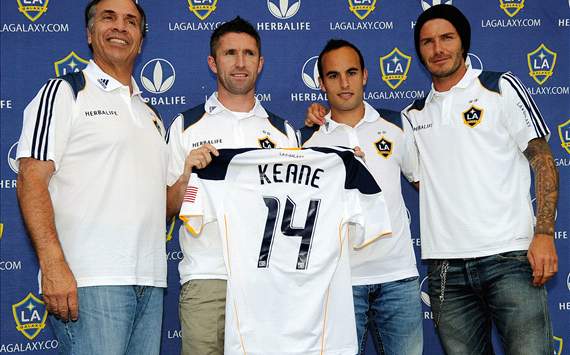 Robbie Keane & co. | Outdated cheesin'


Shane Evans is an editor for Goal.com USA. His feature, "The Full English" appears every Friday morning. Contact Shane at shane.evans@goal.com with questions, comments and concerns, follow him on Twitter at https://twitter.com/shanEvans

For more news on England, visit Goal.com's England section!