Never has the word 'capitalize' felt so apt.
Tottenham
has the opportunity against
Everton
to build an even larger lead over its London rivals and as the fixture postponed due to the summer riots is finally to be fulfilled,
Harry Redknapp
will be aiming to continue the mayhem his side has wreaked in this increasingly dramatic season.
It was not supposed to be this straightforward. The Luka Modric transfer saga of the summer and a couple of Mancunian humiliations had Spurs fans gasping for air before the Premier League had even rolled into September.
Yet, here we are: 19 games played and Tottenham sits comfortably in third place. A win over Everton would leave Spurs closer to the top of the table than fourth - which, aside from a fourth-placed finish in 2009/10, is a remarkable rise given the club's indifferent history in the Premier League.
The north London outfit is five points ahead of Chelsea and six ahead of arch-rival Arsenal at the halfway mark of the season. But is it as simple as congratulating Redknapp and his side or has there been assistance from elsewhere? It's somewhere in between.
HOW SPURS LEAPFROGGED THEIR RIVALS UNDER REDKNAPP
28 December, 2008

Current table

Pos



P

PTS

Pos



P

PTS

2

Chelsea
20

42
3
Tottenham
19
42
4

Arsenal
20
35
4
Chelsea
20
37
16

Tottenham
20
20

5
Arsenal

20
36
London's finest? Thus far, Tottenham has made a compelling case.
The preseason narrative told of Modric's potential move to Chelsea and the distraction it caused Redknapp's preparations for the campaign ahead. However, following the staunch rebuke aimed by chairman Daniel Levy to Roman Abramovich and a run that amassed 31 points from a possible 33, Tottenham scaled the table.
Nonetheless, it may have been forgotten that the club's London rivals suffered similar upheaval over the summer. Arsenal has had to rebuild following the summer sales of Samir Nasri and Cesc Fabregas while Chelsea has had to contend with the difficulty of welcoming the inexperienced Andre Villas-Boas to the unforgiving Premier League.
The revolution at both clubs has certainly caused problems on and off the pitch, whereas the continuity established at White Hart Lane has fundamentally been the root of the club's success.
Amazingly, Tottenham has won more games in its first 19 than ever before except, to the humor of many a rival fan, the 1960/61 double winning season. That was the last time the club won the top division – 51 years ago.
Compare that to Chelsea's double-winning season two years ago and Arsenal's in 2004/05 and you begin to understand how big a landmark it will be should Spurs sustain their form.
The club has been on an upward curve ever since Redknapp took the reins. Qualification for the Champions League in 2009/10 was the beginning of the journey but more so a seminal moment for the club in the top flight. Spurs had finally made their way to the top table and did so via gripping wins over both Arsenal and Chelsea.
But it was a tale of two teams last season as Redknapp's reckless abandon entertained the masses in Europe. However, league form suffered and hopes of a second Champions League campaign dissolved.
Focus was not lost over a difficult summer. The measured summer spending on Brad Friedel, Scott Parker, Emmanuel Adebayor and the emergence of Kyle Walker have ensured the ascendency has continued under Redknapp's direction.
Crucially, the top brass insisted on the retention of Modric and Gareth Bale – a major juxtaposition to the days of flogging Dimitar Berbatov and Michael Carrick to Manchester United.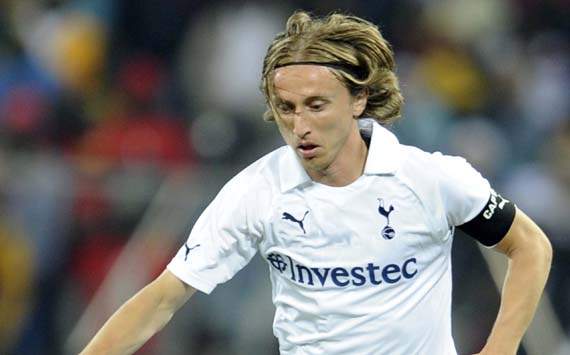 Stability the key | Spurs held on to their stars while Arsenal and Chelsea had upheavals
This has left a talented squad that certainly befits its third place position. Tottenham is nine points better off than this stage last season, showing that it is not only the faltering steps of its rivals but also its own on-pitch improvements.
Gone, it seems, are the days of dropping points to the likes of Wigan. That particular ailment appears to afflict Anfield now.
To suggest this fine form could last would be bold. There are obvious dangers lurking and January could be a definitive month. Sandro, Parker, Aaron Lennon and William Gallas have recently been sidelined, reminding fans that the side is only a couple of key injuries away from disaster.
We're a third of the way into January but the transfer window has barely been nudged ajar. Although Redknapp has downplayed potential transfer activity, based on his track record it would be wise to disregard those comments until February arrives. The Spurs boss will be deeply aware of the opportunity he has and it will not be a shock if reinforcements arrive.
What of Redknapp though? His court battle with HMRC is due to continue on Jan. 23 and is scheduled to last two weeks. Not only could Levy be reluctant to sanction signings, he may have to employ his contingency plan should the worst case scenario become reality. Regardless, this is a moot point for now, as focus remains on the next Premier League encounter against Everton.
David Moyes insisted on Tuesday that Spurs were superior following a period of acceleration that has seen the north London side successfully gatecrash the top four – a situation not wholly unfamiliar to Everton.
Were it not for a playoff defeat to Villarreal in 2005, Moyes may have built on his club's fourth-place finish and established Everton among the elite. Missed opportunities and financial restrictions have deprived the Toffees and maybe now they are feeling the effects of such austerity.
However, for all the ifs and buts, the statistics paint a truer picture of what to expect from Tottenham, a team that has traditionally struggled against Everton. In the last decade the team has won just eight of 19 league matches and the coming fixture coincides nicely with the 2-1 loss at Goodison Park almost exactly a year ago.
Cast a glance to both managers and you will see that Redknapp has only won three times in 16 top-flight confrontations with Moyes.
But as Everton continues to limp through this campaign, it is worth remembering that the club is facing a trip to a team that some fans would argue is better than any Tottenham team since Bill Nicholson's double winners of '61.
Perhaps it is the team's football that has propelled the Tottenham above its London rivals. Inconsistency surrounds Villas-Boas' Chelsea and the rebuilding involved in the next installment of Arsene Wenger's trophy hunt has seen points dropped too regularly. Tottenham, meanwhile, has maintained simplicity in its approach.
The core has remained stable and Redknapp has displayed the credentials yearned for by the FA while the familiar propensity for Tottenham to shoot itself in the foot appears to have vanished.
For Spurs to sustain their position on top of the London pile, it would take the effort of a great side, and that, to the fear of many, is what they are in danger of maturing into.