Goodbye 2011, hellllllllllo 2012.
Yes, the calendar has turned and we enter a new year with new goals to reach, new agendas to set and new youth players to throw darts at from a second story window. Needless to say, 2012 will be a big year.
We've got an [insert an adjective to describe excitement, however artificial it may be] title race going on, the Olympics, Euro 2012, World Cup qualifying, other stories of note. All should make up a solid footballing year.
Follow SHANE EVANS on

Before we get into all that though, I think we should take a step back and examine how 2011 went. At least the 2011 part of the 2011-12 English Premier League season. In Friday's TFE, I pointed out a few New Year's resolutions for a selection of teams going forward. I'm not big on change though and will hold on 2011 as long as possible, and in doing so have something special planned for this column: The All-TFE Team.
What's that you say? No talk on Manchester United's debacle at Old Trafford against Blackburn Rovers? Nothing on Manchester City's frustrating play of late, play that has culminated in a 1-0 loss to Sunderland at the Stadium of Light? What about Chelsea's implosion against Aston Villa? Nope, and I'll tell you why…
The two Manchester losses were mere blips on two otherwise impressive campaigns. They are both far and away the top two teams in the league and will recover from the defeats. Both will sting, but the teams will move on and be better in the next matches (which will be discussed in a few inches). Guaranteed. As for Chelsea, well, who on earth knows what's going on with that club. The last 10 minutes against Aston Villa was absolutely shambolic and leaves so many questions about whether this club has what it takes to make top four, let alone be in a title race. I smell a feature coming next week…
Anyway, let us dive into my team of the year. Or half season. Whatever you want to call it. The team consists of the 11 players who I, Goal.com's Shane Evans, thought have had the most impressive seasons and who mean the most to their particular teams. Also, this is my All-TFE Team, not yours! So you may disagree on some names (however unlikely as I am pretty on point most of the time), just accept it for what it is. Shall we dance?
The 2011 All-TFE Team

GK: Joe Hart, Manchester City:
If it wasn't obvious by now, it should be. I have a serious man crush on Joe Hart. He's been the best keeper in the EPL this season by a distance and is currently England's best player... by a long way. I won't say City would suffer mightily without him, but he has made some amazing saves and deserves a ton of credit.

LB: Jose Enrique, Liverpool:
Arguably one of the best defensive buys of the summer, Enrique has made the left side of Liverpool's backline his with his rangy runs and solid defending. Been a big part of the Reds league-leading defense.

CB: Vincent Kompany, Manchester City:
He's the best defender in the EPL right now. Probably the first name on my team sheet, too, ya know, if I have a team sheet to pick of all the players in the league.

CB: Martin Skrtel, Liverpool:
It has taken a few years but Skrtel has really grown into his spot with the Reds and has to be considered one of the top defenders in the country. Confident, tough and slightly intimidating, the Slovakian just gets the job done.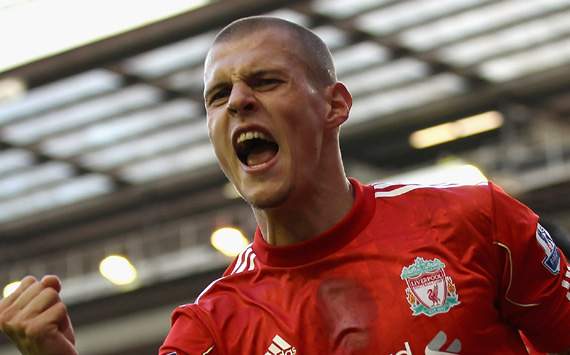 RB: Kyle Walker, Tottenham:
The right back spot has been a bit of a weak one this season. Walker has stood above the rest in a way that others could not. Throw in that he's in his first year of regular starting appearances, his place in this team is just.
LM: Gareth Bale, Tottenham:
He's not been in the blistering form of a year ago, but the Welsh midfielder is starting to turn it on of late. His two goals against Norwich were class. Look for bigger things from him going forward, but regardless he's the class of the league right now.
CM: Yaya Toure, Manchester City:
The Ivorian midfielder makes things happen in the center of the park for City and is a constant force during matches. Few players can boss a game like he can.

CM: Scott Parker, Tottenham:
Since joining from West Ham in the summer, Parker has taken over the Spurs midfield and does all the things that Harry Redknapp needs him to without burdening his teammates. An excellent addition.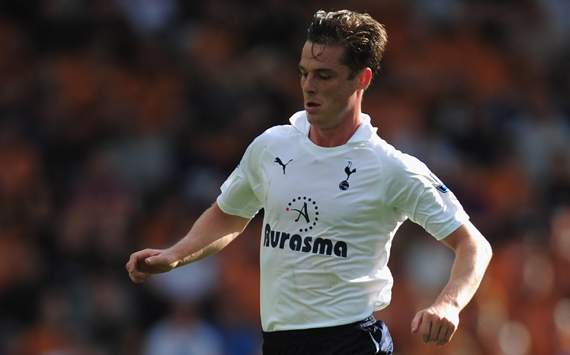 RM: David Silva, Manchester City:
Shouldn't get many arguments on this one. Silva has been absolutely incredible for City this season, setting up goals, scoring them, moving the ball, everything. A one-of-a-kind player.
ST: Demba Ba, Newcastle United:
Fifty-three percent. That's how many of Newcastle's goals Ba has scored this season. I think it goes without saying that it wouldn't be where it is now without him. Oh, and he cost 0 pounds to purchase. Masterstroke.
ST: Robin Van Persie, Arsenal:
What can you say about Van Persie that hasn't been said a hundred times? The guy is Arsenal. Something real special. Definitely my All-TFE Team MVP.
So there's my team of the season to this point. Pretty solid bunch, it has to be said. With 19 more matches (20 if you're Spurs or Everton) remaining for each club, this list could drastically change by the end of the season, but in the first 19, this XI was the cat's pajamas. Thoughts? Questions? Comments? Concerns? Follow me on Twitter
@shanevans
and let's talk about it. Or you can shoot me an email at
shane.evans@goal.com
. Let us move on to the two match previews for the midweek matches.
The Bacon (as in Bringing It Home)

Manchester City vs. Liverpool
(Etihad Stadium, Jan. 3, 3 p.m. ET, ESPN2, ESPN3.com)
The league's top two defenses are set to square off at the Etihad Stadium on Tuesday. Should be quite the barn-burner to quote good 'ol JR. The visiting Reds have been playing slightly better of late, while the Citizens of Citeh have hit quite the rough spot. Who prevails?! Only time will tell.
Frankly though, City won't play poorly again. It can't. If these aspirations of winning the title this season are real, and given the state of the rest of the league, they certainly should be, it has to be able to bounce back, even in a difficult contest like this one.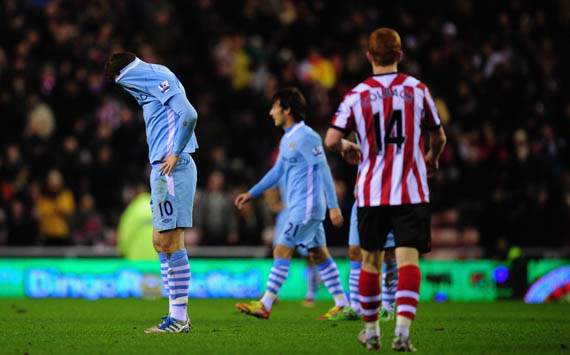 Liverpool will provide plenty of resistance as its defending has been commendable this season, but City understand that it can't drop another result at this stage of the season. With some tough matches coming up, both in the league and otherwise, Roberto Mancini and Co. need to make a statement. Craig Bellamy be damned, this is that match.
TFE Prediction:
Don't give up on City just yet. It comes away with a vital 2-1 win.

Newcastle United vs. Manchester United
(Sports Direct Arena, Jan. 4, 3 p.m. ET, FOX Soccer)

Manchester United looked considerably worse in its recent defeat to Blackburn than its crosstown rivals did in theirs. Was an ugly, ugly performance and the club will now move on to a difficult match against Newcastle at that ridiculously renamed stadium in the Northeast.
Can United bounce back in the same way that I expect City to? I think it's going to be difficult as the club really played poorly against Rovers, the last-placed team in the entire league. One thing Fergie does well though is motivate his men so they won't be as bad. Plus, Wayne Rooney will be back and you can bet he's chomping at the bit to get things going in this one.
Newcastle is a good side but the cracks are starting to show and United should be able to expose them in this one. May take some time, but me thinks it'll happen and the title race will stay tight.
TFE Prediction:
Rooney comes back and does work in a high pressure situation. The Red Devils are 3-2 winners.

And Finally...The Black Pudding of the Week

Landon Donovan, Everton:
HE IS BACK! He was the BPotW a few weeks back when his deal was finalized to bring him back to the Toffees for a few months. But now he's set to play in the club's match against Bolton on Wednesday. What better match is there for him to play in than one where the other team doesn't play defense! Wonderful. I'm pretty excited and I don't even know why. I can only imagine the excitement levels of an anemic offensive team like Everton...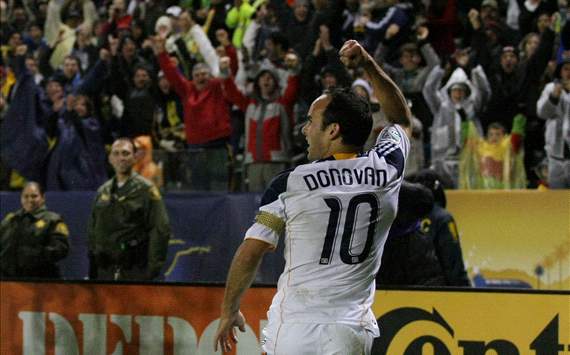 Shane Evans is an editor for Goal.com USA. His feature, "The Full English" appears every Friday morning. Contact Shane at shane.evans@goal.com with questions, comments and concerns, follow him on Twitter at https://twitter.com/shanEvans

For more news on England, visit Goal.com's England section!