Former Manchester City forward Darren Huckerby has hailed the strikers at his old club as "world-class" but still thinks Arsenal skipper Robin van Persie is better than anything on offer at the Etihad Stadium.
Even though Roberto Mancini has Mario Balotelli, Sergio Aguero and Edin Dzeko all vying for starting slots, Huckerby hailed Van Persie as the best frontman in the Premier League as the Dutchman, who has been heavily linked with a big-money move to City, prepared for Sunday's showdown.
"Arsenal are at the top of their game at the moment and in Robin van Persie they have probably got the best striker in the league," Huckerby told Goal.com. "At this present time Van Persie would get into every single team in the Premier League as their first-choice striker.
"What makes him so special is that his movement is very good and there is no doubt about it, he really is clinical. I know he plays for a team that creates chances but he virtually scores in every game.
"If Man City do manage to keep him quiet there is a good chance that they will win the game. He is Arsenal at the moment. I wouldn't say they are a one-man team but they are not far off that now because Van Persie is playing incredibly well and leading by example on the field as the captain."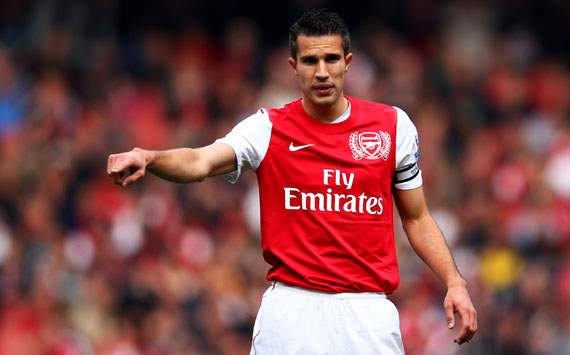 Impressed | Huckerby believes Van Persie is the Premier League's best striker
Huckerby expects Balotelli and Aguero to get the nod from manager Roberto Mancini as the Premier League leaders attempts to bounce back from their first defeat of the domestic season at Chelsea.
"City are probably the only team in the Premier League with such an embarrassment of riches when it comes to strikers because there is an abundance of them," he added.
"Against Arsenal I would probably go with Balotelli and Aguero. I'd go with them because City play in a such a way that most of their chances are created through David Silva and Samir Nasri, with Yaya Toure bombing on from midfield too, so they just need people that will finish very well and that's what they do.
"The strongest area of the City team is in midfield because Silva pulls all the strings and it is just about getting on the end of all the chances he creates."
Huckerby, who scored 22 goals in 69 games for City from 2000 to 2003 before signing for Norwich City, thinks Aguero should be the first striker on Mancini's team-sheet.
"I know that Mancini seems to like Mario Balotelli at the moment but Dzeko started the season on fire," he said. "As well as being very dangerous, he is better at bringing other people into the game than Balotelli.
"Generally speaking, I would put one of them with Sergio Aguero but Mancini has a nice problem on his hands in terms of selection because all three of them are world-class.
"Balotelli has got issues and just the other day he was kicking off with one of his own team-mates [Micah Richards] on the training ground, but he is still a very good player and you just can't keep him out of the headlines."
Darren Huckerby's autobiography, Hucks: Through Adversity To Great Heights, is out now.
Follow GOAL.COM USA on