The Blues head into the holiday season searching for answers that may not be there with the handsome Portuguese on the bench.
Thanksgiving came and went and it has led many to reflect on what they are thankful for. You know, as that is the point of this particular holiday. It applies to the soccer world as well.
Right now in the English Premier League, Chelsea is a team struggling to see the light at the moment, and it's been that way for a few years now. You can only appreciate having tons of money for so long.
With Carlo Ancelotti's departure in the summer, Chelsea owner Roman Abramovich yet again proved that he doesn't have the patience to a let a manager build a team over a number of years, even one who was right for the club like the Italian.
Follow SHANE EVANS on

Instead, a new face must be installed, one who will bring a fresh look and fresh hope to a squad with astronomical expectations. Those expectations bring pressure, lots of pressure, and few have proven they are up to the task. Only one really, and he was quite ... special.
Replacing Mr. Carlo was the young, the brash, the handsome Andre Villas-Boas of FC Porto fame. The 'trendy' choice for the job, Villas-Boas, a former assistant of the Special One, Jose Mourinho, was supposed to revitalize an aging Chelsea squad and tactically evolve it to the standards that saw his Portuguese side run the table in 2010-11.
Now Chelsea has had its high moments this season. Wins over Norwich and Swansea and Everton were good, right? It currently sits in fifth place. That's not too bad, I guess? It's still in the League Cup! Realistically, though, not much else has gone right for AVB and company, at least not at the clip that is expected of the club.
Losses to Manchester United, Arsenal, Liverpool and most recently Bayer Leverkusen have left questions aplenty. Equally disappointing draws against Fulham, Valencia and Racing Genk have not made things any easier.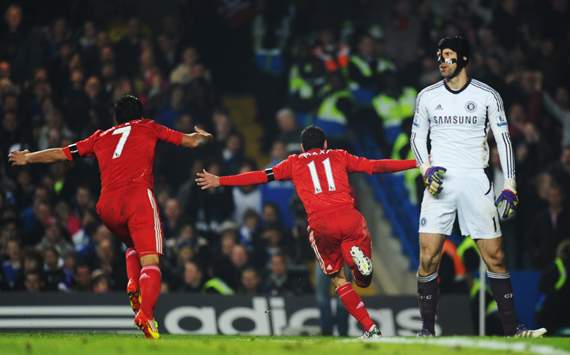 The Blues have just struggled immensely to find an identity this season. AVB has struggled even more at determining what he wants that identity to be. The consistency hasn't been there, the rhythm either and certainly not the drive to put it all together. I don't even think Chelsea fans could argue that there has been as much bad and disappointing this season than good and uplifting.
I won't go as far as to say that the players aren't playing for AVB, because apparently a number of them like him and were OK with his appointment. It does seem, though, that some of his in-game decisions and tactical decisions do nothing else but leave heads, everywhere from the field to the stands, scratching furiously.
Against Bayer Leverkusen midweek, a match that Chelsea desperately needed to make its Champions League future a little more comfortable, the Portuguese decided to park the bus in hopes of a draw. By bringing on Jon Obi Mikel, Alex and Florent Malouda in the second half, his intentions were clear. Malouda is an attacker you say? Well he came on for Juan Mata and moments later Leverkusen scored to tie the match. Mikel came on last in the 80th minute ... while Fernando Torres and Salomon Kalou waited on the bench. With a win being the desired result, for a team of Chelsea's stature, in a competition it usually excels in, why take the cautious route?
Moments later, Leverkusen scored again and claimed all three vital points. With the Blues' last group stage match against Valencia, a team that destroyed Genk 7-0, it now needs to beat the Spanish team to ensure advancement, given its inferior goal differential. Both are on eight points, you see. Yeah, not the worst scenario as the match is at Stamford Bridge, but it really shouldn't have been in it to begin with. It's almost as though AVB has outcoached himself in situations that his players should be able to overcome.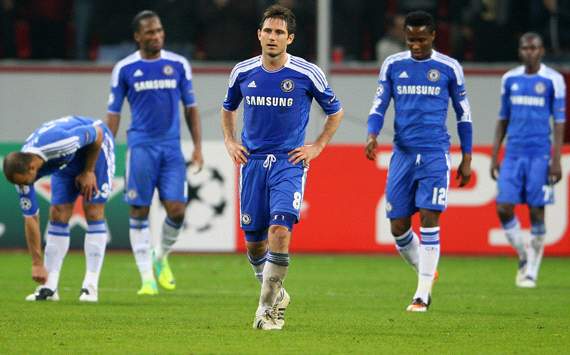 With matches against Wolves, Newcastle and then a big one against Manchester City on tap, Chelsea has run out of mulligans. It will need to start producing results because we all know Mr. Abramovich's fuse is about as long as Fernando Torres' goal record for the London club.
Moving on, we've got some big matches this weekend ... with teams that are actually interested in winning on a consistent basis. Let's turn our attention to them.

The Bacon (as in Bringing It Home)

Liverpool vs. Manchester City
(Anfield, November 27th, 11:00 a.m. ET, FOX Soccer)
How much of Liverpool's win over Chelsea last weekend was about how good a manager Kenny Dalglish is or how poor a one AVB has become since taking over Chelsea? Bit of a toss up there, but a commendable victory regardless.
Liverpool will want to move on from that match and concentrate on its next opponent, one which is yet to suffer defeat this season, at least domestically. Yes, Manchester City will be traveling to Anfield, a place where it hasn't recorded a win at since the 2002-03 season.
This match should be a really entertaining affair as both sides have been playing good soccer of late and have shown a knack for keeping things tight at the back. In doing so, the field has closed down for its opposition and forward moves can be made. Against Chelsea, the Reds confused and frustrated the home side, allowing little in the way of real chances on goal (Chelsea only had three shots reach the net, despite taking 19). That is the kind of defending it's going to need against Manchester City, a team which is much better going forward than the southerners.
Both teams are almost completely healthy, barring Steven Gerrard and his niggling foot injury, so we should see a nice compliment of players on the field. I don't think the Citizens will be able to produce too much, at least not at the levels they may have been used to, but City should bounce back from a disappointing loss to Napoli in the Champions League.
For the neutral like myself, this one will be good to watch as it'll have a number of chances and back and forth play, but, in the end, it could go down as a draw. Yeah, stalemate city.
TFE Prediction:
Going with a tidy 2-2 here with the sides trading goals.
Manchester United vs. Newcastle United
(Old Trafford, November 26th, 10:00 a.m. ET, ESPN2, ESPN3.com)
Another top notch match between two of the higher-placed teams in the league. Manchester United has been rolling through the league since its ugly defeat to City last month. Tidy 1-0 victories over Everton, Sunderland and Swansea prove that.
Newcastle on the other hand was dealt its first loss of the season against the very same City side last weekend. The Magpies didn't play too poorly in that particular contest, but also seemed a bit hesitant to assert themselves. Things won't be much easier for them in this contest as United is fresh off the disappointment of a 2-2 draw with Benfica in the the Champions League and won't want to play to a similar result in this one.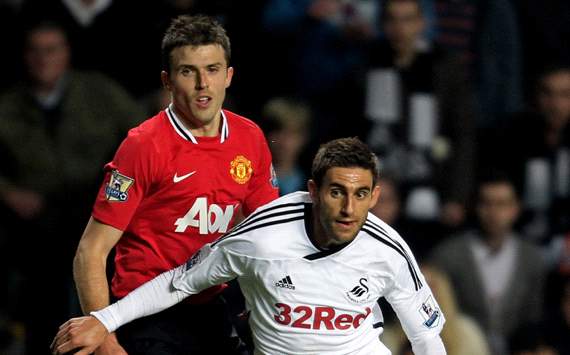 Expect Newcastle to relinquish much of the possession, as it did against City, and hope to bounce on the counterattack. The Red Devils have seen their league goals dry up in recent weeks, so Newcastle will hope it can keep things together defensively long enough to stay in the match.
I'm not convinced if it'll be enough.
TFE Prediction:
Manchester United needs an emphatic win against a good team. This will be that win. Going 3-1 to the Red Devs.
Arsenal vs. Fulham
(The Emirates Stadium, November 26th, 12:30 p.m. ET, FOX Soccer)
They're back! They're back! The Gunners are back! Yayyy!
That's what Arsenal fans will fill your ears with any time you bring up soccer. Or sports. Or the word foot. Or if you start a conversation. Truth be told, things have turned around for Arsenal in the last few weeks and its all down to one man and one man only.
Robin Van Persie.
I was going to be sarcastic and say someone like "Andrey Arshavin" or "Marouane Chamakh" but it's really just been Van Persie. Every game. He is the entire team and, without him, Arsenal would not be where it is right now (as I wrote
here
earlier this month). For those of you who aren't Gooners, that's seventh and rising and winners of its last five league matches.
Fulham has had a tough start to the year and I don't see it getting much easier against the in-form team from the Emirates. Will be tough to get anything out of this one.

TFE Prediction:
Arsenal keeps rolling with an impressive 2-0 victory.
And Finally ... The Black Pudding of the Week

David Beckham, Los Angeles Galaxy:
Easily the most frequent holder of the BPofW award, Becks finally got himself an MLS Cup this past weekend when the Galaxy put the sword to the Houston Dynamo in a 1-0 match. His contract is also up with the club and he's been courted by more teams than I have words in this column. Rightly so, as the man still has it. The smile, the hair, the fashion sense. He's got it all. He can still play, too. I'd love to see him stay in MLS, but I don't think that's going to happen as the ageless Brit wants another shot in Europe. I guess I'll have to make PSG my new favorite team now. Nice jerseys at least ...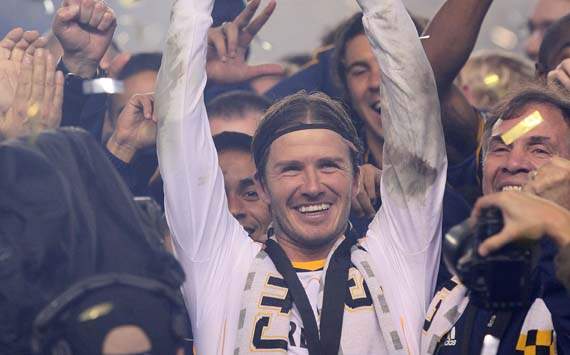 Shane Evans is a senior editor for Goal.com USA. His feature, "The Full English" appears every Friday morning. Contact Shane at shane.evans@goal.com with questions, comments and concerns, follow him on Twitter at https://twitter.com/shanEvans or join the TFE/FCS Facebook fan page!

For more news on England, visit Goal.com's England section