Fernando Torres' move to Liverpool was the ultimate football love story.
The former Atletico Madrid man was finally going to leave his boyhood club and experience life abroad in a new league and in a new country. He'd be playing for one of the world's biggest clubs, for a manager with whom he could understand (given the lack of a language barrier) and in a league that perfectly fit his style of play.
After four years with Liverpool, Torres lived up to his paltry 20 million pound transfer fee and then some, scoring an impressive 65 goals in just over 100 appearances for the Merseyside club. Struggling with injuries from time to time, it didn't get all it could from the forward, but for the most part, he became a fan favorite and was an integral part in the team's success.
Follow SHANE EVANS on

During his time at the club, he built a strong connection with Liverpool's unquestioned leader Steven Gerrard and worked well off of the club's role players like Dirk Kuyt and Xabi Alonso (pre-departure). He was Liverpool's main goal threat and one of its most dangerous players. He could have been one of its legends.
Unfortunately, the club's fortunes took a dive. Rafa Benitez, the smooth speaking Spaniard that brought Torres to town, was eventually sent packing and the love affair between player and club began to deteriorate. Not to a unrepairable state, but Torres didn't play well under Roy Hodgson, though neither did anyone else on the team. The writing was on the wall.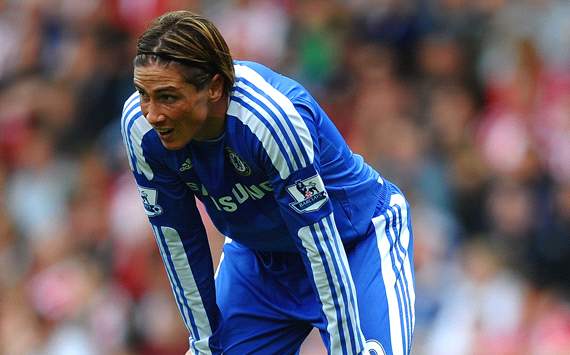 Kenny Dalglish took over as manager, and it appeared the former Reds goalscorer would be happy to go in a new direction, one that didn't include their current star striker Torres. Thus came about his British record 50 million pound move to Chelsea in January of this year...officially ending the relationship that began with such incredible promise.
Torres will tell you now that he's happier with his new club and that things are great. Torres will tell you that he doesn't regret leaving Liverpool and that playing for Chelsea is the better option. Torres will tell you everything is fine.
In reality though, his move to Chelsea just hasn't been as smooth and pain-free as when he first came to the Old Blighty to play for Liverpool. On Sunday, he'll play his old team for the second time since joining the Stamford Bridge outfit, after making his debut against the old club back in February.
And since that 1-0 loss, which ironically was achieved thanks to a goal by then-Liverpool and now-Chelsea midfielder Raul Meireles, Torres has struggled to not only find the individual form that made him such a hit with Liverpool, but also to fit into his high-priced team.
He's shown flashes of his former brilliance and has certainly put in the effort expected of a player in his position, but for one reason or another it hasn't 'clicked' to this point. In 22 league appearances for the Londoners, Torres has three goals. For all you math majors out there, that's 16.6 million pounds per tally. Not quite what Roman Abramovich had in mind.
So with his two most recent teams meeting this weekend, as they did when he first put on a Blues shirt, Torres may want to look at this match as the beginning of the next chapter in his English footballing story. His time at Liverpool was the wonderful introduction and fruitful early stages. The move to Chelsea and difficult time that followed serves as the middle portion where the mettle of the protagonist was tested. Hopefully now, nearly a year on from when he from decided to alter the tale so drastically, Torres can once again become the hero he was when this all started.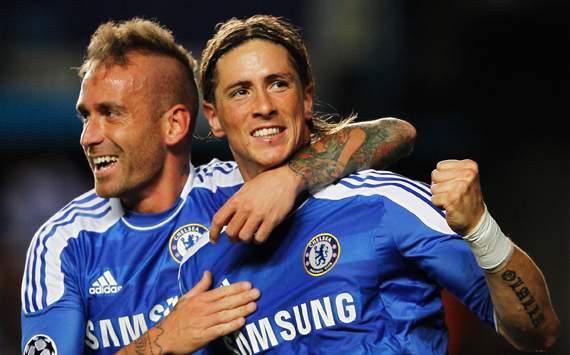 Luckily for you, and me I might add, Torres isn't the only player playing this weekend and the League is officially back from yet another international break. Kicking things off will be Chelsea-Liverpool, as that's obviously the weekend's highlight match. We'll also have Manchester City-Newcastle and Tottenham-Aston Villa covered. With my ramblings on Torres complete, let the match previewing begin.
The Bacon (as in Bringing It Home)

Chelsea vs. Liverpool
(Stamford Bridge, November 20th, 11:00 a.m. ET, FOX Soccer)
Two of the EPL's traditional big boys square off at Stamford Bridge on Sunday in what should be a good test for both sides and will help determine where each really stands in a exceedingly top heavy top division.
Teams like Newcastle and Tottenham who will be spotlighted shortly, continue to put pressure on Chelsea and Liverpool at the top of the table. The victor of this match, if there is one, will have a better hold on their spot among the elite. As it stands right now, Chelsea has dipped a bit to fourth while Liverpool has improved slightly and is in sixth.
Bouncing back from its gut-wrenching defeat against Arsenal at the end of October, Chelsea topped Blackburn in a tough 1-0 match the last time out. It probably should have won by more and Rovers put up a heck of a fight, but a win is a win and it kept the opposition off the scoreboard. It's a small step in the right direction after a difficult month, something manager Andre Villas-Boas should be relatively pleased with.
After taking on Liverpool, things don't get much easier for the Blues as dates with Newcastle, Manchester City and Tottenham all await in the next five matches.
The visitors come into the match having swept the two matches against Chelsea last season and unbeaten since September in the league. They aren't playing particularly flashy and the goals aren't flying into the net like some would hope, but results are what matter. Beating Chelsea on the road will be difficult as I feel like the Blues have more to prove and can't afford another disappointing match. We all know the kind of patience Mr. Abramovich has.
Torres will be the focal point of the attack for Chelsea and with his new buddy Juan Mata becoming more and more comfortable in the EPL, he should continue to get solid opportunities. I also have to hand to it Frank Lampard, a player many wrote off earlier in the year, myself included. His influence will help tip things in the Blues favor.
TFE Prediction:
No Steven Gerrard and an in-form Frank Lampard makes this a Chelsea win by a 2-1 score.
Manchester City vs. Newcastle United
(Etihad Stadium, November 19th, 10:00 a.m. ET, FOX Soccer)
The classic 'two men enter, one man leave' scenario. Coming into this one, these two sides have a whopping zero losses between them. City is out front and leads the league with 31 points. An impressive and equally surprising Newcastle team sits on 25 through 11 played. This match is easily its biggest test of the year.
To put it simply...Manchester City has been nasty so far this year. Like sick nasty. Unstoppable nasty. Beat Manchester United at Old Trafford 6-1 nasty. Newcastle on the other hand has been good and extremely resolute defensively but I don't think it has any idea what's in store when it takes the field against City. Little hint: the guy below is good. Real good.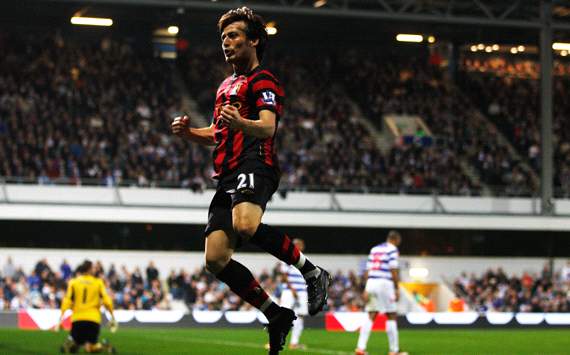 Pressure from all areas of the pitch, the Magpies will likely see very little of the ball and be forced into a shell early on. Thanks for them, their shell is pretty solid and it'll take a patient attack for City to break it down. That is what Roberto Mancini's men do well however and Newcastle will eventually be made to pay.
If City scores at any point in the first half, we'll see an exciting second period that will pull Newcastle out a bit and make for some good television. Trouble is, the more the visitors come out, the more dangerous City will become.
TFE Prediction:
It's tougher than most may expect but Manchester City keeps on trucking with a 2-1 victory.
Tottenham vs. Aston Villa
(White Hart Lane, November 21st, 3:00 p.m. ET, ESPN Deportes)

Is there a more exciting team in the English Premier League than Tottenham Hotspur? You could make the argument that Manchester City is that team, but Spurs just play with such verve and intensity, you can't not like to watch them play. Currently fifth in the league, Harry Redknapp's team has not lost since August. Impressive stuff.
What I like most about this particular Tottenham team is how balanced it is up front. Four players have three goals or more, a stat that few other teams can boast. Villa has two and is nowhere near as fun to watch as its opposition this week.
Scraping by on draws and one-goal wins, Alex McLeish's side appear to be struggling to find an identity. Plenty of change at the club in the last few years will do that to you. Getting a victory on the road against a team like Tottenham would be a huge boost to Villa's season. Not going to happen though.
TFE Prediction:
Spurs open up in this one dropping a 3-1 scoreline on their buddies from the Midlands.
And Finally...The Black Pudding of the Week

Sepp Blatter, FIFA:
The phrase 'out of touch' really doesn't cut it when trying to describe FIFA's president. Recently commenting on the unfortunate racism situation in the sport, Blatter basically said there was no problem and that players can resolve the issues with a simple handshake. Yeah. Right. Fact is, racism is a massive problem, not just in football but in virtually every sport. The fact that the leader of the governing body of the game treated it like a simple hard tackle or professional misunderstanding leaves me and practically everyone that heard the comments at a loss. My boy David Beckham called it 'appalling.' Rio Ferdinand went hard after him on Twitter. To be honest, I just can't wait for what he comes out with next because it will inevitably something that moves him one step closer to the door...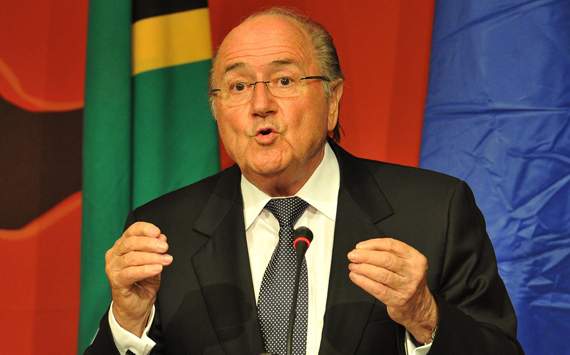 Shane Evans is an editor for Goal.com USA. His feature, "The Full English" appears every Friday morning. Contact Shane at shane.evans@goal.com with questions, comments and concerns, follow him on Twitter at https://twitter.com/shanEvans or join the TFE/FCS Facebook fan page!

For more news on England, visit Goal.com's England section!