The Merseysiders were swept aside by Tottenham and out of form signings Andy Carroll and Jordan Henderson must shoulder some of the blame, with big selection decisions to be made
Is there any other manager in world football who would have his name chanted on the terraces when his team are 3-0 down and reduced to nine men?
Around 70 minutes had gone on Sunday when Kenny Dalglish held his hand aloft to acknowledge the corner of White Hart Lane where hundreds of Reds supporters sang his name.
The moment encapsulated the unique relationship Dalglish has with Liverpool's fans, who will continue to support him as he seeks to get the team he virtually rebuilt this summer clicking.
But even before Mike Jones produced his first yellow card of the day, Liverpool was outplayed and looked very much a project in development.
This was Liverpool's first truly bad 90 minutes this season and some of that must fall on the team that was sent out.
The decision to restore £35 million striker Andy Carroll to the starting lineup backfired - particularly as Liverpool have been playing with fluidity without him in the side.
| | |
| --- | --- |
| | "Henderson and Carroll may one day be worth their place in the Liverpool team, but they are both young, raw talents who will need time to find their feet at the club." |
The former Newcastle man was cumbersome and often seemed reluctant to chase and hustle for the ball when Tottenham was in possession.
He and Luis Suarez are yet to strike up an on-the-pitch rapport, which the Uruguayan clearly has established with Dirk Kuyt, who was left on the bench.
With the reacquired Craig Bellamy seemingly chomping at the bit to get on the pitch and possessing the guile and the movement Liverpool sorely missed, the decision to go with Carroll seemed more prompted by his price-tag than his form.
As Liverpool struggled to play the quick, pass and move football which brings out the best in Suarez, the route one approach was favored as Pepe Reina aimed a succession of long kicks towards the head of Carroll.
Even that approach didn't work and the 22-year-old seems a long way from putting in the kind of menacing performances he showed in the first half of last season.
Meanwhile, estimated £20m signing Jordan Henderson underwhelmed, albeit he was not helped by Charlie Adam's early dismissal.
Elegant in touch he may be, but the England under-21 international regularly looks like a boy amongst men when up against more seasoned midfielders, in this case the impressive pairing of Luka Modric and Scott Parker.
Henderson and Carroll may one day be worth their place in the Liverpool team, but they are both young, raw talents who will need time to find their feet at the club. Their respective price-tags should have no bearing on whether they are selected.
But despite two consecutive away defeats, nobody should be pushing the panic button at Anfield.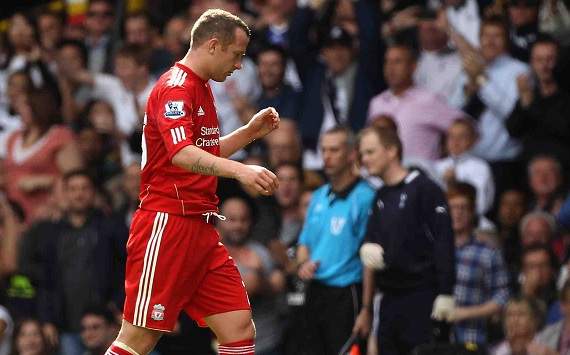 Bad day at the office | Adam & Skrtel were sent off as Liverpool slumped
The Liverpool squad is stronger and deeper than it was this time last year and there is an even a positive to take from the game in the shape of Sebastian Coates, who showed moments of composure and intelligence, despite being thrown into a maelstrom on his debut.
Dalglish the icon has done enough for Liverpool over the years to receive unconditional love from supporters, but the manager faces some big decisions and with Steven Gerrard nearing his long-awaited return, the axe needs to be sharpened.
"Liverpool Football Club expects more than that," he said yesterday, after refusing to be drawn into another row over refereeing.
Dropping two of his big-money signings might be the way to back up those words with action.
Follow Amar Singh on