In a sport like soccer, it takes years to bring a team together. For it to become a collective, well-oiled unit. For it to play at the maximum ability of all its parts.
For Manchester City, it has been done on the fly, and it hasn't always been pretty.
Flush with more cash than most of the other teams in the English Premier League combined, City has been tapping up the best and most expensive talent in the game since it was bought by Abu Dhabi United Group in 2008. It has also been buying their excessive baggage.
Follow SHANE EVANS on

Robinho, Emmanuel Adebayor, Carlos Tevez, Mario Balotelli and Sergio Aguero to name a select few who have come into Eastlands on massive fees in recent years. With that though, comes the media rants, the contract qualms, the all-too-public manager spats. And of course, the dart throwing.
Yes, it shouldn't be debated too much that Roberto Mancini has one of the hardest jobs in soccer. Daily dealings with the happiness of his bloated squad, the Italian is almost judged more for the handling of egos than his tactics on the pitch.
Having to suffer through question after question this summer about the future of his mercurial captain Tevez, Mancini was often calm regarding the subject, but also displayed signs of irritation.
MANCHESTER
CITY

2011/2012 Season
Played 3, Won 3
Scored 12, Conceded 3

"At the moment Carlos is still a City player, like yesterday, like three days ago," he said in late July. "In the future we will see what can happen, but for us Carlos is an important player."
Obviously, Tevez is the most important player for Mancini and City. But that doesn't mean Balotelli and Aguero and Yaya Toure and James Milner and Gareth Barry and David Silva aren't important. For them to succeed and reach the lofty goals put before it by the club's ownership, the Citizens stars will have to put the old "no I in team" mantra to work.
"I'm not the s*** that they say I am. I had a personal crisis this summer," said Tevez of his turbulent few months that included an FA Cup victory, a Champions League berth and the arrival of a number of high-priced additions to his team, including his compatriot Aguero.
Now, no one except Tevez and his family knows the extent of this 'personal crisis' and it's certainly possible that someone in the Argentine's position could be subjected something quite serious and emotionally draining. But at the end of the day, his job is to score goals and be captain of Manchester City Football Club.
It doesn't end with Tevez, however. City's team sheet is full of players who, to the outside observer, are self-involved individuals with only personal gain in mind. That may be a slight over-exaggeration, but a lot of it comes with the gaudy purchases the club chooses to repeatedly make.
BALOTELLI'S TECH TOYS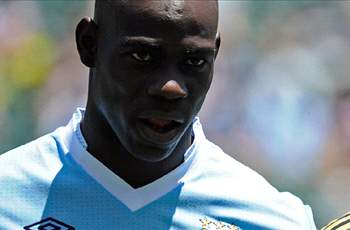 "I only had the iPad during the warm up."
- Manchester City's Mario Balotelli

Another example? Mancini's pet project Mario Balotelli. The young Italian has had about as many run ins with the team's disciplinary department than he has trips to City's human resources department to pick up his paycheck - which is to say, it's a weekly occurance.
Constantly a disctraction with his off-the-field, (and on-the-field come to think of it) antics, Balotelli most recently brought an iPad to the bench with him while on international duty with the Italian national team.
"I only had the iPad during the warm up, I did not take it with me on the bench," Balotelli is quoted as saying on
La Repubblica.
Only in the warm up! Not a problem at all, Mario. Might as well have set up an XBox in the tunnel while you're at it.
For Mancini and Co., the solution is simple. If you're trying to beat teams like Manchester United, Chelsea and even Arsenal to the English Premier League title, teams that have dominated the league for the last, well, always, it doesn't hurt to copy their professional and 'team first' approach to the game.
You very rarely hear about trouble in United's camp from players. Wayne Rooney's incident last season was quite surpising, and ended amicably. Ronaldo's enlongated exit a few years back was handled professionally by all parties, most of the time.
Arsenal has traditionally been one of the best managed and most honorable clubs in England, despite the harder times it has fallen upon lately.
Even at Chelsea, a team managed by a handful of managers in the last few seasons, has something of a 'no messing around' attitude that has perculated down from the fridgid top of the organization.
The team which is best at this is current European Champions and world beaters Barcelona. Harmony is an understatement when it comes to that club and it appears unlikely that anything but a full-blown team scandal of epic proporitions could upset what Pep Guardiola has fervently fashioned in Catalonia.
And it's not like these teams don't have big stars, because they do - and lots of them. They have just been conditioned to understand that topping the table and winning medals as a team comes before personal drama, pay raises and excessive speeding tickets.
If City can continue to meld the superstar-caliber personalities on the pitch, something Mancini has done a progressively better job of since taking over in 2009, and keep them in check off of it, there will be no stopping it. Not Manchester United, not Chelsea, not Liverpool and not Arsenal. Only one team will be able to slow the Citizen machine: Manchester City.