Manchester United continued its perfect start to the season with a spectacular 8-2 win over an increasingly beleaguered Arsenal side at Old Trafford.
A Wayne Rooney hat-trick and a brace for Ashley Young, as well as strikes for Danny Welbeck, Nani and Park Ji-Sung, exemplified the gulf in class between the two sides. Theo Walcott and Robin van Persie replied with strikes worthy of mere consolation.
Sir Alex Ferguson insisted that Manchester City's 5-1 win away to Totteham earlier on Sunday would have no affect on his team prior to kickoff but with the noisy neighbors raucous in the capital, there can be little doubt that the Scot will have expected a statement of equal intent from his charges against the league's other north London side.
Anderson's fine lofted ball was allowed to bounce in the box by the Gunners' inexperienced defence, allowing Welbeck to nod home with ease on the 22nd minute to open the scoring
As Arsene Wenger watched on like a man down on his luck, his side was offered a somewhat fortuitous opportunity of getting back into the game, as Theo Walcott fell in the box under pressure from Jonny Evans. Assistant Darren Cann deemed it worthy of a penalty to the disbelief of the Northern Irishman but as van Persie saw his weak effort from the spot saved by the under-fire David De Gea, you couldn't help but feel that the perennial nature of Arsenal's decline was being played out with almost satirical predictability.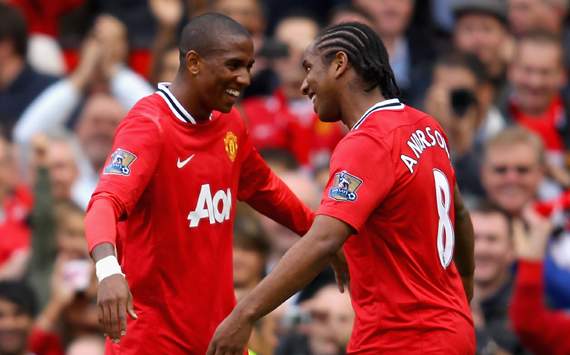 Champions flying | Ashley Young celebrates after doubling United's lead
It was a case of it never raining but pouring for the Emirates outfit as only a minute later Young doubled the advantage for United with a simply beautiful effort past the stretching frame of Wojciech Szczesny to further exemplify his seamless transition into his new side.
Rooney converted a sublime free-kick following a foul on Young on the edge of the area to pick up his 150th United goal and put the home side out in front 3-0.
If any Arsenal performer deserved a reprieve it was the lively Walcott and his early endeavor was rewarded on the stroke of halftime as he pulled a goal back for the visitors after latching onto Rosicky's through ball to offer a semblance of respect to the scoreline.
Rooney bent another free-kick into the opposite corner of the net from his earlier strike after the break, making it 4-1. The game, with over 20 minutes remaining, was up.
However, the relentless attitude of the home side was not and United made it five soon after as Nani found space in the area following a simple pass from Rooney split open the Gunners' back line and chipped a lovely effort home.
The Red Devils then turned the knife further, as Arsenal's chief-tormentor in recent years, Park made it six. Van Persie grabbed a consolation soon after before Arsenal went down to 10 men for Carl Jenkinson's second yellow of the match.
The perfect day for the Old Trafford faithful looked to have been neatly completed from the penalty spot as Rooney picked up his sixth United hat-trick following Walcott's push on Patrice Evra.
Yet the agony for the north London side was finally confirmed in quite fantastic fashion as Young got his second with another curling wonder-strike.
The home side's starting XI may have been younger than Arsenal's but following a ruthless performance of such quality at Old Trafford, Ferguson's sparkling kids proved once again that they are more than alright. Arsenal, it would seem, is anything but.