LONG BEACH, Calif. - Barcelona and Manchester City are two completely different teams. One has been the best in the world for some time now and the other is still trying to find its niche.
City's ultimate goal is to develop, play and win hardware at the level of Barcelona.
Last year, the English club came a little closer to reaching its goal by importing first-class players from around the world, winning the FA Cup and qualifying for the Champions League. But the team needs to do more than simply buy talent. It needs to build talent.
"Man City is going to start doing that and in a couple of years will become a big club like [Barcelona]," Toures told Goal.com exclusively. "For us, we have to work every chance we get, to do our best to compete with a big club like Barcelona."
Barcelona has a distinct advantage over other clubs around the world due to its stellar youth academy, which has raised some of the game's greatest players, including Lionel Messi. But Man City has one advantage of its own that could possibly be the defining factor to thwarting and usurping the Catalan side's throne. Money.
"Man City is one of the biggest financial clubs. They have a lot of money and can buy anyone they want," said Toure. "For Barcelona, when I was there, was more than a club, it was very academic. Their formation is amazing and players like Xabi and Iniesta, and players like that, they came from the academy."
As the old saying goes, you have to fight fire, with fire. And in order for City to be at the caliber of Barcelona, it has to do more than spend. It has to emulate Barca's success in developing its youngsters, and that's something Toure believes is going to happen.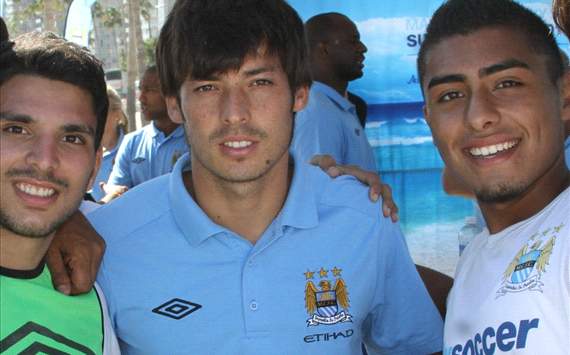 World Class Imports | City's ability to attract big name stars like David Silva will help it grow
Toure and Man City wrapped up their North American tour Sunday against the Galaxy after hosting a charity event beach party for the East Los Angeles Boys and Girls Club in Long Beach two days earlier. Hundreds of excited kids of all ages got the opportunity to meet and play soccer with some of Man City's finest and compete in a penalty kick shootout against keeper Joe Hart.