As the team line-ups were revealed at Old Trafford, supporters and journalists alike wore looks of confusion and bewilderment after hearing the Manchester United starting XI.
"Seven defenders! Fergie has lost it!" exclaimed one United fan as he craned his neck to look at his side's teamsheet.
Many agreed with that supporter's judgment. It seemed a bizarre, possibly suicidal team to pick for an FA Cup quarter-final against a wounded Arsenal side that are second in the Premier League and have just been dumped out of the Champions League by Barcelona.
The bookies frantically slashed the odds on Arsenal to win the game; United fans tried to put a positive spin on it by telling each other that Tuesday's Champions League decider against Marseille will be more important.
After three defeats in United's last five games, and following the dismal performance at Liverpool six days earlier, people felt fully justified in questioning Sir Alex Ferguson's judgment.
The Scot had appeared ruffled ever since he criticized referee Martin Atkinson following the Chelsea defeat, which resulted in a charge of improper conduct from the FA.
He responded to the woeful performance in the 3-1 defeat to Liverpool by imposing a media blackout, refusing even to speak to the club's in-house television channel and barring players and staff from talking to the media.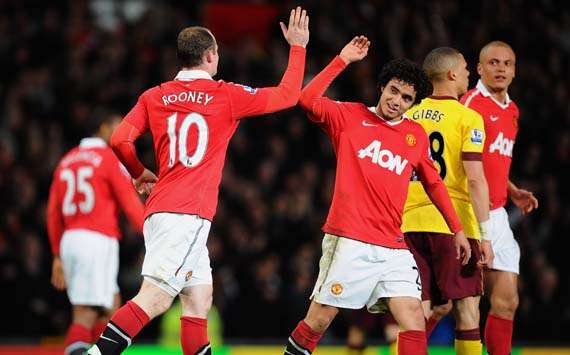 United Front | Red Devils responded to two defeats in a row with victory over Arsenal
Ferguson broke his silence before Arsenal's visit in explosive fashion, lashing out at Liverpool boss Kenny Dalglish, labeling Jamie Carragher's tackle on Nani as 'disgraceful' and declaring his commitment to vigorously defending himself against the FA charge.
And he explained his reasoning for the media boycott, which gave us a glimpse into the workings of his mind as he gears up to challenge for the Premier League, Champions League and FA Cup this season.
He said: "That was simply because I felt that the spotlight was burning on us so brightly that the best policy at that point was least said, soonest mended. At that particular time I didn't think we would win the media battles, so I retreated."
Ferguson may hate the media in England, but he knows how it works.
The Scot took all the heat, all the flak after successive defeats to Chelsea and Liverpool, meaning column inches were devoted to the manager's antics rather than his players' awful performances.
Ferguson wanted to take the heat off his side as the strain was starting to show, closing ranks and creating a siege mentality that allowed his men to re-focus ahead of a crucial run of fixtures.
It worked a treat. United looked a different side as they secured an FA Cup semi-final spot with a 2-0 win over Arsene Wenger's strongest available Arsenal side.
United's team may have looked strange, with Darron Gibson and John O'Shea in central midfield and two full-backs playing as wingers, but they produced a display for of energy and heart, overwhelming a fragile Arsenal side that had itself spent the last two weeks in turmoil.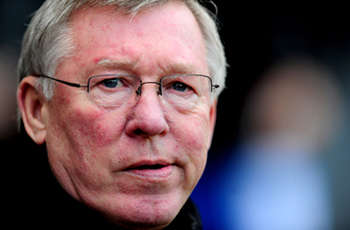 "Ferguson wanted to take the heat off his players as the strain was starting to show, closing ranks and creating a siege mentality that allowed his men to re-focus ahead of a crucial run of fixtures"
Wayne Rooney set the tempo with one of his best showings of the season, playing with passion and creativity as well as the killer instinct that has been missing for so much of this season. The England striker played a part in the opener with a delightful ball to Javier Hernandez and nodded home the second with a typical poacher's finish.
Rafael and Fabio, the two Brazilian twins, were full of drive and energy on each flank, with Fabio deserving his goal – his second strike for the club – at the end of a move he started himself.
Hernandez seems to have developed a strong partnership with Rooney up front and was unlucky not to find the net himself as his exceptional movement created opportunities.
It leaves United with plenty of positives ahead of Tuesday's Champions League last 16 decider against Marseille, with the French side arriving at Old Trafford confident following the goalless first leg.
From the doom and gloom of the Anfield defeat, Ferguson can now reflect on plenty of positives, not least the return to action of Antonio Valencia, who played for 45 minutes as a substitute on his first appearance since suffering a broken ankle in September.
The Red Devils had to rely, of course, on a stunning performance in goal from Edwin van der Sar. The 41-year-old was unbeatable and produced several jaw-dropping saves to highlight how sorely he will be missed when he retires at the end of the season.
Ferguson has been able to rotate his squad and not only has he got away with it, but it's worked.
The 69-year-old remains the master when he comes to making crunch decisions, he's still the king at playing mind games and using the media to his team's advantage.
He knows himself that he is getting through the season with a substandard squad that has produced average performances for most of the season.
But Ferguson is going to do everything he can to make sure he gets the job done – and he might just have got United's season back on track.
Follow Goal.com on

to get the latest soccer news directly. Check out Goal.com's

page; be part of the best soccer fan community in the world!