Gunners face difficult task bouncing back after a miserable two weeks
What a difference two weeks can make in football. Over just 14 days, Arsenal have seen their much publicized 'quadruple' aspirations crumble, as defeats to Birmingham City in the League Cup final, Barcelona in the Champions League, and Manchester United in Saturday's FA Cup quarter-final, saw the Gunners crash out of three competitions; as their season collapses in front of their very eyes.
A calamitous mix up between young 'keeper Wojciech Szczesny and Laurent Koscielny cost them at Wembley, while the pure brilliance of Barcelona scuppered their Champions League hopes - as Wenger's side were out-passed in Camp Nou - while a clinical Manchester United, who fielded seven defenders, put them to the sword at Old Trafford.
Having had their eggs removed from three baskets, the Premier League is all that's left for Arsene Wenger's side, which seems a million miles away as they try and pick themselves up a dust down following a sequence of results.
At Old Trafford, it was obvious to see Arsenal were low on confidence. Unlike their midweek defeat in Spain, Arsenal recovered their passing game, as the Gunners pinged the ball around and created enough chances to win the game, but Wenger's side lacked swagger or confidence in their play.
Even Wenger was honest enough to admit that Arsenal were missing something in Manchester on Saturday, telling reporters in his post-match press conference: "We have to get over this period. I believe that subconsciously the disappointment of Tuesday night has played a part today.
"You could see something had gone," Wenger continued. "Not with our attitude or effort but with our confidence.
"We will find out about our mental strength. We have to answer this kind of question in the next two or three weeks. We're used to being asked questions and we have to show we are capable of dealing with that.
He added: "I believe that we can do it, it's a good test for us to regroup and show mental strength. We must respond quickly.
"I can't fault our effort at all but things aren't going our way at the moment. That's where we have to keep going, the players need to support each other and come back strong."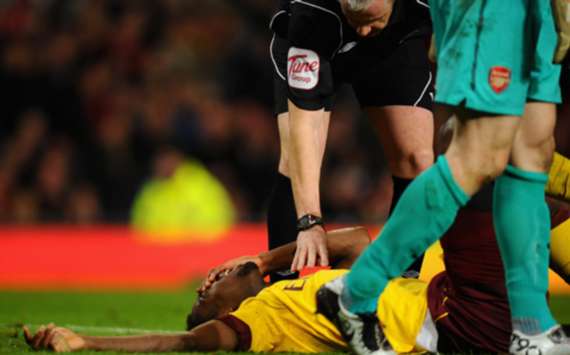 Injury Blow | Johan Djourou was ruled out for the season with a dislocated shoulder
But Wenger's job was hardly made easier though, with Johan Djourou being ruled out for the rest of the season after suffering a dislocated shoulder in Saturday's defeat, In what is a huge blow to the club, with the Swiss international having been a rock at the back for the Gunners.
Add to that the injuries to captain Cesc Fabregas, England winger Theo Walcott, and Alex Song, the options at Wenger's disposal look threadbare.
It is not just the treatment room which is a concern for the Gunners, the fit players are low on confidence and it showed in their body language at Old Trafford as they slumped every time a chance went begging or a pass was misplaced.
10 MATCHES TO SAVE THEIR SEASON

West Brom (a)
Blackburn (h)
Blackpool (a)
Liverpool (h)
Tottenham (a)
Bolton (a)
Manchester United (h)
Stoke (a)
Aston Villa (h)
Fulham (a)

March 19
April 2
April 10
April 17
April 20
April 24
May 1
May 7
May 14
May 22

The one Arsenal player who hasn't given up is Jack Wilshere. The youngster, who is in his first full season in the first-team squad, is showing the appetite and desire to push Arsenal on to silverware.
He wears his heart on his sleeve, and has been let down by Arsenal's failure to deliver in crucial matches, but every time he pulls on the jersey he gives his all.
How Wenger could do with more of that English spirit from some of his other players.
However, you cannot look at Arsenal's demise and not see they have not had their fair share of luck in recent weeks.
In the Camp Nou, Robin van Persie was sent off for shooting one second after the referee's whistle had been blown for offside.
They also came into contact with the inspired Edwin van der Sar at Old Trafford. The Dutch 'keeper was exceptional for Manchester United and repelled everything Arsenal threw at him, and their recent misfortune is not something lost on Wenger.
He said: "I can't fault our effort at all but things aren't going our way at the moment.
"That's where we have to keep going, the players need to support each other and come back strong."
And after Tuesday night's defeat to Barcelona, Arsenal started strongly against Manchester United. They got straight back into their passing rhythm after being knocked off course by the La Liga giants, and for long periods of time they passed Sir Alex Ferguson's side off the park.
They created chance after chance but just could not find the end product. But while elimination from the FA Cup will have been a disappointment to the Arsenal faithful, it provides hope for the season run in. On a different day and without an inspired Van der Sar the Gunners could have run out winners at Old Trafford.
Furthermore, Arsenal can also take the slim comfort of only being able to concentrate solely on the League. There is an argument they can now remain fresh enough to tackle Manchester United in the race for the title, as they now only have league games to prepare for.
While it is not something the north London club will cheer about, according to Manchester United striker Wayne Rooney, he believes it could help them in the run in.
"You don't know how they'll respond. It's obviously been a tough week, a tough 10 days to go out of three competitions," the striker told
talkSPORT
.
"But we know that they'll be fresh now for the Premier League games and they won't have to focus on other competitions which we will.
"In some ways it's good for them and in some ways if they want to win trophies it's not so good for them."
Whether it is good or bad, Arsenal have to focus all their energies into the Premier League. While it is not what they wanted, less distractions presents ten games to end the season on a positive. After all, Gunners' fans would have taken a league title triumph at the start of the season.
Nevertheless, after their recent set-backs it is hard to see how Arsenal can recover, especially after the loss of Djourou, but they are still in with a shout.
Sat only three points behind Manchester United, Sir Alex Ferguson's side still have to travel to the Emirates, while Arsenal hold a game in hand over the league leaders.
Wenger's side do possess the quality to bounce back, but it will be a huge mountain to climb.
Follow Goal.com on

to get the latest soccer news directly. Check out Goal.com's

page; be part of the best soccer fan community in the world!