Two defeats in a row, but Mexican's spark can arrest the slump
Sitting at the top of the Premier League, with a home tie in the quarters of the FA Cup and a seemingly straightforward second leg awaiting in the Champions League – it's all looking rosey for
Manchester United
, right? Maybe not.
Two successive defeats in the league have derailed a title race that had looked like a formality, injury to Nani has taken out the team's primary source of goals for a month or more while Wayne Rooney's form continues to bamboozle.
England striker Rooney was at the top of his powers just over a year ago, finding the net with regularity and menacing against any opponent. At Anfield on Sunday, however, he showed just how far his stock has fallen with an anonymous shift, and it was substitute Javier Hernandez who salvaged some sort of pride with a late consolation goal.
The little Mexican, a signing that hardly set hearts racing when it was announced prior to last year's World Cup, has proven an unqualified success thus far, and with Nani unavailable, he is one of the few players Sir Alex Ferguson has to hand capable of getting fans out of their seats, and the stats prove why he should now be considered as a regular starter to stop a rot from setting in.
From 20 games, over half of them as a substitute, and just 37 attempts the 22-year-old has netted an impressive 10 goals, including a match-winning brace at Stoke and a late winner at West Brom – strikes that effectively have earned United their top spot.
Rooney, meanwhile, has started 10 more times but has managed to find the net on just seven occasions from nearly double the amount of shots than his 22-year-old team-mate. Admittedly he has made up for his dire scoring form by laying on an impressive 11 goals for his team-mates, making him the joint second best provider in the league, but his overall effectiveness has suffered this season.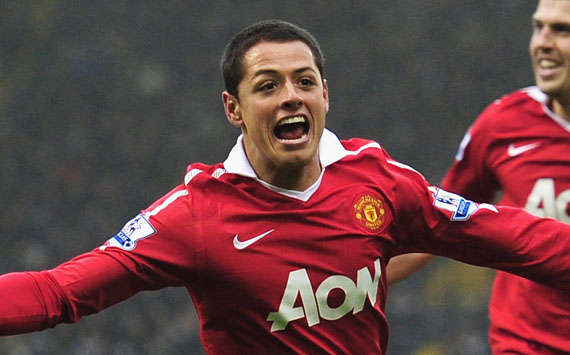 Play me, boss! | Hernandez's goals prove why he deserves a starting stint
With Nani out and Antonio Valencia only just on the verge of a tentative first-team return, surely it's time for Ferguson to entrust Javier Hernandez with a starting role, shifting a wayward Rooney outside to accommodate the diminutive forward alongside top scorer Dimitar Berbatov?
IN NUMBERS | Javier Hernandez

Starts
Substitute appearances
Goals
Minutes per goal (League)

15
16
13
88

The Little Pea has proven to be one of the best imports to the Premier League in recent seasons, taking no time to adapt to English football, and plays with a fearlessness that belies his years, an enthusiasm and a smile that masks maturity and an awareness of space that makes him a nightmare for defenders to mark.
Look at his goal at Anfield last week. Late in the game, when many others would have stopped caring, he pulled Sotirios Kyrgiakos and Martin Skrtel out of shape before ghosting in to nod home – and he is a fine header of the ball – with ease.
He is, for all intents and purposes, the heir to Ole Gunnar Solksjaer's throne as the king of sniffing out opportunities for the Old Trafford outfit. Berbatov's goals have come in phenomenal bursts, while Rooney maintains the ability – as evidenced at Stamford Bridge – to produce something out of nothing but equally, this season at least, nothing out of something.
It is Hernandez who has consistently tormented defences and found the net, finding the target roughly every 88 minutes: a goal a game, essentially. His Premier League minutes-per-goal ratio is the best ever for anyone who has reached double figures in the top-flight since its inception.
Now, with Arsenal on their coat-tails and even Chelsea and Manchester City still in with a shout of catching up, Ferguson should be bold and accommodate his magic Mexican – with his pace, ability to spring the offside trap and quick feet – to fire the goals that can take United towards silverware, beginning with a start against the Gunners on Saturday.
Follow Nick Price on

Follow Goal.com on

to get the latest soccer news directly. Check out Goal.com's

page; be part of the best soccer fan community in the world!