Touchline spat with Fulham's Mark Hughes a symptom of an insipid City display
Whatever the manner of his post-match handshake with Mark Hughes, you can be sure Roberto Mancini showed plenty of passion in the Manchester City dressing room after their 1-1 home draw with Fulham.
Mancini made little attempt to conceal the bad blood between himself and the man he replaced at Eastlands 14 months ago as he deliberately refused to meet the Welshman's eye when Hughes approached him at the final whistle.
It was a needless, childish spat but on Mancini's part it reflected frustration at a lethargic performance from a City side that looked devoid of ideas and creativity.
Thoughts of a challenge for the Premier League title are now long gone, with City 10 points behind local rivals Manchester United having played one game more. Now Mancini faces a real challenge to steer his side to a top four finish this season, a matter that appeared almost certain at the turn of the year.
City lie three points ahead of Tottenham but have played one game more than Harry Redknapp's team, while Chelsea are five points back but with two games in hand. Three does not go in to two – one set of fans is going to be seriously disappointed come the end of the season.
The boos that rang around Eastlands on Sunday suggested that it is the City supporters who are getting jittery after watching their side fail to break down a stubborn and resilient Fulham side. The form guide shows that City are vulnerable after picking up just five points from their last five league outings.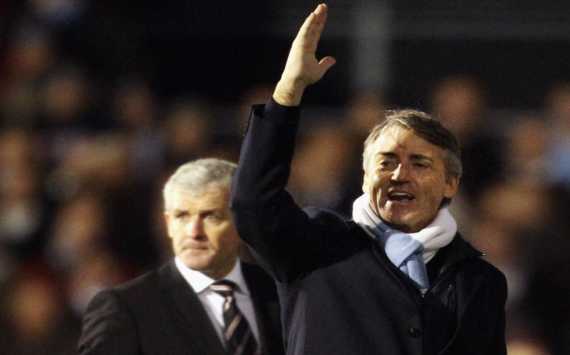 Bad blood | Roberto Mancini and Mark Hughes clashed over handshake protocol
City had almost the whole of the second half to fight their way back into the game and boasted an attacking triumvirate – Carlos Tevez, Edin Dzeko and Mario Balotelli – that cost a total of €115 million combined.
But Tevez was surprisingly subdued, Dzeko still looks well off the pace of Premier League football and Balotelli's lack of workrate was reflected in a smattering of jeers when he was named City's man of the match.
Mancini signed Dzeko in January convinced that the Bosnian would make the difference and give City a genuine chance of winning the title; instead his presence appears to have complicated a system that worked so well in the first half of the season.
Dzeko was substituted on the hour mark as Mancini shuffled his team around, an admission from the Italian that he was wrong to play all three strikers in the first place.
He should now realize that he is not obliged to play all three, however much he may fear denting Dzeko's confidence or feeling Balotelli's predictable anger.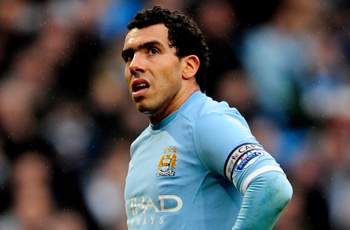 "Tevez was surprisingly subdued, Dzeko still looks well off the pace of Premier League football and Balotelli's lack of workrate was reflected in a smattering of boos when he was named City's man of the match"
Balotelli scored the opener with a cracking strike from 25 yards that was thoroughly out of place in a dismal opening 45 minutes, but his general performance was selfish and short of effort. Tevez seemed particularly exasperated by his volatile team-mate, while Mancini made it clear he was not happy with the performances of any of his forwards.
He said: "He [Balotelli] scored a good goal but I am not happy. He should play well, better than today.
"For the strikers it is important to score, but strikers should also play for the team. You cannot always play well, but the attitude is always important. If you don't have a good attitude, it is difficult to play with three strikers."
City's wealth of attacking options is enough to make most clubs in the world jealous, but on this evidence it is hampering the team's identity.
Tevez scuffed a shot that forced Mark Schwarzer into a scrambling save, and Aleksandar Kolarov launched a volley from 35 yards that again tested the Australian, but it was a toothless display that got what it deserved.
When Tevez is leading the line with vigor, when David Silva is drifting in from wide positions and when Nigel De Jong is snapping into tackles, you know what City are about.
Perhaps, after all, this City squad does not have the depth of quality we have come to expect of such lavish spending. De Jong, Silva, Vincent Kompany and Adam Johnson were all sorely missed on a turgid afternoon as City looked tired and lacked a spark.
Fulham are notoriously bad travelers, but they looked the better side after Damien Duff's equalizer in the third minute of the second half, the Irishman turning home a fine cross from Andy Johnson.
City did not know how to respond. They kept ticking along, kept their passing neat and tidy, but it reflected a lack of ideas rather than a Barcelona-esque dogma.
The strikers were leaden footed, none appearing eager to run the channels or willing to drive at the Fulham defense. The midfield was pedestrian, exchanging possession seemed more like passing on responsibility.
City can quickly get back on track with an FA Cup clash against Aston Villa on Wednesday followed by the visit of Wigan in the league next Saturday.
Mancini desperately hopes that injured players will be available for those games to help his side restore both their playing identity and results.
The Italian's excuse for the performance was that his players are tired because of a fixture schedule that has been throwing up two games per week.
But after his petty touchline squabble with Hughes and public criticism of his strikers, it was clear that Mancini was angry with City's insipid performance. He now needs to work out a solution to get his side's season back on track.

Follow Goal.com on

to get the latest soccer news directly. Check out Goal.com's

page; be part of the best soccer fan community in the world!