It is a fair measure of the general distrust for Arsenal's big game mentality that the bookmakers are still only prepared to make them (very) marginal favorites for Monday's visit of Chelsea, despite the benefit of home advantage and the visitors' recent record of five Premier League games without a victory.
Carlo Ancelotti's side — at one point in the not-too-distant past a full five points clear of their nearest rivals — have been in free fall in recent weeks, but in recent seasons any game against their north London rivals has come to represent an easy three points for the current champions.
Last season, the Blues swept to victory with ease both home and away as they eventually clinched the title. And earlier this season, off the back of two domestic defeats (to Newcastle United in the League Cup and Manchester City in the league), they once again welcomed Arsene Wenger's side to Stamford Bridge and promptly disposed of them with a professionally executed 2-0 win.
Not even three full months down the line, the two sides prepare meet in odd circumstances; the Gunners are actually a point ahead of their frequent bullies. They may have lost a game more than their rivals, but they've won one more too — and that is currently enough to see them ensconced as Manchester United's closest title rivals.
Few outside of their faithful support expect them to win at the Emirates, however. After all everyone involved with the club, even the players themselves, know they don't deliver on the big occasion.
"Sometimes we seem scared of losing these big games – we don't really go for it and we're tempted to drop back and see what the opposition do," the club captain, Cesc Fabregas, said in the wake of the most recent disappointment, against United.
"We look to see if we are capable of beating them by what they are doing and how good they are on the day, instead of us going forward, causing them problems and dominating the game ourselves."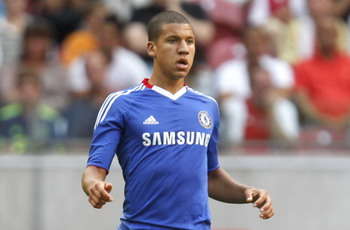 "Bruma, effectively earmarked for a squad role after the sale of Ricardo Carvalho, has obviously lost the faith of his manager in recent times.
"

Chelsea, in contrast, have no such problems, a quality perhaps related — though not intrinsically linked — to the fact most of their star performers are expensive purchases with previous records of success, rather than unknowns plucked from across the globe at a young age.
Frank Lampard, Didier Drogba, Michael Essien, Petr Cech; all are results of the club's recent policy of aggressiveness in the transfer market (primarily in the Roman Abramovich era) — and no one can argue it hasn't brought results.
That might slowly be changing, however, as the Russian sticks to his pledge for the club to become self-sufficient and thus multi-million pound signings become less easy to sanction. Chelsea's two most recent extravagances, Ramires and Yury Zhirkov, were purchased a year apart and at the same cost (£18 million), ably indicating the club's new financial limits (Yossi Benayoun was also signed, albeit offset against the gains from releasing various other players).
Arsenal, in contrast, have posted healthy profits in recent years and were still able to spend a similar figure this summer, albeit on two players (Sebastien Squillaci and Laurent Koscielny).
Nevertheless, in this brave new era of financial prudence, it is the academies that become key. Barcelona have proven in recent seasons the value in having a production line that perfectly prepares graduates for life in the first team — and it is Arsenal that have long looked to be best placed to replicate such a system.
Wenger may have a rare ability to sound like a broken record on any number of subjects, but even by his standards his recent comments about some of the academy graduates coming through the club's ranks only underline his obvious optimism:
"I know all these players well and individually in every position Arsenal has a very good player," he stated. "To tell you who will be in the first team is a bit too early, but as many as five or six have real potential."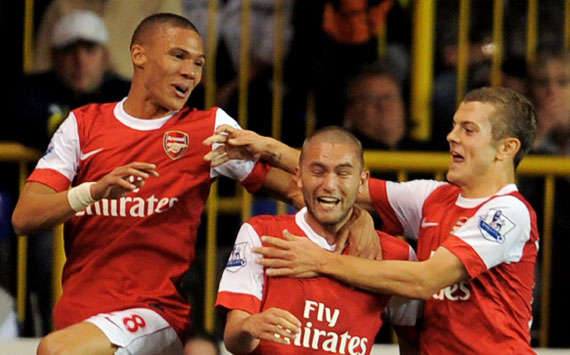 Proving ground | Young Gunners in this year's League Cup might well win it
Such a statement isn't just bravado either. Wenger listed a staggering 56 names among his under-21 players as part of the Premier League's new squad registration rules back in October — primarily to make clear his opposition to the new system, but equally to underline the depth of quality players (mostly English) the club are rapidly developing.
Jack Wilshere and Kieran Gibbs have been among the most recent to establish their first team credentials, with many more now following in the footsteps (Jay Emmanuel-Thomas, Craig Eastmond, Kyle Bartley and Henri Lansbury among those expected to emerge soon). Where previously such youngsters were poached from abroad (like Fabregas himself) now it seems many more will progress to the starting XI after a more
La Masia
-style process of indoctrination.
Such success would be hard to fully attribute, but triumph in this year's League Cup, after so many years of youthful yet futile attempts, might be a clear indication of the greater potential of the forthcoming crop.
Chelsea, on the other hand, seem to have created for themselves something of a pickle. For so long derided for the poor return of their academy — something the outgoing Frank Arnesen has taken regular criticism for — Ancelotti's arrival in the summer of 2009 seemed to coincide with an upturn in optimism surrounding the recruits graduating from the Cobham base. Gael Kakuta, Jeffrey Bruma and Fabio Borini all found themselves involved in the first-team under the Italian last season, leading to speculation they could provide the club's next era of (more cost-effective) superstars.
REMEMBER THE NAME
In Arsenal's 76-man Premier League squad now, set to star in the future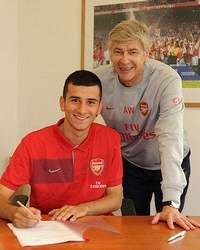 Martin Angha
16-year-old Swiss defender, has already represented club's reserves.

Samir Bihmoutine
Of Moroccan extraction, whippet-like left-sided 17-year-old.

Alban Bunjaku
The new Romford Pele? Attacking midfielder of some promise, just 16.

Kyle Ebecilio
Cousin of Chelsea's Bruma, a Holland U17 forward of continental repute.

Oguzhan Ozyakup (pictured)
Former Dutch U17 captain is highly-regarded for ability to read the game.

Philip Roberts
Signed from Norwich academy after a trial, 16-year-old forward well admired.

Jordan Wynter
Versality a major asset for ball-playing 17-year-old.
But this season has seen a worrying regression. Bruma, effectively earmarked as a center-back option after the summer sale of Ricardo Carvalho, has obviously lost the faith of his manager in recent times — as evidenced by Paulo Ferreira's agonizing attempts at deputising at the position in the absence of John Terry and Alex. Borini has dropped off the map, partly due to injury, and is tipped to leave the club in January. Ahead of him in the pecking order, even the more experienced Daniel Sturridge has failed to kick on since joining the club in controversial circumstances.
Sturridge's inability to progress is nothing new for the club, either. Indeed, it would only be slightly harsh to suggest that his nearest predecessors as young graduates to the first team squad, Salomon Kalou and John Obi Mikel, have far from vindicated the vast sums spent on their acquisition and retention, although, to be fair to Mikel, his utilization has often not been to his strengths.
Indeed, the only positive for Ancelotti this season has been the assured introduction of Josh McEachran to the professional stage. The 17-year-old has looked wise beyond his years in a position that usually takes experience to master, and has given the Stamford Bridge faithful great cause for optimism, even if his manager is wisely reluctant to over-use him this season.
Other than that, and the high hopes held for 16-year-old reserve team regular Nathaniel Chalobah, the cupboard seems to be just as bare as previously thought. The return from a successful spell on loan at Newcastle may have seen full-back Patrick van Aanholt included as a squad option, but that — like the contract extension recently handed to a suspiciously stagnating Kakuta — seems to be based more on faith than battle-tested evidence.
With Abramovich still a rich man, and Chelsea's recent slump leading to Ancelotti being offered use of the company check-book, the ever-present fall-back solution is both obvious and problematic. The Blues can still buy the quality they can't develop themselves (within reason, especially when Uefa's new financial fair play rules come into full effect), but it is also an effective deterrent against ensuring the most is made of the players already on staff.
What is more, in essence it is Real Madrid's answer to Barcelona's methods — and look how that is currently working out.
Indeed, the club's controversial signing this week of PSV Eindhoven's 15-year-old prodigy Nathan Ake (with echoes of the Kakuta situation) perhaps only underlines the fact that, when it comes to developing youngsters, the Blues are still putting faith in the same old methods that only Arsenal (who completed a signing of their own, the more developed Japanese 18-year-old, Ryo Miyaichi, this week) have so far managed to find regular success from.
If the current Premier League table gives Chelsea fans food for thought, then the academy one makes for equally worrying reading — Arsenal sit third (of 10), while their brightest U18 prospects can only manage eighth at this stage in the season.
Not that all is lost, however; if reports that Abramovich has approached former Barcelona director of football Txiki Begiristain about replicating the Catalan giants' system at Cobham are true, then at least even those at the very top of the club recognize changes still need to be made.
Despite the gloom currently seeming to envelope the entire club, Chelsea may well rise once again to give Arsenal a thorough beating on Monday. But that won't mask the fact that the tide already seems to slowly be turning when it comes to the fixture itself and the balance of power within it — and the long-term forecast only suggests the current will grow stronger and stronger in favor of currently maligned red half of the capital.
Recent battles have provided vindication of Chelsea's past methods. The war is continually being fought, however, and the next rush of reinforcements look like handing Arsenal ample ammunition to redress the balance.
For more news on England, visit Goal.com's England section and join Goal.com USA's Facebook fan page!