COMMENT
By
Matt Monaghan
at Old Trafford
Defensive clangers have stolen the headlines, but a crucial lack of leadership has robbed Manchester United of the backbone for a Premier League title bid.
Sir Alex Ferguson's faltering charges threw away a two goal lead, for the third time this season, in Saturday's 2-2 draw with West Bromwich Albion. From coasting at half-time after Javier Hernandez and Nani's strikes, a Patrice Evra own goal and unexplainable Edwin van der Sar fumble saw the Midlanders come away with an unlikely result.
Although saved the full punishment of a seven point gap to Chelsea after their 0-0 with Aston Villa, the difference in drive between them will see the Blues sit top of the pile in May.
Exasperation has been in plentiful supply among the Old Trafford support in the last few months. Worryingly, after months of false dawns, a hint of resignation was heard in the voices from the stands as they meekly urged their team forward with little hope of the kind of last minute winners the club has made its name with.
Anger was again targeted at the defence that previously fell apart against Everton and Liverpool, as well as the capitulation at Fulham.
While Jonny Evans has copped the blame for much of these problems, the Ulsterman was not even among the substitutes against the Baggies.
One man who was sat in the dugout was Wayne Rooney. Whether left out because of a phantom ankle injury, shattered confidence or blown fuse from Ferguson, the England striker's failure to hit top gear has put United's push for silverware in reverse.
Since Roy Keane exited in 2005, Rooney and Cristiano Ronaldo have filled the legendary captain's void when at their best. The Portuguese international's stunning 42 goals in the Premier League and Champions League winning 2007/08 campaign was on course to be matched by Rooney when on 34 goals his ankle was crushed in April against Bayern Munich.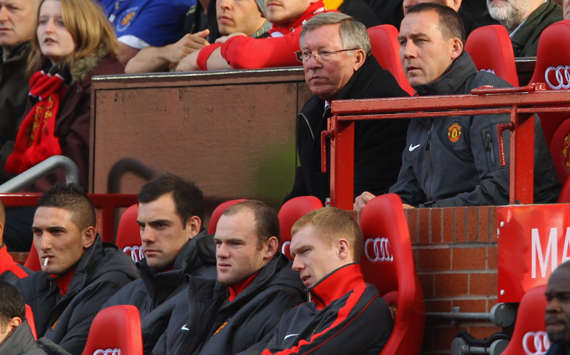 No Wayne, all pain | Rooney form has sent whole team off-kilter
With Ronaldo now at Real Madrid and Rooney in a world of his own, there is no talisman on the pitch to be the conduit for Ferguson's passion.
New skipper Nemanja Vidic leads by example rather than voice, while Rio Ferdinand's return to the armband for England in mid-week was a disappointment and Patrice Evra's reign for France at World Cup 2010 was anarchic.
For all their trophies, there is also a reason why the reserved Ryan Giggs and Paul Scholes were not favoured to Gary Neville when Ferguson selected his previous permanent captain.
The post-match demand for a dominant midfield figure in the Keane mould were heard straight away on a phone-in for the club's in-house television channel
MUTV
. After Anderson and Michael Carrick again failed to step up to the mark either through a lack of ability or match fitness, the gaping hole in class and ambition in that department was impossible to ignore.
Compared to the plethora of authority figures at Chelsea, United now lag far behind. John Terry is the obvious example, however, Florent Malouda's ascendancy in the absence of the injured Frank Lampard as well as the continued excellence of Didier Drogba merit mention.
With no-one on the field barking orders and encouragement, indecision has entered the United team. Previously, the call to allow Nani, rather than Giggs, to step up to take a game defining penalty at Craven Cottage and the injury time collapse at Goodison Park would have been collector's items.
A dangerous fear has set in where no matter the lead, the players almost seemed to expect the errors that saw Evra and Van der Sar join the calamity club.
Alarm bells should also have rung against the Baggies at the lack of communication between them. Even taking into account the 75,272 strong crowd, barely a voice could be heard as heads went down as yet another stalemate loomed.
In the past, United have always famously found the answer when faced with dropped points.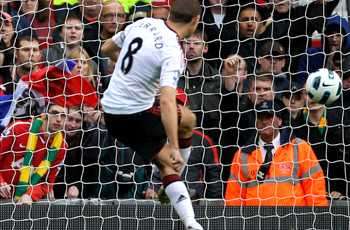 "
We need to stop this. We need to stop making things so nervous - we could have finished the game with a heart attack!"

- Patrice Evra slams the surrender against Liverpool to MUTV.
September 2010

Through either 'Fergie time' or inability to stop pushing, chances have been converted at the death.
Barr Gabriel Tamas' brilliant clearance on the line from Wayne Rooney's low free kick, barely an incident of note passed Tchoyi's leveller on 55 minutes.
To put all the blame for this malaise at the feet of the players, and in particular the defence, is wrong, however. From the moment ex-assistant Carlos Queiroz was allowed to leave for the second time in 2008, a slow decay has been apparent.
From unconvincing champions and defeated European finalists in 2008/09, to second place in the table and dumped out at the quarter-final stage last term, Mike Phelan has looked out of his depth.
With Ferguson again conspicuous in his absence on the touchline, the Burnley-native cut less of an authority figure. Against the Baggies, his role as motivator had no effect on his charges.
Queiroz's presence has been most crucially missed on the training pitch where his defensive drills and tactical acumen haven't been matched by his successor.
A telephone call to the deposed Portugal head coach could be as important as any January signing if owners the Glazer family have any cash left after they posted £80 million losses this month.
The line between chumps and champions is narrow in football. Ferguson must now find the leadership figure capable of injection that missing ingredient into the still star-studded squad to avoid a season without silverware.
For more news on England, visit Goal.com's England section and join Goal.com USA's Facebook fan page!