ANALYSIS
By
Alex Dimond
at the Emirates Stadium
Defeats are part of football — without them there wouldn't be the other side of the coin, where victory and success combine to taste so sweet. But that unavoidable dichotomy of sport doesn't deny Arsenal fans the right to be angry after their side's shock 3-2 defeat against West Bromwich Albion.
For the 60,025 fans that attended the game, and the many more following proceedings from homes around the world, the manner of the loss was gallingly familiar. Arsenal weren't beaten by a better team, although Roberto Di Matteo deserves great credit for his tactical setup, they were mainly beaten by themselves. And it's been that way for a while — five trophyless years, to be exact.
Manager Arsene Wenger, on the other hand, had a different view. Just as the Frenchman didn't get carried away after three handsome victories in three different competitions — against Bolton, Braga and arch-rivals Spurs — he wasn't about to write off his team as a lost cause this season after one poor showing.
"I think today was an exception after some very good games," Wenger said after the game, trying to put a brave face on a display that still clearly disappointed him.
"I did not recognise my team today and we have to go away and look at what was a very poor performance. It is unusual to see a team that was as flat as we were today."
Wenger didn't deny his side were awful. He couldn't — it was there for everyone to see. From front to back, players failed in their personal assignments. "We were collectively poor, and you could single out a number of players who made individual mistakes," he conceded.
But this was an exception, he assured us.
On Friday, Arsenal announced record £56 million pre-tax profits in their financial reports for the year ending May 2010. Such positive fiscal updates are becoming far from an anomaly for the club, who have now proven for season after season that they know how to handle the economics of football with something approaching ease.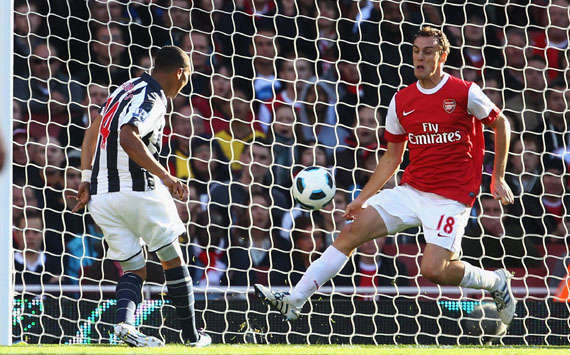 Not quite there | Arsenal certainly know how to flatter to deceive
But on the pitch, this positive work is still failing to translate. Playing the youngsters he has carefully nurtured may be a cost effective — and, in the spirit of sport, highly commendable — approach to the game, but Arsenal keep falling down at inopportune moments and at some point you wonder if spending some money might do more to stop that.
Nowhere is that more obvious than between the sticks. The finger of blame will once again be pointed at Manuel Almunia, after two more blunders (and this after saving the penalty he had conceded) ultimately cost his side dear. "Wenger only had six bloody months to sign a new goalkeeper," exclaimed one Arsenal fan — to no one in particular, and yet at the same time the entire world — on his way out of the ground (early) after growing exasperated with the man between the sticks.
Arsenal's fans have long been able to identify their biggest weakness — why won't Wenger?
Almunia, for one, surely has to be replaced before Arsenal can win the title, and it's a safe bet the majority of fans would happily forgo almost all of that £56m profit for a decent shot-stopper. But the Spaniard's continued presence is an reminder of Wenger's sheer bloody mindedness — it's better to try and fail doing things his way, then to follow another blueprint and find success.
And consequently, they keep making mistakes. They flatter us, with a string of glorious performances, and then deceive us into believing that they might once again be the real deal. But then, like we saw on Saturday, they suddenly put in a display that shows they are not quite made of the right stuff, as they slump to a deserved defeat in a game that should never have gone that way.
Who knows, they might beat champions Chelsea next week and go on to prove this result as a blip just like Mr. Wenger attests. But past form, especially against the Blues, doesn't suggest that will be the case.
So was Saturday's defeat an 'exception'? Possibly. But the nearly men of Arsenal have had so many 'exceptions' over the past few seasons that such outcomes are rapidly growing to look more like the rule.
For more news on England, visit Goal.com's England section and join Goal.com USA's Facebook fan page!