West Bromwich Albion
stunned
Arsenal
with a surprise 3-2 win over the Gunners this afternoon and manager
Roberto Di Matteo
was delighted with his side's famous victory.
"It's a wonderful victory for us at the Emirates. It gives us three points and moves us up in the table and it gives us belief and confidence," he told
Sky Sports
.
"I would say we deserved to win," he added in his post-match conference. "The way we played we made chances, scored goals. We missed the penalty — I'm not sure about the yellow card for the goalkeeper — but it was a great performance from us."
On the penalty, Di Matteo felt that Manuel Almunia was lucky to stay on the pitch, musing: "It's a question mark whether he should have stayed on or not."
However, the West Brom boss was pleased with the way his side set about their task.
"We pressed them very high in their half, we pressed them all over the pitch and we didn't let them play their usual way," explained Di Matteo.
"On top of that when we had the ball we passed the ball well and created chances.
"I want results at the end of the day, and so far we've done that.
"We've still got to learn and improve. We are trying to not make the same mistakes as we did against Chelsea, and so far we've done that and given ourselves the chance to get in games and win games."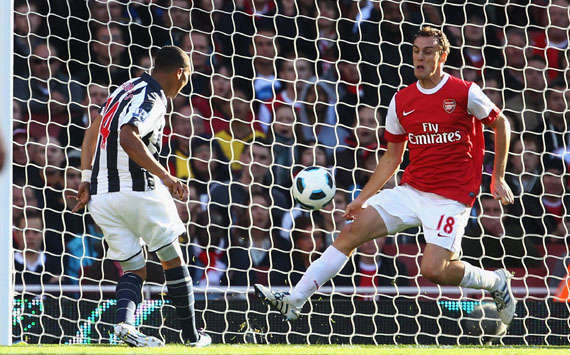 Old-boy | Di Matteo praises Thomas after a goalscoring display
The Albion manager explained that his side maintains a belief that they can win against any opponent.
"We go into games believing we can win. At the end of the day you try you best and...if the opposition play better then you put your hands up," he admitted.
"You need belief to be able to get a result like that.
"It wasn't like we were luckily scoring. I thought we played some tremendous football, and defended well as well."
Former Arsenal youth player Jerome Thomas got the decisive goal and his manager was pleased with his contribution.
"Jerome [Thomas] has had a full pre-season, had a very good pre-season, and has hit off the season in good form, in good shape. He had a very good game today," said Di Matteo. "But it was a collective performance and there were a lot of players who played at a high level.
"He didn't need to prove a point [after his dismissal in last year's League Cup clash], we were just all fired up to put in a good performance."
Despite today's poor result for the Gunners, Di Matteo said he believes Arsenal have the quality to challenge for the title this season.
"Last year not many people gave them credit that they managed to stay at the top until near the end of the season. I think it will be similar this year," he explained. "They've signed some top players and it will be close at the end of a long season. It's a long season."
The victory sent West Brom into the top six, but Di Matteo called for some pragmatism from the travelling support.
"We have the second lowest budget in the league. We've had a fantastic day. But I think you need to be realistic," he concluded.
For the latest news and updates from Goal.com, follow our Twitter account and join Goal.com USA's Facebook fan page!