The news that
Fabio Capello
's hitherto under-performing
England
will be wearing red shirts in their win-or-bust encounter with
Slovenia
on Wednesday will be seized upon by nervy English fans as an omen of impending salvation.
For as everyone knows, the greatest moment in English football history is forever captured in those iconic images of red-shirted Bobby Moore and co holding aloft the Jules Rimet trophy in 1966.
Sir Alf Ramsey's team were scarlet-clad because West Germany were the designated home team, and they of course wore white. That freak of history created a psychological link between red and glory that endures 44 years later. But is it based on myth or reality?
In fact there have been ups and downs for the Three Lions in both white and red - and a couple of other shades along the way.
The white stuff?

England 3-6 Hungary, 1953
England's biggest-ever wake-up call was delivered when the Magnificent Magyars, orchestrated by Ferenc Puskas, came to Wembley and shocked a blithely complacent nation into realizing that beyond the Channel others had not only taken up the game, but emphatically overtaken white-shirted England.

Brazil 0-2 England, 1984
The Three Lions did their own 'Hungary' in a sense when they went to the Maracana and not only beat the best footballing nation on the planet, but did so with an electrifying dribble through what seemed like the entire Brazilian team by the inspired John Barnes - a goal that had 'made in Brazil' written all over it. Oddly, white-clad England wore red socks that day.
Argentina 2-1 England, 1986
The Hand of God extended from the sleeve of an unaccustomed all-blue Argentine shirt, and its wearer then proceeded to leave several dozen white shirts scattered in his wake with the coup-de-grace. England rallied, but it wasn't quite enough.
England 1- 1 West Germany, 1990 (Germany won on penalties)
Clashes against Germany are always heavy with significance and always force a colour change; this time the Germans wore green and broke stout English hearts with their inevitable shoot-out victory. Gazza's tears splashed onto a white top.
England 4-1 Holland, 1996
Football came home for Euro 96, and for a heady week or so the English believed 30 years of hurt were about to end - especially when Alan Shearer and Teddy Sheringham provided the cutting edge as Terry Venables' side dismantled the usually dazzling Dutch with panache. Earlier, and similarly white-clad, England had vanquished Scotland with a sublime Gascoigne strike.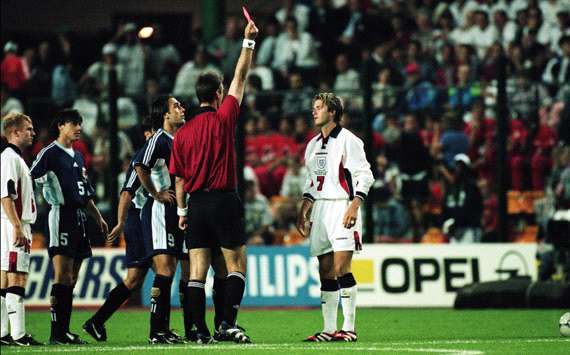 Red faced | Beckham is sent off for his clash with Diego Simeone in 1998

Argentina 2-2 England, 1998 (Argentina won on penalties)
Michael Owen exploded onto the international scene with a sensational goal after a penalty had been converted by each side, but Javier Zanetti equalised and the infamous flick of a David Beckham boot saw the Three Lions down to ten men. It went to penalties, so of course Argentina progressed.
Germany 1-5 England, 2001
Arguably the second greatest England win of them all, when the Germans (in green) were taken apart by the whites, though all the English goals were scored by Reds (Liverpool's Steven Gerrard, Owen, who got three, and even Emile Heskey). It was a result that seemed likely to lead to a knighthood for Sven; how times change.
Red letter days?

West Germany 2-4 England, 1966
Yes, of course it's here. Geoff Hurst's hat-trick (whether it crossed the line or not), 'They think it's all over,' the Nobby Stiles victory jig and golden-haired Bobby with the golden trophy. For some, English football is forever viewed through a red filter.

West Germany 3-2 England, 1970
Four years later and England in red sweep into a commanding two-goal lead. But a dodgy 'keeper, suspect substitutions and the predatory instincts of der Kaizer and der Bomber left the dream parched and shrivelled under the blistering Mexican sun.

Colombia 0-2 England, 1998
After losing to Romania in their second group game at France '98, Glenn Hoddle's England needed to beat Colombia to progress. A superb half-volley by the briefly fit Darren Anderton and a stunning trademark free-kick from David Beckham duly delivered the necessary points for the boys in red.
England 3-0 Poland, 1999
Kevin Keegan seemed to have magical powers when, in his first match in charge of England, who wore red against Poland despite being the home team, they got the Euro 2000 qualifying victory they so desperately needed after their poor start under Hoddle. The Keegan reign would soon end in tears but, on this March afternoon, an inspirational match-winning hat-trick by Paul Scholes halted the Poles' eight-game unbeaten run.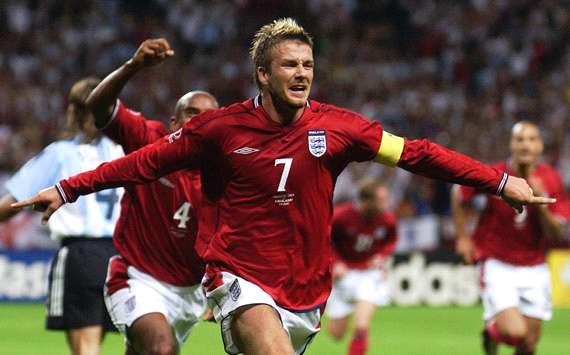 Red-emption | Beckham celebrates converting a penalty to beat Argentina in 2002

Argentina 0-1 England, 2002
It was divine retribution for Becks as his penalty - after Michael Owen had won the spot-kick - earned England victory over their nemesis the Albiceleste at Japan's Sapporo Dome.
Does grey matter?
At Euro 96, England's change strip was the rather less than iconic grey number in which they suffered the hurt of a semi-final defeat by (you've guessed it) Germany in (guessed it again) a penalty shoot-out.
The verdict

It has to be red - it doesn't get much better than pulling on a jersey and being reminded of Hurst's hat-trick and the lifting of the Jules Rimet trophy. But perhaps more importantly after events of the past few days is the example of Beckham - he had to wait four years to exact revenge on Diego Simeone and Argentina, and to work his way completely back into the hearts of a nation. Redemption could come a lot quicker for Capello's laddies in red.
The 2010 World Cup is finally here, so keep up to date with all the news at Goal.com's World Cup homepage and join Goal.com USA's Facebook fan page!