The title is back in London. Talk amongst yourselves.
What a ride. The 38 games of the 2009/10 English Premier League season are now behind us. Chelsea are champs. Hull are chumps. And somewhere in that mess, Arsene Wenger is watching footage from his team's 2-2 draw with West Ham in October. Just because.
Yes, we've made it through an entire season together here at TFE/FCS headquarters. For those who have been with me from the beginning, TFE didn't start until November of 2008 and then FCS sometime in the new year. So this is the first full season I've covered the league, and boy was it a doozy.
Looking at the calendar, we have a whole summer of fun to enjoy, the World Cup being the highlight. I won't rush into my season evaluation piece just yet as we have some time for that. This column will be a strictly in-the-now kind of piece as we'll talk about the last day of the season, Chelsea's triumph, and the usual fixins' at the end.
I'm thinking an off day for this coming Friday, but return with a massive year-in-review FCS the following Tuesday. All the good stuff will be covered...player of the year, team of the year, how my predictions turned out, transfers of the year, hair of the year, kit of the year, numpty of the year, rotten egg of the year. I could go on and on.
Actually, since I haven't really formulated a set structure of anything, if you want to suggest an award that I can give out, by all means, send me an email or leave some comments. I'd also like to answer some reader questions, so if you have anything you'd like to ask or comment on or even berate me for, you know how to get ahold of me. I'd most certainly respond and may even make it a section of the upcoming FCS. So get on that, people!
As for this weekend, didn't things get decided with a bang? We saw 11 goals after about a half an hour from all the games, which was only the tip of the iceberg. Chelsea went on to put eight goals past Wigan. Yeah, eight. Arsenal and Manchester United blanked their opposition 4-0. Burnley scored four straight against Spurs. Three own goals, three penalties (one miss), three red cards. Thirty-two goals in total.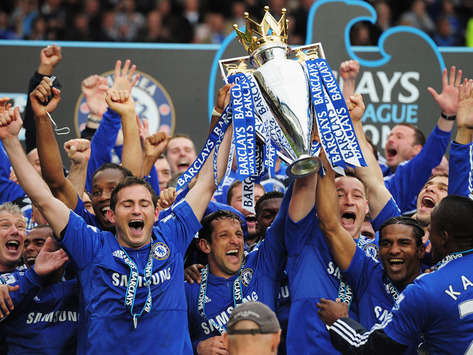 Fabulous way to end the season, eh lads?
Firstly, I have to congratulate Chelsea for a fabulous season. They were the best team in the league, and should have won by more than one point, really. Dominant at times, they were consistent through most of the season and were a threat at all times. The fact that they beat the other three 'big four' teams on all six occasions is something in and of itself.
I have to say I'm quite impressed with Carlo Ancelotti. I've said this from the start that I thought (and this was echoed by many in the biz) that he was brought in at Stamford Bridge to deliver Europe. The league wasn't his first priority. Let United have it, just give Roman the Champions League. Obviously, we all know how that turned out as one Special fella showed them the door, but I'd say on the whole, Chelsea's season has been a success.
They've got the league, and convincingly, and still have the FA Cup to add to the trophy cabinet. Would make a tidy little double. Only been done by six teams, a list that Chelsea does not currently belong to. So if they are able to do that, well, more power to them. Can't stress enough how impressive their season was. Well done, Blues.
As for the rest of the league, well, keep up the good work and next season is right around the corner. In a little preview of the season ahead, we'll have a much different league me thinks. Chelsea, Manchester United and Arsenal will all strengthen their teams. Spurs may as well, but seriously, how many strikers can one team buy?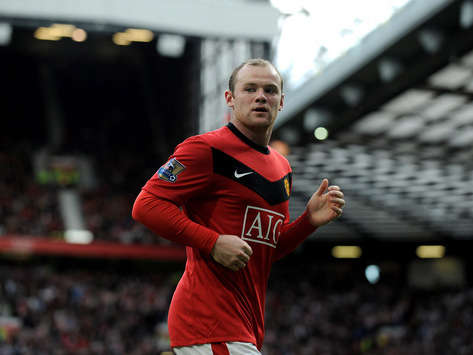 Liverpool will be in decline and may lose some key pieces. Newcastle will be back up and I think they could be pretty decent. I think Sunderland will continue to improve and should do better. Manchester City will spend millions and will qualify for the Champions League next season, whether it's through their league finish or through the Europa League.
Best part is...it's only a month away. Yeah, a month. If you figure we have a month to the World Cup, which will be filled with interesting stuff to keep us busy. Then the tournament ends July 11th and the 2010/11 season starts again a month afterwards. Brilliant! Going to be an action-packed few months then? Hope you can all keep up.
Pickled Onions
Oh it feels good to be right all the time. Sure does. Despite my picks not being that far-fetched this week, I did go 3-1. If Spurs didn't collapse I could have ended the season on a perfect streak that is rarely seen in my neck of the woods.
Anyway, I had Chelsea topping Wigan, which did they ever do. I doubt much more of that match needs explaining.
Manchester United did their part and disposed of Stoke pretty easily, but it was all for naught as those three points weren't enough to give them the title.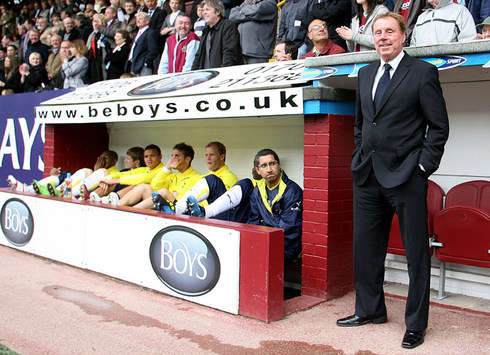 I also had Arsenal and Spurs winning which wouldn't really do much in the battle for fourth, but yeah, the Gooners took the result and Spurs choked. Still three wins out of four.
Overall: 56-28
Not only did I reach my goal of 54 wins, but I also doubled up my loss total for the year. Quite pleased with how the season turned out. Anyone play along? How'd you all do?
Mushy Peas
Good timing on this really, as the England 30-man provisional squad just came out this morning. Few surprises from Don Fabio, Jamie Carragher withstanding. The keepers were who we thought they'd be, whether or not that's a good thing remains to be seen.
In defense, I like the Carra pick as he can be fullback better than Glen Johnson and will be the first choice back up center back. Glad he decided to come out of retirement and join the fray as he's a much better player than he was when he first played for England, despite a shaky season at Liverpool this year. Ledley King is also on the team, though I'm not sure how I feel about his selection. We all know I don't rate him very highly. Maybe he'll prove me wrong?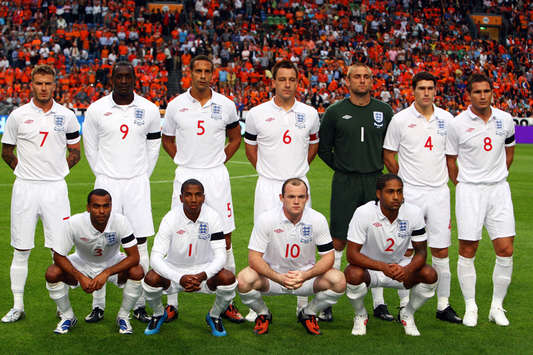 You've got your usual suspects in midfield with Lamps and Stevie G. I think Gareth Barry will be fit for the World Cup, people just trying to sell papers, you see. I love the Milner call as his versatility will be very important. Some fresh faces join the fray as well...Adam Johnson, Scott Parker and Tom Huddlestone to name a few. They'll have to prove their worth in camp in they want to make the final 23.
Five strikers were picked. All but one goes to South Africa. I think Emile Heskey may be the odd man out. Just a hunch, but we'll see. Either him or DB The Truth. Also, my condolences to Bobby Zamora...if only he had this type of league output last season…
The Fixins'The 'Close But No Cigar' Award of the Week Sir Alex Ferguson, Manchester United
Could have been no. 19 for the boy. Could have been. So close, but so far. He'll have to wait until next year, or longer, but the Scot won't have the record just yet. I think he did well though in what was clearly a transition year for the Red Devils. Losing the likes of Tevez and Ronaldo, Fergie had to put his coaching prowess into affect and did quite well with some of the youngsters.
Tweet of the Week: @usarsnl
"I scored, but missed a sitter with my left. @shanEvans scored, but being English, missed the last second equalizer."
That's right, I blew the game at the buzzer. Or final whistle for your footy purists. Was a tough miss, but I did score earlier in the match. Showing my true colors, I suppose…
Player of the Week: Didier Drogba, Chelsea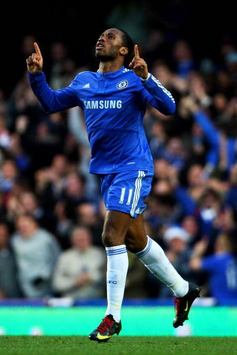 The boy nets a hat-trick to win the Golden Boot. Had an amazing season and was a force to be reckoned with every time he came close to the ball. He deserves all the credit he gets as he's reinvented himself this season after a miserable turnout last year.
Rotten Egg of the Week: Roberto Martinez, Wigan
I know Wigan aren't that bad. I know they gave up nine against Spurs earlier in the year. I also know they gave up five goals to Manchester United twice. They've even given up four to both Bolton and Portsmouth. But they aren't that bad, right? Wrong. They are. Martinez needs help in the back and he better get it this summer or their ugly goals against (79, highest among those who stayed up) will get uglierer.
Gaffe of the Week: Richard Dunne, Aston Villa
Well there were three own goals and three red cards, so I had lots to choose from. Dunne's gaffe was the only one that really mattered though as all the other games were out of sight when their little mishaps went down. Luckily Liverpool drew or the error would have cost his team a place in the table. It was an own goal, by the way.
Goal of the Week: Carlos Vela, Arsenal
It didn't mean a thing as the Gunners were up 3-0 by this point, but his cheeky little chip against Fulham put Nani's to shame. Played in nicely, the Mexican expertly popped it over Mark Schwarzer to wrap up Arsenal's season. You should be proud, Arsene.
Game of the Week: Burnley 4-2 Tottenham
Nice way for the Clarets to bow out of the Premier League after only one season up. They played well at points, but were pretty dreadful down the stretch. Kind of like Hull last year, except the Tigers stayed up in that instance. Good stuff. To new beginnings and all of that!
Shane Evans is an Associate Editor of Goal.com. His feature, "Fish & Chip Shots" appears weekly. Contact Shane at shane.evans@goal.com with questions, comments and concerns, follow him on Twitter at https://twitter.com/shanEvans or join the TFE/FCS Facebook fan page!

For more news on England, visit Goal.com's England section!