By
Matt Monaghan
| Manchester United correspondent
Two men in the stands had the biggest influence on
Manchester United
's failure to push ahead of
Chelsea
in the race for the Premier League title.
Rio Ferdinand's 'frivolous' appeal and Nani's mindless lunge on Stiliyan Petrov both had an effect on the 1-1 draw against Aston Villa. United's rampant march on to Chelsea's coat tails was brought to an end thanks in part to a numerical disadvantage and momentary drop in concentration at the back.
A one-point deficit to Carlo Ancelotti's side is nothing to be sniffed at. Regret will be a tangible emotion on the coach trip back to the north west of England though as the news of the table-toppers' defeat at Goodison Park sinks in.
Chelsea are not in the business of slipping up with frequency and Villa were there for the taking. Martin O'Neill's outfit provided no contradictory evidence to the belief they are the least inspirational of the challengers for the European spots.
Every aimless ball pumped forward and directionless pass was mopped up easily by Wes Brown and Jonny Evans. Where Villa can hurt the meanest defence in the division is through their dead-ball deliveries.
Organisation and experience is paramount if a side is to have the capability to keep out the giants in the Midlanders ranks. With Ferdinand absent after he placed an elbow in the head of Hull City's Craig Fagan, Carlos Cuellar was present to take advantage.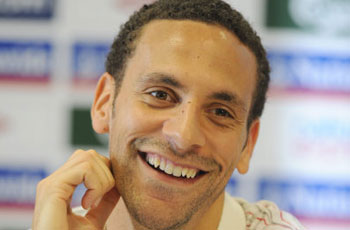 Suspended | Ferdinand appeal affected United
Whether the wannabe Spanish international would have been allowed to ghost in to space if England's new captain had been available will put regret in Sir Alex Ferguson's mind.
A stronger emotion than regret will have coursed through the United supremo's veins after Nani's irresponsible two-footed dive at Petrov made a tough task almost impossible.
The winger's rehabilitation program from wasteful winger to wonder man suffered a serious set-back. Forget the terrific cross to Giggs in the build up to James Collins' own goal, the Portuguese's reckless abandon beforehand truly cost United.
Even with 10 players, United were yards ahead of the dullards in claret and blue. Michael Carrick, Ryan Giggs and Wayne Rooney were on a different level to the basic fare on offer from the hosts, but were hampered by the extra man in the Villa ranks.
The chance to take advantage of this superiority was lost from the moment Ferdinand and Nani stepped out of line. Ferguson must now hope other glorious opportunities to move ahead of Chelsea will be grasped with both hands and a full complement of star performers.
For the latest news and updates from Goal.com, follow our Twitter account!