Starting the cup campaign with three straight wins
With the Nadeshiko League on break, the Nadeshiko Cup began at the end of May. We've gotten off to a good start with three straight wins.
We were able to shut out Iga FC Kunoichi and throughout the match we were never in danger. We then won against Vegalta Sendai and Albirex Niigata, but our performance left us with a lot of questions to answer. We've maintained our attacking form with seven goals in those three games. Many of them came from set plays, but as a journalist pointed out the other day we earn penalty kicks from our work in the penalty area, and free kicks near the goal are proof of our pressure on the opposing team, so I don't think this is necessarily a bad thing. More than anything it's important for us to score a lot of goals.
The last match before the break is on July 6, when we play INAC Kobe. I want to use the confidence we gained from these three wins and play a good match against INAC. There aren't many women's clubs in Japan so you end up facing the same opponents often. Both teams end up getting to know each other very well, but I'm happy to get to play so many matches and I think it's one of the best parts about soccer.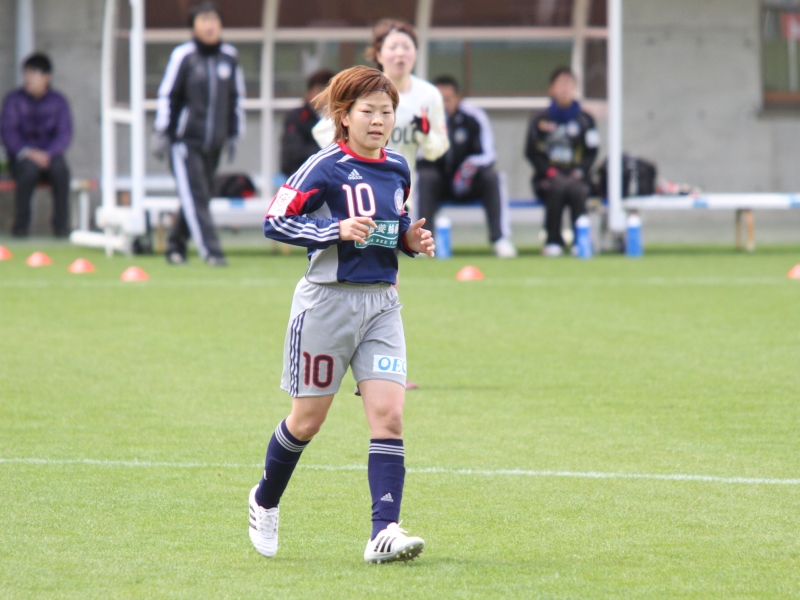 Photo courtesy of Okayama Yunogo Belle
There are many ways for people to grow up
I was a little lost in planning this diary, but I think I want to write about setting goals. To be honest, this is one of the things I struggle most with.
People grow up in different ways and at different speeds, and none of them are necessarily 'right'. I don't think that unreasonable dreams or goals are necessary. I had trouble setting goals for myself as a student. On TV I've seen players who recalled writing "I want to play for Real Madrid" or "I want to win a gold medal at the Olympics" in their elementary school assignment books, but I could never write anything like that and my teachers and coaches would get mad at me. Of course if you have a clear plan it's easier to focus your efforts and you grow up faster. But that's not the only way to do it.
I think that in my case, the environment I put myself in helped me grow. I started playing soccer in the first grade and was motivated by everything around me. I was put in a situation where the other players were better than me, and I don't remember being the center of the team.
The presence of coaches like Tom Byer and Zdravko Zemunovic was also very important. With everyone around me like a textbook of information, I was able to imitate them and grow as a player. And by playing with or against them I was able to advance step-by-step.
Even now when I watch other clubs play, or see teams like the veteran Sakuyo High School practice on our ground, I always think to myself "that play was interesting," "we can do that too," or "no, that was never going to work!" I always have a lot of ideas like that inside my head, so in order to demonstrate them with my body I repeatedly try them out during practice. My desire to improve as a player never stops.
In many places around the world, parents and adults encourage children to have dreams. Of course kids who have these dreams should be supported, but it's also necessary for kids who don't have dreams to find them, hopefully on their own. I wrote about my situation, but there's no need to make rash decisions about what you want to do or become. Instead, it's more important to experience many things and draw inspiration from them.
This became a bit of a rambling diary, but the Confederations Cup has started! I get a boost from watching the world's top players play for their country's pride. I'm looking forward to new inspirations as I watch the tournament.