The violence refuses to stop in South America. This weekend it could be seen in Argentina, Chile and Brazil, but the sickness is afflicting football on a continental level. Everyone involved with the beautiful game - whether it is for love of the team, or the money or power that goes with it - are responsible for this situation that, far from being on the mend, appears a little worse with every day.
There is something here that is rotten, and the stench is growing. It is a cocktail made up of the directors, the police, the
barra brava
, (South America's equivalent of Europe's
ultras
), and the regular supporters. A mix of intertwined issues that appears not to have any quick fix, due primarily to the collusion of each party, every one bringing their own interests and agenda to the table.
How does this work? It is simple. The mismanagement trickles down from the boardroom table right down to the terraces, where a regular fan may mark the end of the match by spitting and insulting opposing players for no other reason than wearing a different color shirt than his own. On its journey it passes through those entrusted with maintaining security in the stadiums, who show themselves incapable of keeping the peace when faced with a criminal group - the
barra
- that enjoy almost complete license to act as they wish.
The last weekend only gave further proof of a tendency towards violence that has been evident for decades. With less than 24 hours separating the two incidents, hooligans from River Plate and Boca Juniors once more forced themselves onto news bulletins. The former staged an armed shootout with the police that were escorting them back to Nunez after Saturday's clash with Gimnasia La Plata. Always at a breaking point, tensions between officers and
barra
boiled over when a team bus clipped the wheel of an accompanying motorbike.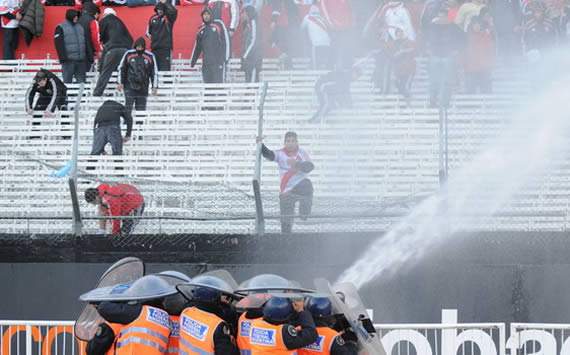 Monumental Shame | River fans tear apart their stadium following June's historic relegation
Not to be outdone by their fiercest rivals, before Sunday's clash with Lanus gunshots also rang through the 'La Boca' evening. This time it was the
cuidacoches
- who charge supporters for the right to park their cars on public roads on matchdays with no little intimidation - who took arms against Boca's La Doce criminal faction, and the brother of San Lorenzo's Pablo Migliore ended up with a bullet in his leg as a reminder of the weekend's action.
In Brazil, meanwhile, a 21-year-old Palmeiras fan was murdered courtesy of a shot to the head, after having the misfortune to cross a group of Corinthians supporters. The existence of these gangs - excused by the misleading culture of
aguante
(support for the team) across the continent - is a pure and deliberate decision of each institution's directors, who take it upon themselves to finance these
barras
. Tickets, transport and immunity from punishment are the most common perks. The conclusion then is unavoidable: if the
barra bravas
have enslaved football, it is because someone has let them.
The sad tale, however, does not end with the cozy relationship between
barra
and club directors, which means such violent acts are rarely followed by any in-house sanctions. The police are also more than capable of releasing the beast within while supposedly keeping the matchday peace. A textbook example of this was given in Santiago, Chile, when Universidad Catolica met Iquique.
"ENOUGH. Enough of this violence, this time it hit my brother but it could affect anyone"





- Migliore vents his anger on Twitter

Before the end of the first half, Catolica hooligans traded blows with officers and the game had to be stopped. Witnesses have subsequently come forward to accuse the Carabineros, Chile's elite police force, of provoking fans into violence. We can only wait now for those in charge of security in Chile to put in place double, maybe triple the number of law-enforcers for the club's next match as a puzzling attempt at a solution.
Talk to football fans in any South American nation, and they will tell you that the most guilty parties in all this depressing tale are those who sit behind a big desk and feel like they own football, only to look the other way when a responsible figure is called for. However, the disease of football violence infects all and does not exclude anyone. That is why, if any changes can be made to a culture that seems to deteriorate by the day, they must begin right at the very roots.
Follow GOAL.COM USA on