Jose Mourinho
repeatedly wrote off his "little horses" last season but did so safe in the knowledge that grand plans to reshape his squad were afoot.
Few clubs acted as swiftly or as decisively in the transfer market this summer, with Chelsea securing five of its six signings by the end of July.
Sales, too, were handled quickly, Mourinho ruthlessly culling a number of so-called 'key' players to ensure that the club ended the transfer window in the black.
The first crucial acquisition identified was that of Diego Costa, Mourinho long having decided that a strike force of Samuel Eto'o, Demba Ba and Fernando Torres was simply not good enough. Indeed, Torres and Ba scored just 10 goals between them in the Premier League last season, while Eto'o hit nine himself.
CHELSEA LATEST

Unsurprisingly, Mourinho axed all three this summer - Torres joining AC Milan on loan, despite repeatedly airing his desire to remain at the club, Ba heading to Besiktas for around 4.5 million pounds and Eto'o signing for Everton.
Because of Mourinho's mistrust of his strikers, Costa was identified as a principal target early in 2014, and negotiations to bring the striker to Stamford Bridge from Atletico Madrid started in March. A protracted deal, talks continued throughout April before Chelsea closed a deal worth £35 million in May.
Ironically enough, the major breakthrough in negotiations came in the immediate aftermath of Chelsea's Champions League semi-final clash with Atletico Madrid, a match in which Costa scored to help Atleti to a 3-1 win and the final of Europe's elite club competition.
Costa himself told
Goal International
his reasons for joining Chelsea
before the official confirmation was made public, saying: "I've wanted to play in the Premier League for a while. Chelsea are one of the greatest clubs of the world so there are many factors that make you take a decision like this."
His move was officially completed on July 15, Costa agreeing to sign a contract worth 150,000 pounds per week in west London. He already has scored four goals in three Premier League appearances.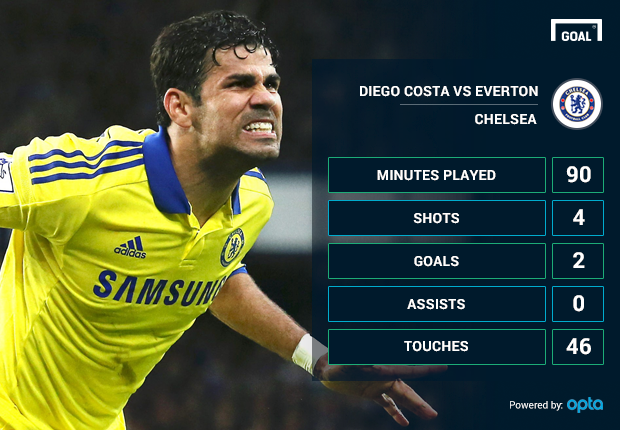 Left back Filipe Luis, another player lured from Atletico Madrid, this time as a result of Ashley Cole's departure, swiftly joined him at Stamford Bridge.
The latter was allowed to leave for Roma upon the expiration of his contract – the Italians beating competition from Tottenham, Liverpool and Milan to land their man.
Another early deal, Chelsea entered into advanced negotiations with Atletico over the signing in June and wrapped up the deal less than a month later, Luis eventually signing just three days after Costa.
Yet perhaps the finest acquisition of the summer – and the most surprising – was that of Cesc Fabregas. Heavily linked with Arsenal – who chose not to activate a buy-back clause in their former captain's contract – Fabregas was also the subject of interest from Manchester City, Manuel Pellegrini's side tabling a bid around the same time as the Blues.
Yet a charm offensive saw Fabregas – who had been made available by Barcelona in May – opt for Stamford Bridge and he completed his £30m move in June. There was one more stunning deal to come, with Mourinho not yet satisfied with his attack, and Didier Drogba completed an emotional homecoming soon after. Mourinho said that Chelsea "belonged" to Drogba after his deal was rubber-stamped, and the Ivorian will provide support to Costa and fellow new signing Loic Remy for the remainder of the season. Another interesting case, Remy was first sounded out over a move when Drogba suffered an injury in pre-season training, only for him to recover ahead of time.
Yet Torres's departure to Milan saw the Blues reignite their interest and agree to pay his buyout clause to acquire him from QPR, with Remy the club's final addition of the summer transfer window following the arrival of youth star Mario Pasalic from Hajduk Split.
The signing of Remy surprised many, especially considering the France international reportedly failed a medical at Liverpool earlier in the season, causing a move to Anfield to collapse.
Yet, despite all the arrivals, Chelsea finds itself in rude financial health. Having spent more £80m, the Blues moved to shift some deadwood from their squad and managed to recoup a staggering £40m for David Luiz from PSG.
Amidst heavy interest from Barcelona, the French giants entered into negotiations over a deal before the World Cup and the deal was pushed through quickly, with Luiz interrupting his preparations with Brazil to undergo a medical with the Ligue 1 giants. Mourinho failed to truly find a role for Luiz during last season and has publicly insisted that he preferred using the center back partnership of John Terry and Gary Cahill as opposed to fielding the erratic Luiz.
His performances at the World Cup vindicated Mourinho's reasoning.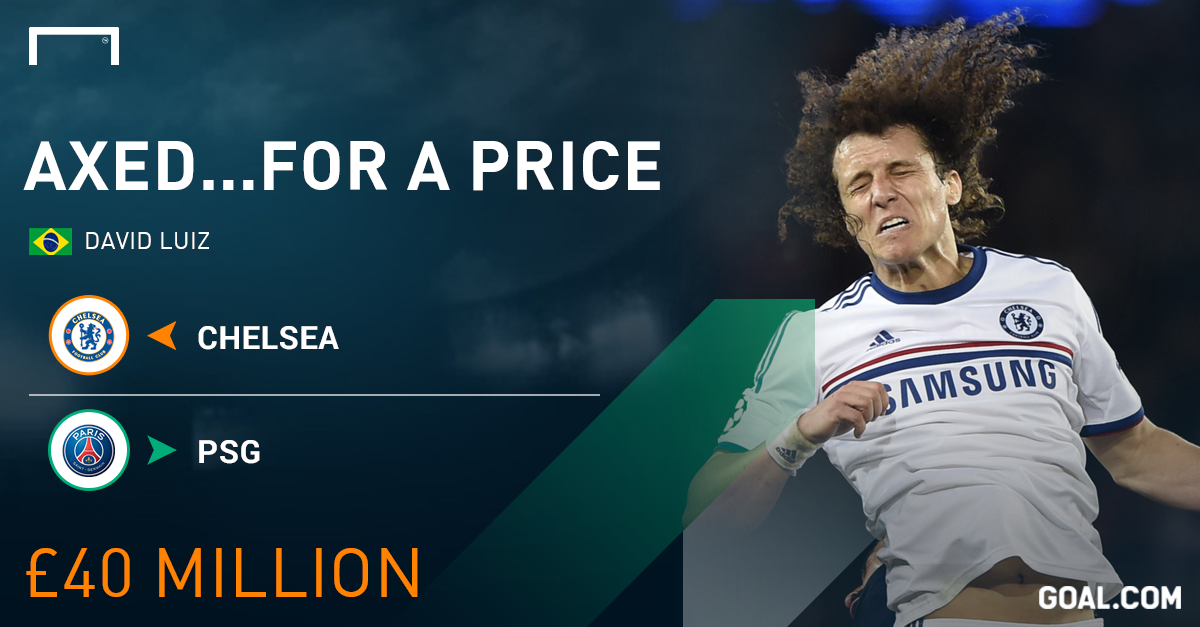 The Portuguese also received £28m for Romelu Lukaku, a player with whom he repeatedly failed to mesh with. In fact, the Belgium international told Chelsea of his desire to leave Stamford Bridge in June and the club was subsequently inundated with enquiries, with Wolfsburg and Juventus showing serious interest in signing the striker. Yet Lukaku chose to ponder his options at the World Cup and eventually opted to sign for Everton, having scored 15 goals during a highly successful loan spell at Goodison Park in 2013-14.
Such was Everton's desire to acquire its top target, it agreed two separate deals with Chelsea; one permanent and one to take him on loan for another season. Eventually, it ended up smashing its transfer record.
Having also banked more than £37m from the sale of Juan Mata to Manchester United in January, and £17m from Kevin De Bruyne's move to Wolfsburg, it could be said that Chelsea is, in fact, in profit from its summer dealings.
Having also shifted high-earners Cole, Lampard, – who amazingly joined Manchester City on loan, having agreed to sign for the Premier League champion's partner club, New York City FC – Ba and Torres from their wage bill, there are significant funds available should Mourinho decide to enter the transfer market once again in January. Indeed, there is a feeling that a bid could be tabled for Paul Pogba, with the surplus cash used to put together an extremely lucrative package for the France international.
Chelsea monitored Pogba throughout the summer window and was prepared to offer a "staggering" deal to the 21-year-old, though Juventus's plus-£60m valuation eventually scuppered the move. With the Blues' financial firepower in play, however, a renewed pursuit should not be ruled out.
Yet it is not just about permanent deals for the club. Chelsea has gained a reputation in recent years for establishing a large and almost labyrinthine loan network for its young players, and this summer saw no fewer than 18 players – including the likes of Victor Moses, Marko Marin, Torres and Christian Atsu – leave on short-term deals.
The hope, of course, is that the younger generation of players acquires the requisite skills to step into the first-team should they be needed upon their returns. A fine example of that strategy is Thibaut Courtois. The Belgium international established himself as one of the finest goalkeepers in world football during his three consecutive spells at Atletico and has now returned to west London to take the No.1 shirt from Petr Cech.
Such is the confidence in Courtois' ability at Chelsea, Petr Cech was told to find a new club in the summer, though, despite interest from Monaco, PSG and Real Madrid, no deal materialized.
Should youngsters like Bertrand Traore and Thorgan Hazard – younger brother of Eden – impress whilst out on loan, they may be able to follow in Courtois' footsteps and take the long-route into the starting XI.
With Mourinho finally hoping to lay down some roots in his managerial career – and having geared his recent recruitment drive toward building a squad capable of prolonged and unequivocal success – he will certainly be around to see them develop.
But following this summer's headline-grabbing acquisitions, they will have a fight on their hands to avoid sitting next to Cech on the Stamford Bridge bench.